I think the Prima Donna Deauville is an excellent (and pretty) full cup bra for pendulous breasts. The price might be a bit on the high side for some, but the aesthetics of this bra along with the amount of support that it provides are well worth the cost. If you're ever having sticker shock, try dividing the cost of the bra over the number of days are going to wear it, that always seems to help :).

As someone that doesn't like to have a ton of bras, I always go nuts for bras that seem multifunctional for me. A full cup bra that is pretty and also supportive and comfortable can see you through a lot of activities, which is probably why I'm going mad for this thing. Once you get over the over the top name, I think you might go mad for it too.
Strap
The lace detail on the strap is beautiful, and makes for a really exquisite look. Of course, with lace comes texture, and this may make it difficult to pair with some tops. Because of the lace detail, the straps are not fully adjustable. This is usually a sticking point for me, but despite this, the bra still manages to achieve a supportive fit.
The straps on this bra are super comfortable. They're wide, they don't slip, and don't need to be readjusted, a trifecta which is rare in bras, as we all know.
Cup and gore
The cup of the Primadonna Deauville is constructed with only one seam across the front of the cup, however there is a vertical seam on the side as well. While to me this doesn't feel as uplifting as the Elomi Caitlyn I reviewed previously, the sides are well-reinforced. This type of construction does well to encapsulate your bust and minimize side boob.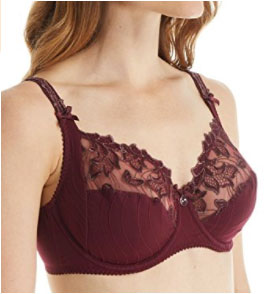 Because of the lace on the top part of the bra, you may have issues with it showing through depending on your shirt. To me that's a small sticking point when you think about how pretty this thing is, despite the fact that it's a full cup bra!
The gore of the Prima Donna tacks well in the center, and lays flat on the chest, even for a narrow-boobed gal like myself.
Band
The band of the bra feels solid and well-supported from below. In cup sizes D-J, the bra only has 2-3 hooks. Normally this is an issue for me, but this bra still manages to pull off excellent support with minimal hooks.
Though the band doesn't come up as high as some side support bras, the construction of the cup creates a lot of support, keeping side boob to a minimum.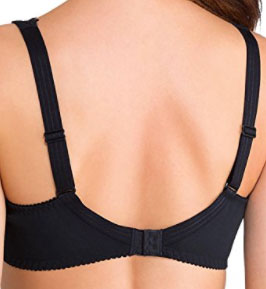 The elastic on the bottom of the bra is a feature I'm not too keen on. Because of this, the bra doesn't really provide a whole lot of smoothing. Don't expect things to be completely seamless.
Underwire
The underwire on the Prima Donna is well-constructed. It's comfortable, it doesn't dig, it doesn't cut off your boobs, and it doesn't jut into your armpit. In fact, I think this is probably a bra that would give underwire haters pause because of how comfy it is.
Feel
The overall feel of this bra is really comfortable. It feels supportive and well-made and the materials feel great against the skin. Some people with really sensitive skin may have issues with the lace on the cup, but after a wash or two, it will definitely soften.
Overall Shape
I will not go into deep detail here because as you know, while bras with seams offer great support, the trade-off is that you will get some degree of pointiness. Because my breasts don't have a lot of firmness anymore, when I put this on, pointiness was not much an issue for me. It won't give you a completely rounded look, but it won't make you feel like Madonna either.
Best for
Day to night. It's comfortable enough to wear all day at work, and you could certainly go out with it after.
It's rare that a bra that comes in large sizes makes you feel like a million bucks and also lifts you up. It comes in a great variety of colors that are sure to complement any skin tone, and looks hot as hell when your clothes are off.
While I recommend this bra specifically for pendulous boobs or ones that have lost volume, this will make any chest look good. In fact, I think it's the prettiest full cup bra out there. If you are looking to treat yourself, look no further than the Prima Donna Deauville. No need to take my word for it, see what others are saying about this fabulous lingerie. 4.5/5.