Ever since the bra industry started to finally move away from the lie that DD cup bras were the biggest size women needed, we've fortunately seen a lot of positive changes in retail offerings. Once they started making bigger band and cup sizes readily available, the next frontier of the battle became style. That too is changing, with brands in the US, UK and continental Europe embracing the challenge of dressing bigger bosoms and doing it fashionably.

Nowadays, I don't have any difficulties finding a bra in my size—generally F-H and band sizes 34-40, depending on the brand and my exercise regime. In all of my blogging and my research though, I've noticed that there is still sort of a drop off after H. The styles become a lot more limited and there are fewer brands who are willing to make bras that go that big.
I've dug around the internet today to try and find brands that offer bras that go past an I cup, and shortlisted a few a styles that look like they are worth taking a chance on. This is intended to be a resource for women looking for those harder to find sizes. If you think there's any brand that I've missed, I would love to hear from you!
The original plan for this guide was to be 2,000 words, tops. But as I continued to research, I discovered there were so many brands out there once you do some digging. If you don't feel like reading my 3,500-word ode to I cup bras or bigger, here's a quick and dirty list of the brands I've covered, their size range, and where to buy their bras. If you want to read more about these brands, keep on scrolling. Please note that I am referring to American sizing throughout this article.
The Ultimate I Cup Bras List
| | | | | | | |
| --- | --- | --- | --- | --- | --- | --- |
| Brand | On Amazon? | Cup Range | Band Range | Swimwear | Sports Bra | Nursing Bra |
| Anita | Yes | A-J | 32-46 | Yes | Yes | Yes |
| Ava | Yes | D-L | 30-44 | Yes | No | Yes |
| Aviana | Yes | D-P | 34-56 | No | No | Yes |
| Avocado | No | C-K | 30-46 | No | No | No |
| Bravissimo | No | D-P | 28-40 | Yes | Yes | No |
| Charnos | Yes | A-M | 30-44 | No | No | No |
| Comexim | No | B-N | 28-42 | Yes | No | Yes |
| Curvy Kate | Yes | D-O | 28-44 | Yes | No | No |
| Elila | Yes | DD-K | 34-46 | No | Yes | Yes |
| Elomi | Yes | D-O | 32-48 | Yes | Yes | Yes |
| Ewa Michalak | No | AA-N | 26-60 | Yes | No | Yes |
| Fantasie | Yes | D-M | 30-42 | Yes | No | No |
| Fit Fully Yours | No | AA-M | 28-50 | No | Yes | No |
| Freya | Yes | B-O | 28-44 | Yes | Yes | Yes |
| Glamorise | Yes | A-L | 32-58 | No | Yes | No |
| Goddess | Yes | C-M | 34-48 | No | Yes | Yes |
| Leading Lady | Yes | A-H | 34-56 | No | Yes | Yes |
| Miss Mandalay | Yes | D-L | 28-38 | Yes | No | No |
| Nessa | Yes | A-S | 30-44 | No | No | Yes |
| Panache, Sculptresse & Cleo | Yes | D-O | 34-46 | Yes | Yes | Yes |
| Parfait by Affinitas | Yes | B-K | 32-44 | No | Yes | No |
| Pour Moi | Yes | C-M | 30-44 | Yes | Yes | No |
| Prima Donna | Yes | B-I | 30-48 | Yes | Yes | No |
| Royce | Yes | A-Q | 28-40 | No | Yes | Yes |
| Tutti Rouge | Yes | D-M | 28-44 | No | No | No |
| Ulla | Yes | A-N | 32-56 | Yes | Yes | Yes |
Wacoal Brands
The world of stylish big cup bras would be remiss without Wacoal. Founded in Japan in 1949, Wacoal operates on both sides of the Atlantic, with brands both in Europe (mainly the UK) and the US. Almost all of my favorite brands fit under the Wacoal umbrella—Freya, Fantasie, Elomi and Goddess.
To me and to many others, brands under the Wacoal umbrella are synonymous with quality. This is with good reason—Wacoal products are still largely made by hand. In the age of automated manufacturing, it's really something to see a product that requires a lot of technical skill still being made by hand in a mass-manufacturing setting. Each of these brands produce I cup bras, but with slightly different offerings.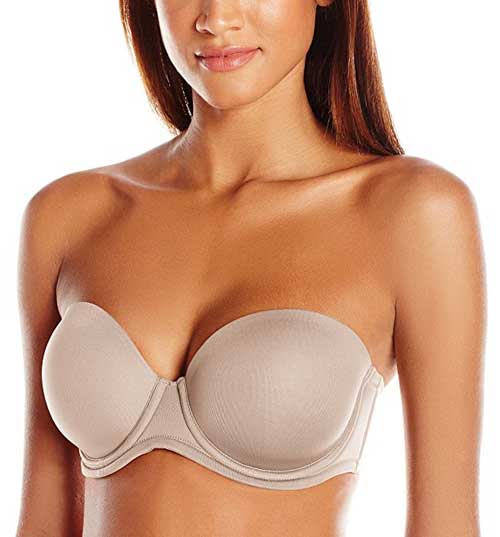 Elomi 
I tend to think of Goddess and Elomi as sort of being in the same category in a sense. Some of Elomi's shapes, such as the Cate and Raquel, to name a couple, have a very similar shape to what you would find in some of the Goddess lines. While they also specialize in full-cup styles, they have a wider range of bra styles, including strapless, some beautiful plunges, a couple smooth cup lines, including a noteworthy spacer cup bra.
It's although worth having a look at Elomi for some beautiful cup-size swimwear options.
Elomi bras are available in band sizes 32-48, in US cup sizes D-O, or UK cup sizes D-K.
If you're looking for a spacer for a full-figured chest, it's worth checking out the Elomi Amelia.

If you've already fallen in love with Elomi Matilda (like I have), and are looking to add another plunge to your underwear drawer, I recommend Elomi Kiki.

Fantasie
Fantasie bras are a step more stylish than Elomi bras. If you're into lace and other adornments on your bras, this is probably the brand for you. Their offerings remind me a lot of bras produced by Prima Donna. While functional, they have a more sophisticated look than Elomi or Goddess.
Support is still the name of the game with Fantasie, but style is definitely a priority. The downside to Fantasie is that their sizing in both band and cup is more limited than Elomi and Goddess.
One thing that I love about Fantasie is the fact that they often produce the same line in different cup styles, offering alternatives such as side support, vertical seams, partial vs full cup, strapless, and padded or not padded.
Fantasie bras are available in band sizes 30-42, in US cup sizes D-M, or UK cup sizes D-J. Their website unfortunately does not allow you to search by size. I have noticed that their availability of cup sizes varies a lot depending on styles.
Fantasie's Seamless Balcony bra is a nice everyday option that you can get away with wearing under t-shirts if you don't want a rigid cup.

For something a little more sophisticated, the Alex side support bra with its nod to art deco, is worth a gander.

Freya
If Fantasie is the sophisticated cousin to Elomi and Goddess, then Freya is the kid sister. Freya has done an awesome job of branding itself as a youthful brand. If you're in your teens and early 20s and full-figured, Freya was designed with you in mind. That's not to say that Freya's styles don't have a wider appeal. Even now, in my 30s, Freya still remains one of my go-to brands for certain styles.
Freya bras are available in band sizes 28-44, in US cup sizes B-O, or UK cup sizes B-K. Again, like Fantasie, there's a lot of variation in size availability by line. A quick search on their site for a 40K (US size M) yielded only one result, which for some reason didn't even display. On the plus side though, many of their popular lines offer the same bra in different cuts, just like Fantasie.
If you love how Freya Balcony bras fit, then you must absolutely give the Freya Fancies bra a try. It's currently available in olive and sherbet, with a lipstick (pinkish magenta?) color coming out later this year.

Goddess
To me, Goddess is the brand you go to when you want a powerhouse, full-coverage bra that will see you through the day, and last for months (or years) of heavy use, as long as you treat it right. (Handwash, ladies!)
Most of their bras feature cut and sew 2-4 part cups, however they do have a couple styles that offer a more smooth cup look.
Goddess has tried hard to make their bras look more fun and less utilitarian with the use of prints, a wide variety of colors and creative paneling using sheer materials. They know their target market well and have designed bras without embellishment and bulk that still manage to make you feel good.
Goddess bras are available from C-cup to M-cup, and in UK sizing from a C-cup to J-cup, with band sizes running from 34-48, depending on style.
Goddess Keira is one of their most popular lines. As with many of their lines, it comes in a wired and soft cup option. A nursing bra was at one point sold in this style. While it doesn't look like they're still producing it, you can probably still find some kicking around online.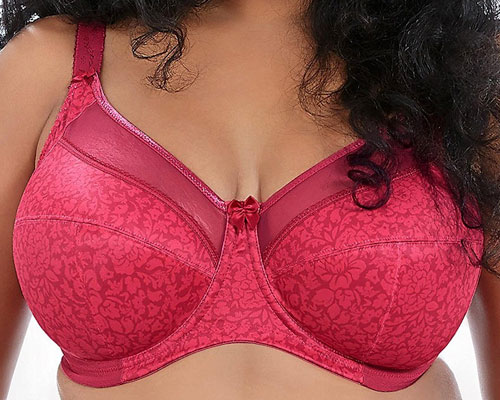 Anita
Anita began back in 1886, when it was founded in Germany. Between Anita and their Rosa Faia brand, you are sure to find something elegant and made with care. They produce simple, yet beautiful everyday bras with obvious attention paid to comfort and support. They have a wide range of popular maternity bras and also produce some beautiful mastectomy bras.
Anita bras are available in band sizes 32-46, in US cup sizes A-J.
Anita's sports bras and twin-fit seamless bra definitely get the most attention, but I think their Fleur underwire bra is absolutely gorgeous.

Bravissimo
Bravissimo is both a UK retailer of bras and a producer of their own in-house line. They dabble in a bit of everything, and produce stylish bras for all occasions.
Bravissimo bras are available in band sizes 28-40, in US cup sizes D-P, and UK cup sizes D-L.
The Bravissimo Millie Bra is an absolutely adorable stretch lace style.

Curvy Kate
There's something for everyone when it comes to Curvy Kate bras. Style wise they do everything from everyday styles to knockout. They've also got some amazing body positive branding which I absolutely love.
Curvy Kate bras are available in band sizes 28-44, in US cup sizes D-O and UK cup sizes D-K.
One of their crowd favorites is the Women's Princess Balcony Everyday bra.

If you're tired of full cups and looking for something that is a little more risqué, Curvy Kate's Scantilly Unleash Black Half Cup Bra is an eye-catching option.

Elila
I've talked about Elila briefly in the past in my quest for a strapless bra that actually stays up, Really, I should talk about Elila a lot more. Hailing from the States and headquartered in New York, Elila has a wide range of styles that I'd describe as simple but stylish.
Elila bras are available in band sizes 34-46, in US cup sizes DD-K.
While the Plus Size Wireless Full-Coverage Jacquard may be one of their best sellers, the Elila Balcony Underwire bra certainly caught my eye.
Glamorise
Leading the charge for American bras is Glamorise. This all-American company headquartered in New York City has been supporting ladies since 1921. This company really seeks to innovate, having created the first sports bra in 1975, and producing the MagicLift bra in 1970—a godsend for women who dislike underwire but don't want to forgo shape and definition.
Glamorise has a ton of options from everyday to sexy bras that are high quality. To me, the only thing that is missing from Glamorise are some fun colors. Personally though, if there's one thing Glamorise focuses on really well, it's their wire-free and front-closing bras. They're also one of the few brands that offer supportive cotton bras in larger cup sizes.
One thing I absolutely love about the shopping experience on their website is that in addition to searching by size and style, you can also search by support level.
Glamorise bras are available in band sizes 32-58, in US cup sizes A-L, making their brand a great option for plus size women.
If you're looking for maximum support and separation without an underwire, you definitely need to consider Glamorise's full figure support bra.

The cutest Glamorise bra I managed to find that caters to H-L cups is their Soho bra from Bramour, one of their sub brands.

Panache, Sculptresse and Cleo
Between these three brands, you'll find bras in band sizes 34-46, in US cup sizes D-O and UK cup sizes D-K. Though each brand specializes in different styles, collectively they run the gamut from everyday (Panache & Cleo), to fun (Cleo), sexy and playful (Sculptresse), to bridal/formal wear (Panache).
Stylistically, one of my favorites is the Dionne Full Cup Bra.

Parfait by Affinitas
While the majority of their bras go up to a G cup, Parfait has produced a few of their styles in K cup as well (lucky for us!).
Parfait bras are available in band sizes 32-44, in US cup sizes B-K and EU cup sizes B-J.
By far their most popular bra, the Charlotte Padded Bra is also one of the few available in K cup sizing.

Prima Donna
Somehow this brand always gets mistaken for being either a French or an English bra company. I'm here to tell you that it was originally founded in Germany back in 1865. Its modern day incarnation came to fruition in 1990 when a Belgian company, Van de Velde, bought the brand. Prima Donna focuses on making elegant lingerie, from minimalist satin styles all the way to lingerie fit for a bride.
While Prima Donna offers classic bras, Prima Donna Twist, launched in 2010 is a little more playful and reminiscent of something along the lines of Freya.
Like some of the other brands I've mentioned, Prima Donna offers each of their lines in different cup styles to suit different shapes and levels of coverage.
Prima Donna bras are available in band sizes 30-48, in US cup sizes B-I and EU cup sizes B-J. It is worth noting that while their cut and sew styles are available in bigger cup sizes, the sizing selection for their smooth cup bras are a little more limited. I've included Prima Donna in the list because they do go up to I cups, but please note that their sizing tends to run snug in cup and band.
Most of you who read my stuff know that I think the Prima Donna Deauville is one of the best bras to ever exist, so I'm going to suggest that you have a look at the Madison.

Polish Brands
Polish bra brands are all the rage amongst full-figured women, and for good reason. Brands like Comexim (Sizes B-N, bands 28-42) and Ewa Michalak (US sizes AA-N, bands 26-60) allow you to custom order bras outside of their usual size range, with some limitations. Where else are you going to be able to get a well-constructed, pretty bra for big boobs without breaking the bank? (Okay, depending on the exchange rate, you might break the bank, but you won't destroy it)
In addition to being able to get customized styles, Polish bras are an excellent option for those of us with small band sizes and bigger busts. They are also a good option to look into if you want something pretty in a bigger band size.
It can be somewhat tricky to figure out your sizing with Polish brands. Ewa Michalak, for instance, uses EU (centimeter-based) sizing for its bands, and UK sizing for its cups.

Bratabase has a solid conversion chart which you can use to determine your UK size, and from there, convert to your US size.
Ewa Michalak's site takes time to point out that once you determine your size in one style, it may not necessarily be the size you need for the other styles. Given the logistics of getting one of these bras, once you figure out which style you'd like, I recommend you poke around on A Bra That Fits and Bratabase to see if you can find any fit advice.
The next step would be to look for retailers in North America that stock these brands. This way, if you try out something and it doesn't work for you, you only have to deal with a domestic returns process as opposed to sending something back to Europe.
If you do want to buy direct and you are buying for the first time, it's also worth trying to contact the company you're interested in by e-mail. A lot of these producers are relatively small operations, and are very customer-focused.
Comexim and Ewa Michalak get most of the attention when it comes to Polish bras. Other brands worth checking out are Avocado (Sizes C-K, bands 30-46)., Nessa (Sizes A-S, bands 30-44). and Ava (Sizes D-L, bands 30-44).

I am heading to Europe next month, so with any luck, I'll be able to track down some Polish bras in my size and give them a whirl and finally understand why everyone is so crazy for them!
Tutti Rouge
Another frilly brand from the UK, Tutti Rouge serves up fun and colorful bras that remind me a bit of Curvy Kate. If you're a lover of lace and nice patterns, Tutti Rouge is worth a shot. They're split into two sub brands—Tutti Classics, which goes up to a J cup and and Rougette, which offers a smaller cup range of strappier, more showy bras.
Tutti Rouge bras are available in band sizes 28-44, in US cup sizes D-M, and UK cup sizes D-J.
Their most successful bra is Liliana, which comes in a variety of cool colors and boasts stylish support for everyday.

Off the beaten path – Brands you may not have heard of
Aviana
Aviana bras are a brand I admit I've only come across recently. An American company, headquartered in Georgia, Aviana produces supportive everyday styles.
Their brand looks like it could be a good pick for women with larger cups who are looking for a smooth cup bra. They also produce some nice soft cup minimizers with a really broad range of cup sizes.
Aviana bras are available in band sizes 34-56, in US cup sizes D-P.
The Aviana Softcup Jacquard is one of their best-selling bras.

Charnos
Another UK bra company, Charnos has a smaller range of styles than Pour Moi. Their bras have almost exclusively cut and sew multi part cups. They specialize in everyday bras that are a little on the frilly side.
Charnos bras are available in band sizes 30-44, in US cup sizes A-M and UK cup sizes A-J.
The Charnos Sierra Full Cup is one of their most successful styles.

Fitfully Yours
Canada represent! I can't wait to get my hands on a Canadian bra at some point soon! Fit Fully Yours produces some very pretty everyday designs that seem to have comfort in mind
Fit Fully Yours bras are available in band sizes 28-50, in US cup sizes AA-M.
One bra that caught my eye was definitely the Nicole See-Thru Lace. I think that blue would look gorgeous on anyone.

Miss Mandalay
Another UK brand, Miss Mandalay has been around since 2005. Their mission is to provide full-figure women with stylish, great fitting bras that set themselves apart from other big cup bras.
Miss Mandalay bras are available in band sizes 28-38, in US cup sizes D-L, and UK cup sizes D-HH.
An eye-catching option is the Amelie Powder balconette bra.

Pour Moi
Another UK brand. This brand focuses on lingerie and is a good place to look if you want something seductive.
Pour Moi bras are available in band sizes 30-44, in US cup sizes C-M and UK cup sizes C-J.
The Pour Moi St Tropez is easily their most-loved bra, and a good starting point if you want to take a chance on this brand.

Royce Lingerie
If you love wirefree bras and you're looking to treat yourself, have a look into Royce Lingerie. All of their bras are wirefree, and comfort is their main goal. They specialize in comfort bras, maternity bras, post-surgery bras and teen bras.
Royce Lingerie bras are available in band sizes 28-48, in US cup sizes A-Q, and UK cup sizes A-L.
One of their popular everyday bras is the Charlotte bra.

Ulla
Finally, a continental European brand that goes past a G cup. I actually hadn't heard of this brand until I started digging around for H+ cup bras. Ulla has been hand-making bras in Germany since 1948. Their bras can be are pricy, but like with brands under the Wacoal umbrella, I do believe you get what you pay for.
Ulla bras are available in band sizes 32-56, in US cup sizes A-N.
I'm absolutely impressed by the fact that they go up to an L cup in pretty styles like the Zoe.
Hopefully I'll get my hands on one of these bras next month when I travel so that I can report back!

Honorable Mention
Lane Bryant
Plus size ladies will already likely be well-acquainted with Lane Bryant (Cacique) bras. They put out a lot of fun everyday styles, and are a good place to look if you're in search of seamless cups in bigger band sizes.
Cacique bras are available in band sizes 32-50, in US cup sizes B-K. At the time of writing, Lane Bryant only had two bras available that were larger than an H cup. Neither of them looked all that promising. I've included them on the list because they do produce some great bras, and they should definitely be on your radar.
Final Thoughts
There are actually WAY more I+ cup bras than I expected to find, which is such a welcomed surprise. There is still a ways to go when it comes to offering stylistic variety, but it's good to see that the range of standard-produced sizes is expanding.
Also, sorry if this post ran long! I originally wanted to keep it short, but ended up getting sucked in and overly-excited about the new brands I came across. There's not a lot of detail about the lesser-known UK and European brands, because I just haven't had the chance to get my hands on them yet. I'll be heading to Europe next month though and will hopefully be back with some reviews.