Ah, the butterfly bra. Or should I say, the butterfly bras. When I first got my idea for this post, I thought I was going to write something scathing about the 'Instagram bra', or the 'Instagram butterfly bra' as it is colloquially known. After poking around the internet though, I saw that many people already had, and the bra is being well-represented already on YouTube and in written form.
Instead, I decided that this post is actually going to be devoted to the other, lesser-known butterfly bra that hit the market in 2008. If you want to read more about the Instagram butterfly bra, scroll down to the bottom of this post.
The Ashley Stewart Butterfly Bra

The original butterfly bra is a bra that was launched by Jill Scott in 2008. It is sold by Ashley Stewart, the plus-size clothing retailer.
Jill Scott is not the first celebrity to throw her hat in the ring and launch a bra line. Stars like Heidi Klum, Dita Von Teese, Ashley Graham and, most recently, Rihanna have created bra lines. Aside from Ashley Graham though, there aren't a whole lot of celebrity bra lines targeted at the full-figured plus-sized women, so this bra should have certainly made a loud splash.
Despite not being the only celebrity bra to go after the plus size market, Jill Scott's butterfly bra is still unique. It's the only celeb bra brand out there that tried hard to address the common pain points of its target market, and improve on the physical design of the bra, going above and beyond what other celebrity bra lines have done in the past.
Why haven't I really heard about the Ashley Stewart butterfly bra?

While it did receive some media attention when it was first launched, I don't think the bra has gotten as much attention as it deserved. The Chicago Defender quoted Jill Scott as saying that the bra was rejected by many retailers on the basis that they thought the target market was specifically African American women, meaning that they thought the market size was too small to be worth producing such a product. I disagree.
While the argument could be made that Jill Scott as a brand ambassador does not have enough 'mainstream' appeal, the bra certainly does. You can easily find any number of statistics that show that bra sizes are getting bigger, and that the number of overweight people are on the rise. There are overweight Americans of all races and creeds, and many have yet to find a bra that fits.
While the argument could be made that Jill Scott as a brand ambassador does not have enough mainstream appeal, the bra certainly does. You can easily find any number of statistics that show that bra sizes are getting bigger, and that the number of overweight people are on the rise. There are plus size Americans of all races and creeds, and many have yet to find a bra that fits.
What makes Jill Scott's butterfly bra so special?

These bras were especially designed to address the common problems everyone with heavy boobs has experienced—straps digging into shoulders, annoying underwire, and overloading of the shoulders.
These are all things that comfort brands have addressed before—the butterfly bra just takes it to the next level. Most notably, butterfly bras all come with gel in their already wide shoulder straps, to minimize the chance of shoulder dig and improve the bra's comfort.
Secondly, the bra gets its name from having two wide back bands that are adjustable and have 5 sets of hooks each. The result is you get enough back coverage to have a nice smoothing effect as well as a lot of back support.
The concept of having a wide band in the back of the bra is not in itself revolutionary. Posture bras have already done this. What's great about this line of bras is that it has many of the hallmarks of a posture bra with one key difference. It was not designed to make you feel like you're wearing orthopedic hardware.
Review of the butterfly bra collection
The butterfly bra collection is designed mainly for plus size women in mind, starting at a band size 38 in most models, and going up to 46 in some. The cup range starts at D and go through to an H.
The butterfly bra collection produces a bit of everything—they have bralettes, a soft-cup bra, and wired and wire-free bras as well.
The bra that I liked the most was their soft-cup bra (surprise surprise!). The shape of the molded cup bras were just not agreeing with me. First off, even though the cups are wide, I found that they didn't have enough depth, which resulted in the gores not tacking. Butterfly bras can get away with a lot more than other bras that don't tack. The cup is smooth under clothing, and the underwire doesn't do the unsightly poking that you can often see when you wear a bra that is too small. There is so much going on in the back of the bra that even though the front doesn't support super well, it can pass.
Fit
The fit of the soft-cup bra reminded me a bit of this Berlei minimizer bra that I used to wear back in the day. The gore didn't quite tack, but it fit better than the molded cup bras that I tried on.
Straps
The straps are absolutely to die for. Lots of bras do padded straps, so that isn't new, but the gel in these straps makes them super comfy. Since I started making Freya and Elomi bras my go-tos, I have not really had any issues with straps digging into my shoulders, so this isn't a feature I absolutely need, but I like that they thought of it.
The gel in the straps means that you have to sacrifice full adjustability though, meaning that if you are have longer proportions, you might struggle with the length of the straps.
Back
The band does what it says it does, and makes your back feel well-supported in all the right places. I love that it you can actually shift the bands up and down your back. It was clever to have two separate bands because it means that you can have the bands set to different levels of tightness, depending on where they are placed on your back. If I had to describe the level of support, I would say it feels a bit like a posture bra, or one of my sport bras. When I'm wearing an old bra or one that doesn't quite fit perfectly (because sometimes I do stupid things), then I get a bit of an achy feeling in my upper back. This bra feels great though, and the weight of my boobs feels well distributed.
Cup & Underwire
If there's any part of the bra that could be improved, it's definitely the cups. This bra suffers from the same lack of depth that the molded cups have, which is a shame. In order to get my breasts to sit at a height that I really like, I've had to adjust the straps to nearly the shortest setting.
Not much to report about the underwire. It doesn't come up too high on the sides, which will suit those who have issues with underwire digging into their sides. It's comfortable enough, and well I pull the bra up by the straps, it sits well under my breasts.
This bra doesn't tack well, like the rest of the bras in the collection, but again that's likely due to inadequate cup depth, as my breasts are pretty full on the bottom and projected.
Overall
This bra has a lot of things going for it. Again, I'm in love with the vision for this bra line and what it tries to do. The soft cup bra is definitely a very comfortable bra and the back is on point. Apart from the bra not quite tacking, I still feel like I can get the fit that I want out of this thing. The only trouble is that in order to get my breasts to sit as high as I like, I have to pull the straps up quite a bit.
The Other Butterfly bra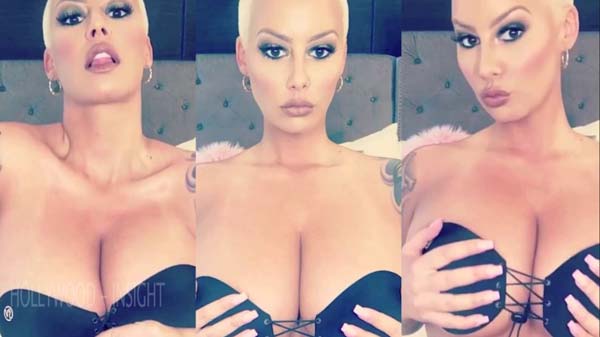 How did the bra get its name?
This bra is known as the Instagram bra because it rose to popularity after being promoted endlessly on that social media platform. Everyone from Amber Rose, down to Instagram models with fledgling accounts have shown this thing off.
It is also called the butterfly bra because of its shape. Most of these bras feature two adhesive sheaths that are to be worn over the breasts, tied together by a string in the middle of the bra used to tighten the bra to the desired fit.
What this bra claims to do
Pretty much everything. It's meant to be able to give you amazeballs cleavage and support without being encumbered by a pesky band like you would in a strapless bra.

Does it work?
Yes and no. I haven't tried this bra personally myself, but after hours (ok, minutes) of watching clips on YouTube, I can safely say I don't need to. This bra is useful for people in A-C cups, and possibly some D cups. In order for this bra to provide any sort of profile similar to what you see in ads, you're going to need natural, self-supporting breasts at the minimum, and at the most, augmented breasts.
If you're a slightly pendulous D/E/F cup and you are considering this thing, check out this great review first:
I would venture that you might be able to get away with this type of bra if you were using it to create cleavage in a dress with a really tight bodice (like an empire waisted dress). In a case like this, the shape of the dress would help to provide some of the support that this sort of bra doesn't, so maybe it could work.
I'm not convinced that you can chuck this on under a tank top or a loose-fitting dress and go about your day feeling like nothing is amiss.
Other issues
If you're lucky, you'll get 2-5 uses out of this sort of bra before the adhesive no longer works and you need to buy a new one. Right there in the product description, it says 'Do not recommend for hot temperatures or under great pressure because sweat may make it slip down.' I don't know about you, but reading that sentence alone makes me wonder what the threshold for 'great pressure' is, and just how much sweat is too much.