If you've googled 'pendulous breasts' lately, you'll see that half of the search results that come up in the top 10 are for plastic surgery clinics. Somehow, as a pendulous gal, this doesn't sit well with me. I dislike the idea that because my breasts aren't a certain shape, there's something wrong with me.
Having round, perky breasts is simply one of many ridiculous beauty standards that western women are expected to conform to. Despite what the media, and cosmetic surgery industry might say, we are not lesser human beings because a part of us doesn't look a certain way. (Can you tell I'm incensed?)
| | | | | |
| --- | --- | --- | --- | --- |
| | | | | |
| Goddess Keira | Freya Deco Vibe | Wacoal Elegance Hidden Wire Minimizer | Panache Tango II | Panache Tango II |
| Cup: Not padded | Cup: Molded/Lined | Cup: Unlined | Cup: Not padded | Cup: Not padded |
| Style: Cut and Sew | Style: Plunge | Style: Minimizer | Style: Demi Bra | Style: Soft Cup |
| Best attribute: Support and Coverage | Best attribute: Shape | Best attribute: Minimization/Coverage | Best attribute: Lifts the girls! | Best attribute: Good Separation |
Thanks to a combination of genetics, pregnancy, weight loss, gravity and aging, many, many women have breasts with some level of sag, or ptosis. I've talked about it a fair bit on my site and have even detailed my thoughts on dealing with deflated boobs.
I've created this guide for women who have big, pendulous breasts and who aren't looking to go under the knife, and are simply seeking to have their breasts supported and lifted the best they can in the bras that are out there on the market.
For many women with big boobs, finding the 'right' bra isn't even about aesthetics. It's about health, and avoiding all the pains that can come with being well-endowed. It can be an incredibly difficult and frustrating process to find a bra that suits your needs, and my goal is to try and lead people to the right types of bras as best that I can.
What are pendulous breasts?
Pendulous breasts are breasts that are no longer self-supporting. A self-supported breast is one that doesn't need a bra to look 'full'. Before you start to feel like an outlier, don't worry. According to Herroom.com, only 16% of women in a sample size of 400,000 fall into this category, and this category is largely comprised of women with augmented breasts.
Sagging, or ptosis is classified on various levels based on how low your breasts tissue hangs below your inframammary fold (IMF), the place where the bottom of your breast meets your chest wall.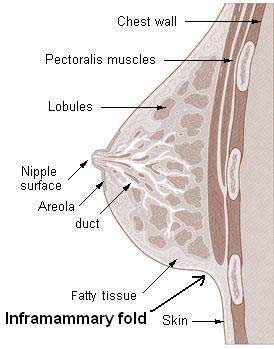 This visual guide from parkcenter.net will give you a better idea: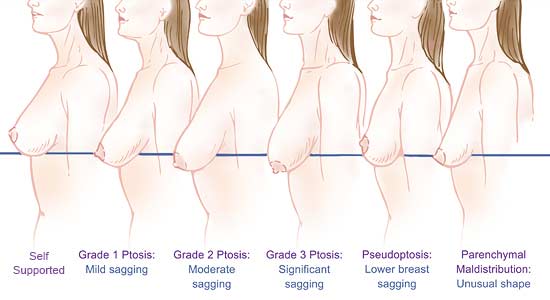 The more breast tissue below your IMF, the more pronounced your level of ptosis. I'll be focusing my guide on breasts that have Grade 3 ptosis, as this is what I have, and this is where I believe I can offer the most value. As you will come to see, there are many, many different variations of breasts, even when you look only at those that have pronounced ptosis.
What does this mean for my bra choices?
Bras are meant to support, shape and lift the breast. When it comes to choosing a bra, the biggest hurdle is finding one that will do all three of these things well, and comfortably. Barring having to wear bras for specific types of clothing, most women looking for an everyday bra will be looking for a bra that lifts the breast above the IMF to some degree, while giving it a nice shape.
There are so many different styles of bras on the market out there, all with varying degrees of support. Instead of going through every single style in an exhaustive list, I will go through the hallmarks of a supportive bra, and point out some common problems you might face in wearing different cuts, and offer some examples of bras that have worked for me.
The Most Supportive Bra Type In The World
If your only priority is support, and you disregarded every other factor you normally consider when picking a bra, your bra would ideally have all of these elements:
An underwire for support – A good underwire encapsulates the shape of the breast. Its rigidity helps to provide extra.
A full-coverage cup – A good full-coverage cup will control and support the entire breast.
A three or four-part part cup sewn with rigid fabric – Cups that are made with rigid fabric sewn together to form a T-shape across the cup will help to lift and shape the breast.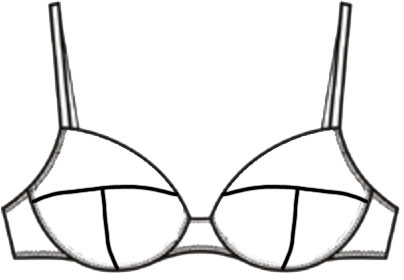 A wide band – 80-90% of the support that a bra provides will come from the band. A wide, well-fitting band goes a long way to supporting your breast tissue and lifting it.
Narrow-set straps – Narrow-set straps help to create a center-pull lift the breast more than wider set straps.
Reinforced sides – Reinforced sides help to prevent your breasts spilling out of the sides of your cups. They cut down on the appearance of armpit fat, and well-reinforced sides will keep your breast tissue pointing forward and looking less wide.
With all those criteria in mind, you would probably end up with something like the Goddess Keira bra or the Elomi Raquel bra.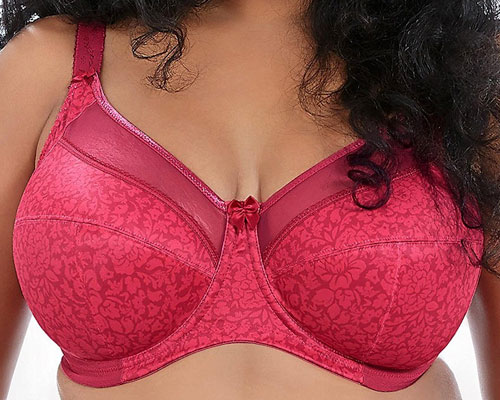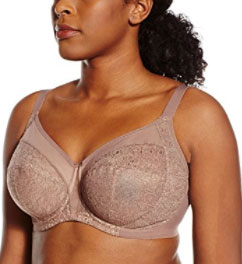 While these are great options, they cannot suit everybody on every occasion, because:
Some people just hate underwire. Other times, for medical reasons, they simply cannot wear one.
A full-coverage cup generally covers your whole boob. That can get hot, depending on the material, and isn't always practical when you want to wear certain necklines.
Seams can show through shirts to varying degrees, rub on your nipple, and give you a pointy look, at least in the beginning when you're breaking in the bra.
Once you start removing any of these elements, the support level of the bra tends to go down. For example, if you move from a full-cup bra to a demi-cup, the top of your breast becomes unsupported. If you move from a bra with underwire, to a soft-cup bra, you will lose some level of shaping, encapsulation and support, and so on.
So what does this mean for my bra choices?
The idea behind that list of supportive features is not to trap you into feeling like you can only wear one type of bra. The idea is that if you understand how each of these elements work to provide support for you, you can look for their presence in other styles of bras in order to find the most supportive options for you within that style.
With that in mind, I've put together a list of bra recommendations across some of the more common bra types that women shop for, along with the difficulties that each style can present for pendulous breasts.
The molded-cup bra
The defining feature of a molded cup bra is a rigid cup that has been moulded to create a certain shape for breasts, usually a rounded shape that appears seamless under shirts.
Molded cups come in many different cuts, with some of the most popular being T-shirt bras (including spacers), and plunge bras.
Drawbacks
The main problems women with pendulous breasts can face when wearing these types of bras, is that often times your breast tissue is too soft to be supported by the form of these cups. Your boobs just don't go where the bra wants it to, resulting in side spillage, and for some women, some degree of gapping, where your bra looks like this: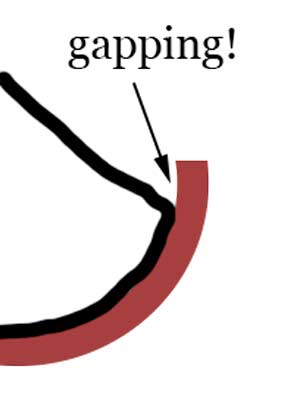 Two bras that have worked well for me despite having rigid cups are the Fantasie Women's Smoothing Molded T-Shirt Bra and the Freya Deco Vibe Plunge Bra. Though my breasts still gapped a little in these bras, I found the issue to be less pronounced in these two options than most. Both of them feature narrower straps and relatively high coverage when compared to other rigid-cup bras in this style.
If gapping in these styles is a big issue and you still prefer to wear a molded bra, another option you can consider is the push-up bra. If you are comfortable with enhancing the look of the size of your breasts, having a bit of graduated padding in the underbust part of the cup can help to push your breast tissue upward and form the rounded look that you are after.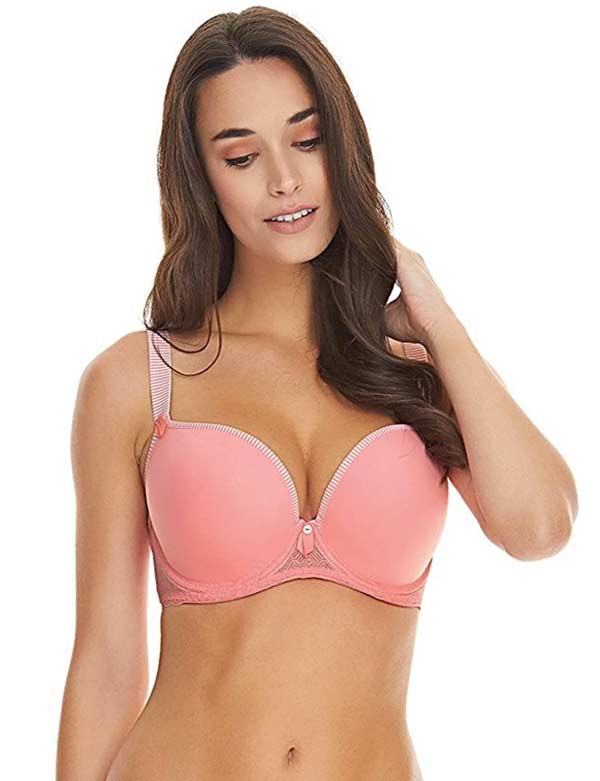 The Deco Vibe creates some great cleavage with its plunge look, while still offering a fair amount of cup coverage. Its option for a racerback and decent side support made this bra a winner.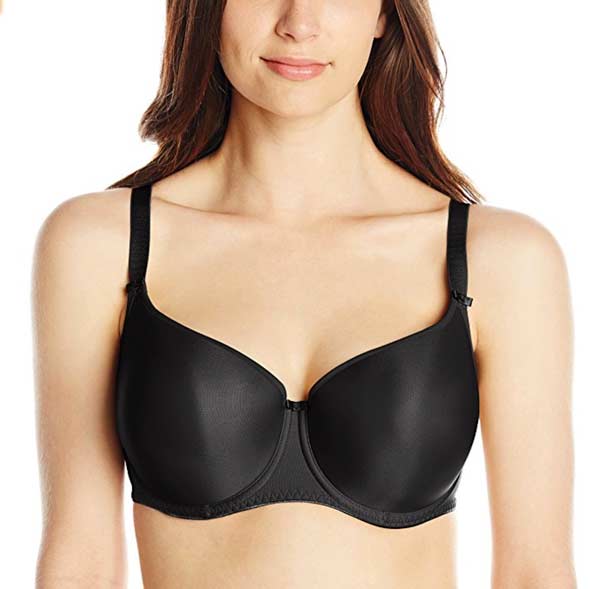 I like the Fantasie bra because the band is very strongly reinforced and its construction creates some great lifting power.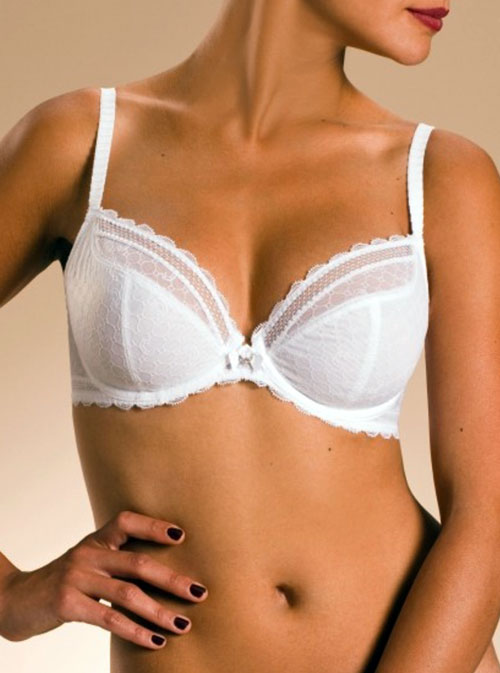 If you don't mind a cut and sew option, and want something that doesn't cover your whole breast, consider the Chantelle C Chic.
The minimizer
This bra style is intended to reduce the appearance of the size of your breasts. It does this by pushing your breast tissue in different directions through its construction. Minimizers work often by compressing your breasts to some extent, pushing your breasts toward each other, or out to the sides.
Drawbacks
A lot of bras in this style don't offer a lot of lift. I guess the idea is if your boobs are laying flatter against your chest, they won't appear as big as when they are gathered up and lifted. The other big issue is that these bras tend to rely heavily on pushing your breasts out to the sides, making you appear wider.
My Picks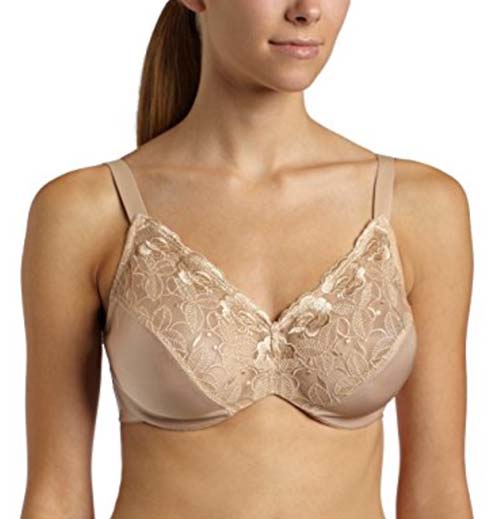 I love the Wacoal Elegance Hidden Wire Minimizer Bra for the fact that it does a good job of lifting up my boobs and does not push me out to the sides very much.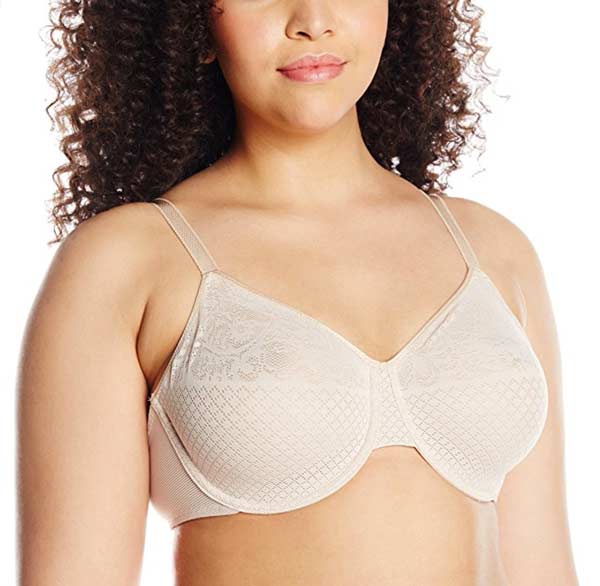 For A look without seams, I also really like the Wacoal Women's Visual Effects Minimizer Bra, as it can be great for wearing under T-shirts. Despite it being a smooth cup, it provides notable lift.
The Demi Bra
The demi bra is a bra category that includes the balcony, balconette and half-cup bras. The most notable characteristic of demi bras is that they don't offer full coverage. This can vary anywhere from half coverage to 3/4. The idea behind these bras is to really show off the breasts by leaving the top half uncovered.
Drawbacks
This type of bra doesn't really offer a whole of support/shaping up top. Depending on the style, this means your breasts could end up pooling together and spilling out in the middle if the bra is cut too low. Another common issue is that your breasts may fill out the bottom of the cup well, but not have as rounded a look up top. These bras also tend to have wide-set straps, meaning they won't offer you center lift.
Although these two options are what I consider to be some of the better bras out there, if you have really soft tissue, you may still have a flat look on the top part of the bra.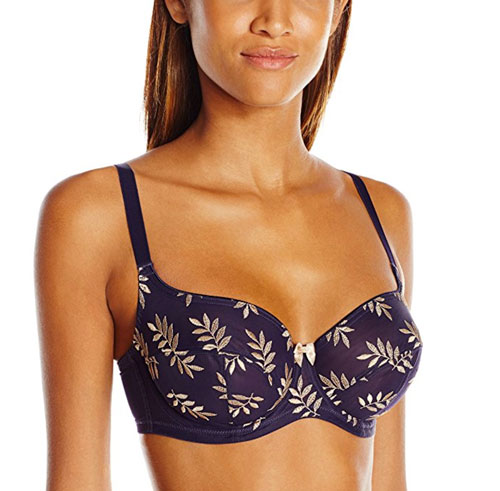 The Panache Tango II is a balconette bra that offers nearly full coverage, creates amazing lift and can create some nice cleavage if your breasts have a bit of fullness on top.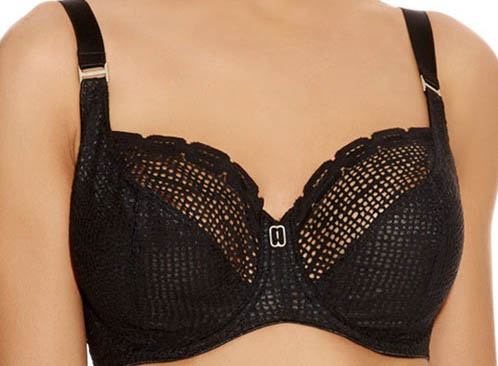 The Freya Women's Rio offers great uplift and side support. Your breasts feel well-encased in this bra despite not being completely covered up.
Soft-Cup Bras
For those who loathe or cannot wear underwire bras, there are plenty of soft cup options out on the market. To make up for the lack of underwire, good soft-cup bras will have some kind of lining or inner panels along the inner edge of the cup to reinforce and create shape.
Drawbacks
Soft cups, because they do not have underwire, tend to have a weaker structure in the cups. This can sometimes produce an slight uniboob look depending on the cup. Some soft-cups that are not properly reinforced fail to provide much lift for heavy breasts.
My Picks
Soft cups exist in many different styles, and indeed, some of the most popular bras out there are also have wire-free counterparts. Not an exhaustive list by any means, but here are two that I like.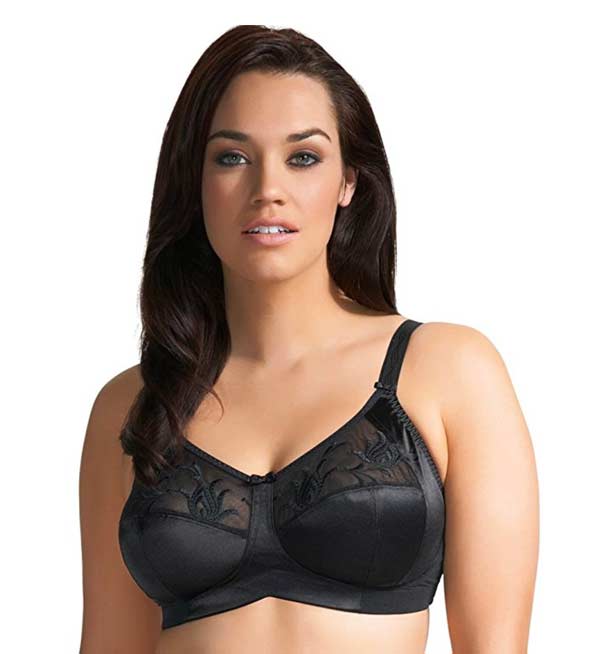 The Elomi Caitlyn is a soft cup bra that gets high marks. It still manages to provide remarkable lift and separate the breasts despite not having an underwire.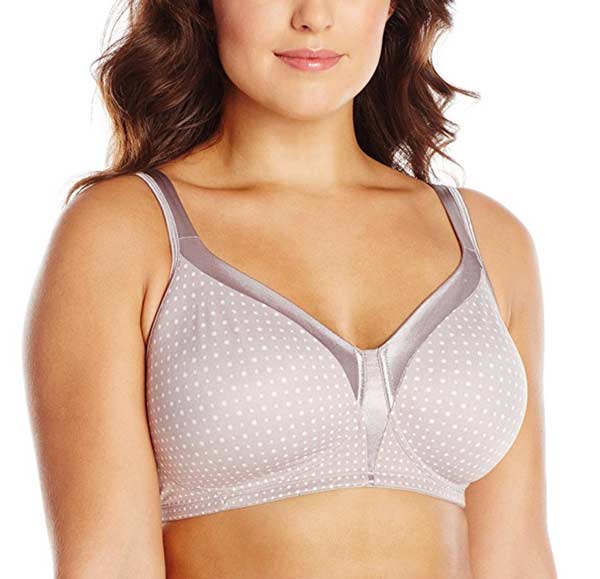 If you want something a little smoother that is super comfortable, the Playtex Women's 18 Hour Sensational Sleek Wire-Free Bra is another great option.
Other Boob Factors to Consider
Roots
Your breasts root is where your breast attaches to your chest. Understanding your root will help you sort out what type of underwire will suit your breast.
When you're shopping for a bra, pay attention to how your underwire and your breast interact. An underwire should never dig into the root of your breast, it should fit comfortably around it.
Conversely, a bra that has an underwire that is too wide can cause other fit problems. Your breasts may not fill out the cup completely which can lead to rippling in the cup, space on the sides, and your breast not being fully supported.
If you run into either of these issues, but you really want to stick with a particular bra, consider adjusting the sizing. Going down a cup size and up in band size to compensate will get you a slightly smaller cup which could fix your issue. You can also try the opposite when looking for a wider cup.
That solution may work for small adjustments, but if you are very wide or very narrow, it may be worth looking at specific brands that are known for wide (like Elomi) or narrow underwires (like Freya).
Projection
Breast projection has to do with how far your breasts stick out from your chest wall. I won't dwell too much on this one because large pendulous breasts tend to also be projected.
Your level of projection may vary and will impact how your breast fills out your cup. For example, if you are wearing a bra with cups that are too deep for your level of projection, you may end up with your breast not filling out the outer part of the cup properly. This problem can occur both in molded cups and cups that are made of soft fabric.
Depending on the extent of the mismatch, the cup can pucker, and may not provide adequate control.
A bra that is too shallow for your breasts will also result in some problems that are easy to identify. If the band is fitting correctly on the bra, yet you find that your breast cannot be properly contained within the cup (side spillage, top spillage), it may be that the cup of that particular bra is too shallow for your breasts.
Put It All Together and What do you Get?
The grand realization that no one size can really fit all. Do not get frustrated if you try on a bra that is recommended for G-cup, wide-rooted, pendulous breasts and it doesn't fit you. There are so many different levels and combination of projections, roots widths and heights, and levels of sag, that no one bra can ever really give everyone the same results.
Those are just some of the variations of boob types. When you start adding in other factors, like the shape of your torso, how tall you are, or the width of your shoulders, you get even more variables that can affect the fit and effectiveness of a bra.
Throw in the fact that like other forms of clothing, bra sizing is not standard across manufacturers, and it's no wonder finding the right bra can feel like looking for a needle in a haystack.
So how does all of this help me?
All of this information may not necessarily lead you to the perfect bra. However, if you do understand how to properly classify your breasts, you can work out which styles and shapes will work best for you. This means you'll be able to make a more educated guess as to which styles will work best for you in the future.
If you have a favorite bra that fits you and supports you well, examine its shape and different supporting elements. This can be a great place to start when shopping for other bras.
Lastly, remember that there are no hard and fast rules. Even though one bra type generally may work better for your breast shape based on conventional wisdom and what you read online, you may find that upon trying on different bras, you have varying results.