How many bras does the average woman own?

Well, according to a Glamour article from 2009, the answer is 16. When the Daily Mail asked how many bras the average woman owned in 2016, the answer was 8. As I consider myself an average woman, I decided to poll myself. Keeping in mind that n = 1, that number is 20.
Honestly I'm shocked by that number. I consider myself a clothing minimalist. I make sure I keep an updated set of 'essential' items, like a little black dress, a pair of nice fitting dark-wash jeans, a nice blouse, and a good pant and skirt suit, and try to find stuff that I can rotate amongst all those looks. I generally keep my closet to a fashionable minimum when it comes to overclothes. So when I went through my closet, checked under my bed and in my bathroom to find the total number was 20, I surprised myself a little.
The other reason I was surprised is because I definitely don't wear all 20 on a regular basis. Of the 20, 4 are sports bras, of which I could say I only use 3 on a regular basis. The other 16 are a mix of t-shirt bras, minimizers, cut-and-sew styles, full cups, padded cups, demi cups, and strapless bras. Of those 16, I probably wear 6 of them on a regular basis.
How many bras do you need to own?

Well, that all depends on how long you want your bras to last. If you wore one bra every day, and treated it with the utmost care by hand-washing it regularly, you could probably squeak by for about 6 months before the bra completely loses its elasticity and is no longer functional. The actual mileage you will get out of that particular bra also depends on how well the bra is constructed to begin with.
Anyway, taking that logic, we now have a formula we can work with, assuming that you wear each of these poor bras equally. For each new everyday bra you have in your rotation, you can add 6 months!
But bra math is just not that easy. No one wears each bra they own for exactly equal amounts of time, and very few people do the right thing when a bra has passed its prime (throw it out or repurpose it).
If you want to get the most out of your bras, you should have enough such that you can give each bra a couple day's rest (and ideally a hand-washing) before having to wear it again. This will allow the materials to 'reset' and prevent the bra from being overtaxed.
Obviously, you cannot wear the same bra for every occasion. As much as my sports bra gives me amazing support, I can't wear that under everything I own. Each woman is going to have different needs depending on her lifestyle and the types of clothes she prefers to wear.
My Bra Capsule Wardrobe
If I had to design my ideal capsule bra wardrobe in an effort to win Marie Kondo's approval, and keep things to an absolute, practical and joyful minimum it would look a little something like this: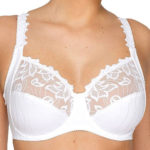 3x everyday bras – What you define as an 'everyday' bra will depend on
the shape of your breasts and what style you're comfortable with. For me, my ideal everyday bras are either full-cup bras or balconnette bras, as these cuts tend to give me a level of support that I am comfortable with, and can be worn under most of my clothes. Many women would add a t-shirt bra to this list, for that coveted rounded smoothness, but because they are molded cup bras, I personally tend to avoid them as a pendulous girl. That's just me though!
My go to balconnette is still the Panache Tango II, and my full-cup options are the Prima Donna Deauville, and Elomi Caitlyn.
2x sports bras – When I'm on a really good gym streak, I'm going 4-5 times per week, and I sweat obscenely, so I definitely need to wash my bra daily. 2 is pushing it, but it's my absolute minimum. Freya and Panache get me by in this area.
1x minimizer bra – I know, I know, I could probably make this part of my 'everyday' bra group, but I know myself, and I only tend to wear a minimizer when I need to, i.e. when the dress/blouse fits perfectly everywhere else but my chest. I can't be counted on to wear a minimizer one-third of the time. My go to at the moment is the Lilyette Enchantment bra.
1x strapless bra – I love, love, love me a nice a longline bra, but because

they don't really go with everything, I'll settle for a great strapless bra. Bonus because these bras tend to be convertible, so you can attach straps when you need to wear it and need a tad more support. My go-to at the moment is Elila's microfiber molded strapless bra. I like it, because I can throw a pair of straps on it and get away with wearing it as a T-shirt bra as well. Also, it's hella comfortable.
1 x lounging bra – I usually keep one bra for just wearing around the house for when I don't want to be braless and I also don't want to feel like I'm dressed up. I know there's tons of bras out there that you can buy that fit this description, but personally I just prefer to use a retired bra.
To really maximize my options, I tried to make my bra choices cross-functional. Picking a sexy balconette means that I can wear it from day to night and dress it up and down. Making one or two of my everyday bras a skin tone bra will also increase the number of opportunities I'll have to wear it.
Total bra count – 8
8 bras has me washing my sports bras every 1-2 days, and my regular bras about twice a week, which is manageable for me. Depending on how often you are able and willing to do your laundry, this number could go up and down.
Give it a try! How many bras do you own, how many do you actually wear, and how many do you think you could whittle it down to?