The t-shirt bra is one of the cornerstones of any bra wardrobe. Their smooth cup design virtually disappears under form-fitting clothes and light fabrics. Their molded cup design also creates a nice, round smoothness, probably the most sought after shape for women in this day and age. Those of you who have read through many of my recommendations know that smooth cup bras are not the most ideal option for my pendulous breasts. With that in mind, I've set out to find three of the best t-shirt bras for breasts that are no longer fully self-supporting.
| | | | |
| --- | --- | --- | --- |
| | | | |
| | Anita Women's Twin Firm Underwire Bra | Bali Women's Live It Up Seamless Underwire Bra | Fantasie Women's Smoothing Molded T-Shirt Bra |
| Fit | Small in cup | Small in cup | Big in cup |
| Gapping? | No | No | A little |
| Coverage | High | High | High |
| Lift | Medium-High | Medium | High |
Why everyone loves a t-shirt bra
T-shirt bras are versatile! Because of the fact that they are seamless, they can go under virtually anything. They are a practical, comfortable choice to wear under work clothes, casual wear, and with the right cut, even formalwear.
Why I don't

quite

love t-shirt bras
Though I do own a couple t-shirt bras and have owned many in the past, I don't wear them all that often.
Why?
Because as my breasts have started to sag, I don't find that these bras offer the optimum level of support that I need. My breasts hang somewhat low with my nipples pointing downward. Most of the weight and girth of my breasts is in the bottom half.
When I put on a molded-cup bra, especially the standard t-shirt cut, my breasts do well to fill the bottom of the cup with some great rounding, but then at the top I get this: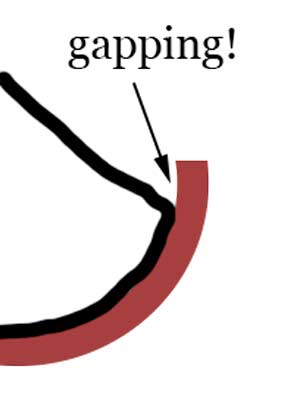 Because my boobs aren't full on top, I don't get that embellished rounded shape that T-shirt bras are meant to produce. Instead, I get this flat look, lots of gapping, and the lines of the top of the bra showing through the top of my shirt. The end result is that I don't get a seamless look, and my breast tissue up top is completely uncontrolled and flat. Nobody wants a bra line that shows through your shirt!

Does that mean everyone who doesn't have perky boobs should avoid a T-shirt bra?
The answer to that is no. There are so many different breast shapes. There are so many different levels of sag, or ptosis. Some women who have begun to sag a bit but still have volume up top can pull off a T-shirt much better than I can.
Everyone also has different preferences when it comes to what they look for in a bra. For me, support is paramount in any bra that I choose. Because of that priority, I will happily forego smoothness in favor of pointy silhouettes that I know will offer better support.
How you want your breasts to look and what level of support you are comfortable with is a very personal choice. Knowing which style is most supportive for you is a great starting point. You can look at the elements of the bras that support you the best and work backward from there.

Some tricks to getting the maximum support out of a style that isn't ideal
We all know that the seaming in cut and sew bras is what makes it a cut above the rest when it comes to support. If you are taking away this element, try to compensate by:
Looking for bras with fuller coverage. This will help to reduce the look of gapping up top.

Looking for bras with a good, supportive band. 80-90% of the heavy lifting is done by band, so try not to compromise on this.

Looking for straps that are wide, fit properly, and ideally have a bit of center pull, or center lift.
These three things together will add up to some decent support and shaping.
Best T-Shirt Bras for Pendulous Breasts
With those things in mind, I've put together a list of three of the best T-shirt bras for women whose breasts aren't full, but would still like to own a t-shirt bra.
All of the following bras are high coverage. In addition to these bras, I also highly recommend the Freya Deco line. I have reviewed their Spacer Bra as well as the Deco Vibe, which are good options if you're looking for a 'traditional' shaped t-shirt bra that can suit lower necklines.
Anita Women's Twin Firm Underwire Bra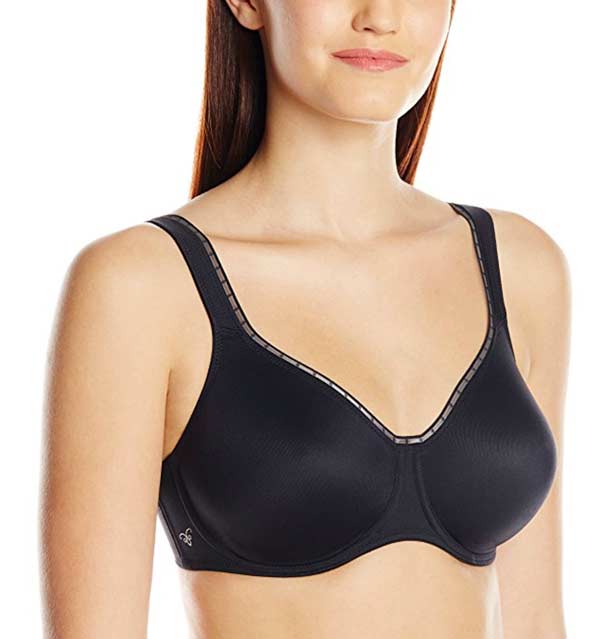 Fit: Runs small in the cup
I took a chance on the Anita Women's Twin Firm Underwire Bra, as I have never worn this bra before. It is a bit on the pricier side compared to my other two picks. It's a very comfortable and supportive option with a very airy feel to it. This bra has the most inclusive range of sizes, going all the way up to an I-cup.
Pros
Before you even put this bra on, you know it was designed with big-boobed women in mind. The straps are very wide, and padded on the shoulder, making them feel super comfortable and wearable all day.
The underwire is very comfortable, so much that you don't feel it. It doesn't come up too high under the arms either, although it did not sit on my chest as well as the Fantasie.
The cups aren't padded, making it a good pick if you don't want to add bulk. They are double-lined though, meaning that most people should be able to wear it without having to worry about headlights showing.
Part of the strap on the back part of the bra is adjustable and set a bit narrower, providing some center pull. Women with narrow shoulders will love the straps because they will not slip off the shoulder.

The band feels extremely sturdy, and is double layered in the back. It manages to feel very sturdy despite not being incredibly wide. All sizes come with a respectable 3-hook closure.
The bra is reinforced with side boning that is not too rigid. This, combined with the inner slings lining the outside of the cup combine to provide great side support, which keeps your boobs pointing forward.
Cons
Okay, this bra isn't 100% seamless. The cool detailing on the edge of the cup and the band actually works against the bra.
The straps aren't fully-adjustable, so if you are shorter or want a more snug fit, you might need to alter the bra.
Though this bra supports really well, it doesn't lift as well as the Fantasie.
Bali Women's Live It Up Seamless Underwire Bra

Fit: Runs small in cup
One of the most absolutely comfortable seamless bras that I've come across is the Bali Women's Live It Up Seamless Underwire Bra. This bra comes in a ton of colors, and comes at an extremely affordable price. This makes it an ideal option for a great every day bra. If you like it, you can buy more without having to break the bank! The bra also has a great wire-free option as well.
Pros
The bra's underwire is encased in thick fabric, which means it doesn't rub against the skin. This, along with the fact that it has a high arch for tummies makes it suitable for all-day wear.
The underwire is helped by fabric slings on the bottom and sides of the cup, and it provides good shaping and encasing for bottom-heavy boobs. A lot of side structure comes from the cups themselves, meaning that the underwire doesn't need to come up high underneath the arms. This makes it a good choice for ladies with shorter torsos.
The cups strike a good balance between being molded and being stretchy, allowing the bra to do more shaping than a thin-material seamless bra, but with enough allowance for the bra to conform (somewhat) to your shape.

The cups are unpadded, but thick enough so that your nipples won't show through.
The shoulder straps are padded, making them feel comfortable enough to wear all day without having to deal with shoulder digging. The straps also have more of a center pull, providing some extra uplift for those who need it.
The band is nice and wide, featuring 2-3 hooks depending on cup and band size.
Cons
The sizing on this bra is limited, with the biggest cup option being a DDD.
While this bra definitely supports my breasts well, I do feel like it could do more to actually give them some uplift.
The bra doesn't create a lot of separation, and the center part isn't built in such a way so that it can properly tack.
The bra is full-coverage, so it will not be suited toward low necklines.
Fantasie Women's Smoothing Molded T-Shirt Bra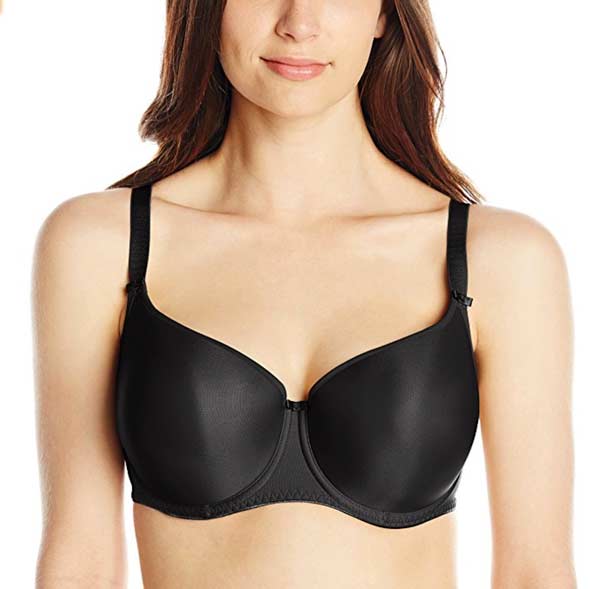 Fit: Runs Large in cup
Fantasie Women's Smoothing Molded T-Shirt Bra is another incredibly comfortable and supporting option, but in the more traditional molded T-shirt style. Right away when you put it on, you feel how well-made it is, and the fabric feels incredibly lush against the skin.
For women whose breasts may gap in this style and who are looking for a fuller cup and more coverage, I highly recommend the Fantasie Women's Smoothing Moulded Full Cup. It's very similar in shape to the Bali, but has a wider range of cup sizes.
Pros
This bra has lift! The support in the undercup really helps push my breasts up higher than they normally lie. The underwire has slightly more of a pronounced U-shape than the Bali bra. It feels a lot like a higher coverage version of the Freya Deco.
The bra really creates some nice forward projection in the way that the cup is shaped, really helping to shape the appearance of your breasts.
There's some great cup definition with this bra, and the gore actually tacks for me!

The fit of the cup around my breasts is one of the better ones that I have experienced. My boobs feel well-encased within the underwire, and there's no weird rippling that I sometimes get in t-shirt bras.
There is still some gapping with this bra, but because the bra comes up higher than other t-shirt bras I've tried, it's not as pronounced. I think this is in part because the cup projects out more than I'm usually used to.
Cons
This shape of the bra cup is quite projected, which would suit boobs that are naturally this shape. For me however, there was a tiny bit of space between where my boob sat in the cup, and the widest part (the nipple area). Not a deal breaker, just not ideal.
Only two hooks across all sizes, meaning larger cup sizes may not be as supported.
The straps are set wider than the Bali bra, offering less center lift.
Though this t-shirt bra does not have as much padding as these types of bras usually do, it still adds a little bit bulk. For no padding and a less projection, I recommend Fantasie Seamless Molded Balcony Bra.
Other T-Shirt Bra Alternatives
Considering that the main two criteria for t-shirt bras are seamlessness and a rounded bust shape, there are a few other types of bras that I have covered that have a fair amount of overlap.
If you are looking for more options, I highly recommend:
My post on spacer bras. This style is great more breathable alternative that features less bulky material on the cup.
My post on plunge bras. This style will give you the opportunity to wear more low cut shirts.
My post on push-up bras. This style will add the most lift out of all molded options, and has some padding to enhance the bust.
Some smooth cup minimizers, like the Wacoal Women's Visual Effects Minimizer Bra can work as well.
All of these styles would work great under a t-shirt and suit other needs as well.