The plunge bra is a very close cousin of the push-up bra. Both of them enhance cleavage, and make the top of your boobs really stand out. In addition to being great for sexy times, the plunge bra is also a very practical option for low cut dresses or shirts, including the type of deep V-necks you would find on formal wear. In this review, I've endeavoured to create a list of four of the best plunge bras a big-breasted girl can ask for.
| | | | | |
| --- | --- | --- | --- | --- |
| |   |   |   |   |
| | Elomi: Matilda Convertible Plunge Bra | Chantelle C Chic Sexy Plunge Bra | Le Mystere Women's Infinite Possibilities Convertible Plunge Bra | Freya Women's Deco Vibe Underwire Molded Plunge Bra |
| Plunge Depth | Medium | Low | Very Low | Low |
| Cup Type | 3 Panel/Sewn | 3 Panel/Sewn | Molded | Molded |
| Support Level | Very High | High | Medium | Medium-High |
| Coverage | High | Moderate | Moderate | Moderate |
| | View on Amazon | View on Amazon | View on Amazon | View on Amazon |
Plunge Bra vs. Push-Up Bra
Plunge bras are a great option as an alternative to a push-up bra, because they focus on enhancing the natural cleavage you already have without necessarily adding padding to create a bigger bust.
One of the most notable characteristics of plunge bra is the fact that the center gore comes down really, really low, enabling you to wear it with low-cut necklines.
Can everyone wear a Plunge Bra?
Just like t-shirt bras and push-up bras, if you have breasts that are a little more settled, this style can be a bit tricky. You might have to hunt around a little more for a bra that really supports you, given the openness of the cup in the middle part of the bra.
This won't be the most uplifting bra for your shape, however if your outfit demands a plunge, cut and sew style options will be your best bet when it comes to support. Molded cups, which are the most common type of cup on plunge bras are difficult if you have lost volume or are fuller on the bottom. They can make the top of your breast appear a little jiggly. As a result, your breast may not always fill out the top of the cup well, and this may create gapping between the top of the cup and the top of your breast.
4 of the best plunge bras for big breasts that money can buy
As always, I created this list based on what suits me best in terms of the state of my own boobs. As someone who values support most of all in almost any style I look for, most of my picks will revolve around cut and sew options.
Elomi: Matilda Convertible Plunge Bra

Fit: True to Size
Elomi scores another win in my books with the Matilda Convertible Plunge Bra. The Passion Pink color can flatter any skin tone. As always, I am a fan of versatility, and the fact that this bra (comfortably!) converts into a racerback really tips the scales in its favor. The Matilda is one of best plunge bras for women who want some plunge without having much of a push-up effect.
Pros
The three-part cut and sew cup provides some awesome support, with one vertical seam in the center of the cup and one going up the side that provide some great lifting. Because of the way the cups are sewn, there is absolutely no pointiness in this bra from day one.
The fit of this bra is absolutely excellent. It's enough to unseat my perennial favorite, the Freya Rio balcony as my go-to bra. It's the type of bra I feel comfortable wearing all day, as I really feel like everything is held in.
As I've come to expect with Elomi bras, they have taken care to design the back of the bra with a wide band that features 2-3 hooks depending on size.
The side support on this bra keeps everything pointing forward, and though the side panels do come up high, someone with a more petite frame should fare all right in this bra as the underwire doesn't poke.

The elastic on the top part of the cups helps to keep the bra in line with the top of my breast, which I appreciate.
The gore on this bra actually tacks to my chest well, and the underwire is wide enough that it contains my whole breast. I'd recommend this bra if your breasts are widely-spaced.
Cons
While this bra is extremely supportive and beautiful, it's not going to give you a whole lot of cleavage. The center gore comes up relatively high in bigger sizes for a plunge bra, and the cups really separate your breasts.
The bra is pretty sheer and unlined, so depending on where your nipples fall, you may want to consider some petals for coverage.
This bra only comes in a couple of colors! Something so comfy ought to have more range.
Chantelle C CHIC SEXY PLUNGE BRA – In-depth review

Fit: Runs small in the Band
This is another cut and sew style similar in style to Elomi Matilda. I actually really liked the look of my boobs in this bra, and I didn't have the 'flat' look on top that I sometimes get. The gore doesn't come up quite as high though, making it a bit more versatile. The lace over the entire cup also gives it a pretty look, without as much contrast as the Elomi.
Pros
This C Chic manages to balance out being a deep plunge with still providing adequate support. It's a good choice for women with bigger cup sizes (it goes all the way to an H) who want the plunge without a lot of uplift.
The band fits comfortably, although not as wide as the Elomi. It features 2-3 hooks, depending on size.

The underwire feels comfortable and well-encased within the stitching, making it feel quite comfortable. It comes up lower under the arms than the Elomi bra, making it another good option for women with short torsos.
The straps are fully adjustable, and they stay up well without having to readjust during the day. The narrow-set U-shape in the back provides some great center lifting.
Cons
While I appreciate the elastics on the top part of the cup, these ones were actually too strong and didn't sit well on my boobs. Through some shirts, the top line of the cup isn't flattering, for that reason.
The ridging of the straps, while looking really pretty, are a tad on the hard side. It's not a deal breaker for me, but I wish they were softer. I'm not sure why, but even though the strap spacing isn't what I'd call too wide, they do slip a bit.
Le Mystere Women's Infinite Possibilities Convertible Plunge Bra

Fit: Runs small in band and cup
This bra is actually marketed more as a t-shirt bra, but as you can see by that tiny, tiny gore, it will definitely satisfy your plunge needs. We are in molded-cup territory, so shaping/support isn't as great as the cut and sews on this list, but if a low neckline is what you want, this is a great option.
Pros
The smooth cup comes up high enough on the sides that my breasts feel fully contained and don't bulge out under my arm. There is a little bit of padding in the undercup, and this does raise my breasts a bit, although not as supportive as the Elomi or the Chantelle. I usually stay away from any kind of padding, but it's subtle enough in this bra to produce a nice effect without making my chest look huge.
The shape of this cup creates a nice long cleavage line. This bra should work well for women who are widely-spaced and want a more pushed together look.


For someone like me that always wants as much coverage as possible, I like that the bra comes up relatively high on the outsides. This helps to control my looser flesh at the top of my breast.
I like the fact that this bra is a multiway. The bra has different hooks along the band in the back so that you can actually choose the level of tension and how wide or narrow the straps are. The crisscross and halter option provide an opportunity to create a little more lift. I'm always weary of molded cups, but having the option to configure the straps does improve my boob shape.
Cons
This bra only comes with 2 hooks despite going all the way up to a G cup.
Depending on the shape of your boobs, this bra doesn't quite deliver on the rounded look you usually expect from molded cups. Think more of a vertical oval shape under shirts, instead of a rounded look. This didn't really work for my soft boobs, but it could be okay for someone with firmer, more projected breasts.
Though this bra can be converted into 6 different styles, the straps themselves are not removable. If you want to wear this as a strapless, you end up having to tuck the straps into your cup.
Freya Women's Deco Vibe Underwire Molded Plunge Bra With J-hook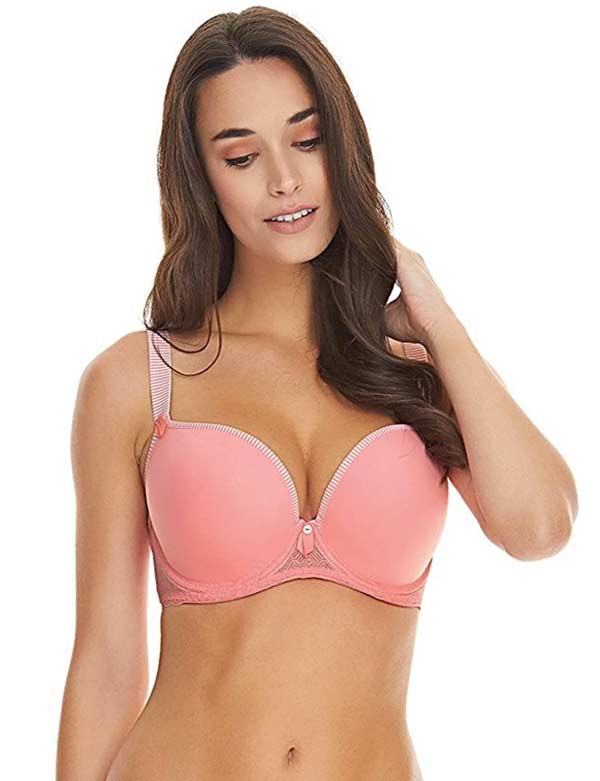 Fit: Runs small in band and cup
You know that a brand is on to something when they create an entire sub-line of bras using a particular shape. The Freya Deco series literally has something in it for everyone. I reviewed their Deco T-shirt bra recently and was pleasantly surprised, as far as T-shirt bras go for me.
0This bra is a variation on that with a slightly smaller gore that creates some great rounded cleavage. Somehow it manages to do this without making you feel like you're about to pop out, making it one of the best plunge bras with a molded cup available in bigger sizes.
If you're looking for an option with more spacing (and less cleavage), check out the equally popular Deco delight. It is a super comfortable option.
Pros
Hopefully you're starting to see a pattern with the smooth cup plunges that are making my list. Because the combination of plunge + smooth cup + pendulous boobs normally equals a lack of support, I highly recommend J-hook straps if you find them comfortable. Once this bra is hooked in the back, it lifts me up enough to reduce my normal anxieties about wearing molded cups. Big positive!
The straps on this bra are wide and comfortable, although they probably run a little bit wide for narrow shouldered girls if you don't want to hook the bra in racerback.

Usually for me, T-shirt bras create gapping for me at the top, or quad-boob, but when I finally found the right cup size (I had to go up to G in this bra), it actually shaped my breasts quite nicely. This is probably owing to the fact that it comes up pretty high and gives some good coverage.
This bra comes in so many awesome colors! I love all the tropical summery options, and I'm thrilled to have found a brown option for days when I need something slightly more skin tone.
Cons
For maximal support in this bra, you will have to rely on the racerback. If you can find a height to hook it that is comfortable though, the bra is definitely worth considering.
The biggest band size in this bra is a 38, and for me this bra ran small, meaning that I'll have to resort to using an extender until the bra relaxes a bit. The construction of the bra is definitely worth this small sacrifice.
Honorable mentions
Normally my honorable mentions are bras I've tried, but today I'm just admiring two that I saw during my search.

I really liked Gossard's Longline Front-Close Plunge. Front closing bras are little bit tricky because there is no option to adjust if the band doesn't fit exactly right. However I think this bra looks like it'll frame your breasts well and could provide a sexy low-cut cami look if you layered it the right way.

I also loved Ashley Graham's Diva Plunge Bra. Not the most practical thing out there, but it would definitely make my shortlist for what to wear on Valentine's day. The sizing on this bra is limited but it's oh-so-pretty! Also, fangirling a bit here, I really like Ashley Graham as a brand.