Elomi's Raquel Side Support Bra is a great contender  when it comes to alternate skin tone bras from a company that has catered to bigger busts from the get go. The bra comes in four colors, including a nice taupe color that can match a variety of tones.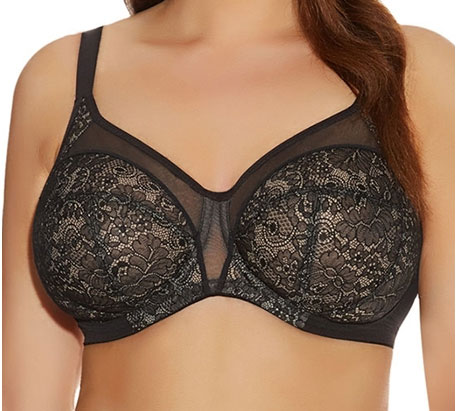 Before I get down to the nitty gritty of this Elomi Raquel review, I must absolutely commend Elomi for showing a range of models in their photos. It's really nice to buy a bra in a 38G from someone who looks like she would wear something my size.
Strap
The straps on the Elomi Raquel are fully adjustable, a feature that I am always a fan of. However, depending on the length, it can extend a bit (length wise) during the day, depending on what you are doing. This problem seems to occur most when the straps are set to the shortest length. While not as narrowly set as the Wacoal bra, the straps are spaced well enough that they don't slip off your shoulders.
Cup and gore
I absolutely love the cup of this bra. It's got a four-panel cup made of a mix of lace and sheer panels, which makes this one of the more sexier-looking, comfortable, full coverage skin tone bras I have come across in a while. It's not often that a bra that provides minimal cleavage still makes me feel hot.
This is another unlined, soft cup bra, which I love because of its versatility when it comes to accommodating a variety of shapes, even for those of us who have lost some fullness over the years.

Another upside of this well-constructed cup is that the job of supporting boobs is well distributed between the front of the bra and the straps, meaning that you don't suffer from the awful shoulder marks at the end of the day. The downside of four-panel stitching is that you might feel a little triangular when you look at your profile in the mirror, but head-on, the cup gives a nice rounded natural shape.
The gore will likely sit comfortably on those of us with 'normal' or slightly wider set breasts, but as someone with a narrow set, it did not sit as snugly as I would have liked, and I have had this problem before with Elomi bras.
Band/Sizing
Depending on the size you get, the band will have 2-3 hooks on the back. The band sizing feels true to size, although I could probably get away with an F as opposed to G when it comes to the cup.
Underwire
No complaints here, it has a comfortable feel, and this bra can be worn all day without feeling like there's any digging going on.
Feel
As I mentioned, the bra offers full cup coverage, and side support. The construction feels solid and of high quality, without making you feel constricted all, making it comfortable enough to wear all day.
While not as smooth as a t-shirt bra, the design smooth enough that I feel comfortable wearing the bra under lighter tops, and the material is lightweight and breathable, making it a good t-shirt bra alternative for hotter months.
Overall Shape
This bra really does what it promises and offers proper side support, you don't feel like you're spilling out, and it reduces side bulge.
The bra provides a natural look, lifting and rounding, without pushing boobs up too much. My only gripe is how it can look from the side, as I mentioned before.
Best for
Day to night. Can be worn to work, out at night, and is comfy enough to wear on a lounging day too.
Overall, I'm in love. Elomi is one of the first brands I bought after I had my sizing epiphany back in 2008, and though they have discontinued my previous go-to style, my faith has been renewed by Raquel. While the company could definitely do with adding more varied skin tone bras to other styles, I'd still give this bra a 4.5/5. See what others are saying.