Long-time readers will know that as a lover of supportive styles, a full-coverage, full-cup bra will almost always be my go-to pick. There's another bra type that comes in as a close second for me though, and that is the balconette bra. Today, I'm going to try and pick out the best balconette bra for large breasts that money can buy.
| | | | |
| --- | --- | --- | --- |
| | | | |
| | Panache Women's Tango II Balconette Bra | Freya Women's Rio Underwire Balcony Bra | Cleo Marcie by Panache Balconnet Bra |
| Coverage | High | Medium | Medium |
| Seamed | Yes | Yes | Yes |
| Score | 4.5/5 | 4/5 | 4.5/5 |
| | View on Amazon | View on Amazon | View on Amazon |
What is a balconette bra?
A balconette bra (sometimes spelled balconnet), or a balcony bra, is a style of bra whose cup generally covers 2/3 – 3/4 of your breast, leaving the top part exposed. This bra is sometimes referred to interchangeably as a demi cup bra. While both bras only provide coverage for part of the breast, the biggest difference between the two is that a balconette bra has more of a sweetheart neckline.
What makes a bra a balconette bra?
Typically, a balconette bra will have a short gore in the middle, with the underwire coming up higher along the sides. The straps of the bra will generally be wide-set, as they are normally sewn to the sides of the cup.
Why wear a balconette bra?
A balconette bra is a great option for low-cut and wide necklines, given the placement of the straps and the cut of the cups. The bra also provides a bit of a cleavage boost by pushing your breasts toward each other, while still keeping your breasts supported.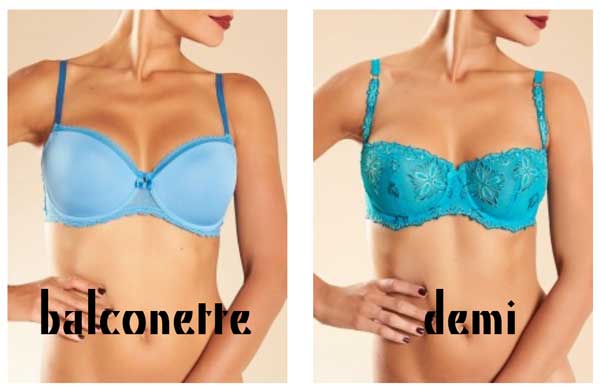 Who should wear a balconette bra?
Good news! The supportive and shaping style of the balconette bra suits women with a with both big and small breasts. If you've got broad shoulders and breasts that are full on top, a balconette is going to work well for you.
If you're fuller on the bottom, however, you can still wear a balconette bra. You may have to dig around a bit to find a cup that has the right level of projection for your breasts so that they don't appear too flat on top. If you do have loose tissue, try to stick to balconette bras with a 3 or 4-part cup. The seaming will help support and lift your breasts.
Balconette vs Demi Bra
Just to make things a little more confusing, bra manufacturers today often use the term demi cup interchangeably with balconette. While they have a lot of similarities—wide-set bands and partial coverage, the biggest difference between the two is that the demi cup has a straighter neckline than a balconette. In other words, where the balconette has a bit of a heart-shape neckline, there is very little difference between the level of the cup on the inner edge vs the outer edge.
A balconette bra classic: the Panache Tango II
I have to admit I have an emotional attachment to this particular balconette bra. The Panache Tango II (3251) is a classic that has been around for years. The Tango II is also the very first bra I bought after getting properly sized for the first time back in 2008. I wore this bra in 38H under my graduation dress that year, and basically wore it to the ground. Though I have gravitated toward Freya as my go-to brand, Panache does make beautiful plus size/large cup bras and I wanted to check out the Tango II again to see if this bra is still worth raving about.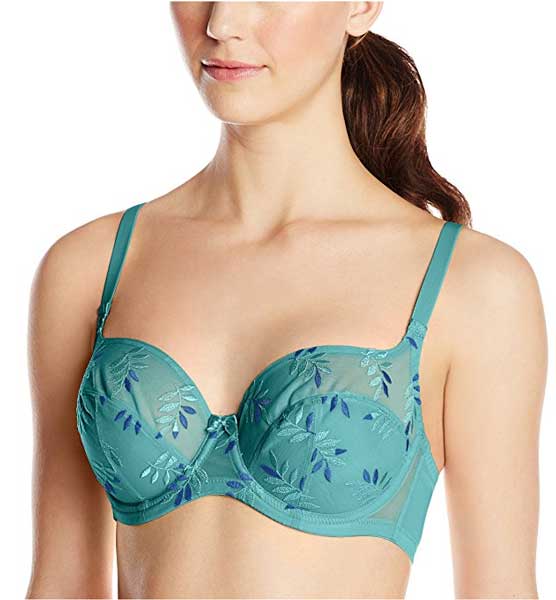 Strap
The straps on the Tango II stay in place on me but they do flare out a bit, which means that slip might be a problem for those of you who are narrow-shouldered.
The straps are fully adjustable, and while they are not the widest out there, my shoulders don't feel any strain.
Cup and gore
First, the aesthetics. The balconette cup is very pretty (to me) and has a nice leaf patterned embroidery on it. This will, however, show through on some shirts. 
The cup works together with the rest of the bra to provide an excellent amount of lift, thanks to the T-seam.
The shape on me wasn't pointy, but wasn't entirely round either. If my first Tango is anything to go by, over time as the seams soften, any semblance of pointiness will also diminish.
The way the cup opens at the top isn't totally ideal for pendulous boobs/boobs that have lost volume. You kind of get a look where the bottom part of your boob is pushed up nicely, but the top part doesn't look as round as I would like.
If you are full on top, it might feel like the bra pushes your boobs up a bit too much. If your cup size is down the alphabet, expect that this bra will definitely create a lot of cleavage. Let's just say if modesty is a priority, this isn't the bra for you, because this bra will definitely highlight your assets.
This is another one of those rare bras where the gore lays flat on my chest. It does come up a bit high, which keeps it from being versatile enough to be an all-rounder bra, but it creates awesome separation.
Band/Sizing

At first glance, the band does not inspire a whole lot of faith. It's not particularly wide, and only has three hooks in the larger sizes. When it's on though, it still manages to feel very supportive.
The band also sits high enough that I feel I gain a couple more inches of stomach, which is nice.
I'm also a big fan of the fact that the sides of the bra are well-reinforced with boning, providing a lot of side support which helps to keep boobs in place and facing forward.
Underwire
The underwire on this bra is a bit strong, which may take some time to get used to as you break in the bra. It also comes up high under the arm. This isn't a problem for me at my height, but if you're a bit shorter, I think this might be something to consider.
Feel
This bra, once you put it on feels very high quality, and sturdy. I think it's comfortable for long wear, certainly as comfortable as the original Tango.
I can't stress enough how well-supported this bra feels. At the end of the day, back pain isn't an issue, as it distributes the weight of your bust very well.
One little hiccup you might have at the beginning is the material. It feels a little scratchy and stiff fabric at first, but softens after a couple washings. My skin isn't really all that sensitive, so I was able to wear it straight from the shop.
Overall Shape
Overall, this balconette bra provides excellent lift, not pointy in the cup for me. I feel the bra separates your boobs very well and gives great definition. 
Best for
All-day wear, dressing up
Final thoughts on the Tango II Balconette bra
This balconette bra provides an excellent amount of lift and support, even at larger sizes. It improves a bit on the Tango, in the sense that the top part of the cup seems to lie closer to my chest than its predecessor did. Though it does provide that push that us pendulous girls need, it is not as sturdy at the top as I'd love it to be.
The Panache Tango II is attractive, and very comfortable, so for that, I'd give this bra a 4/5. Another big plus is that this bra also comes with matching panties in a range of different cuts, so there's something out there for everyone.
Freya Rio Balcony Bra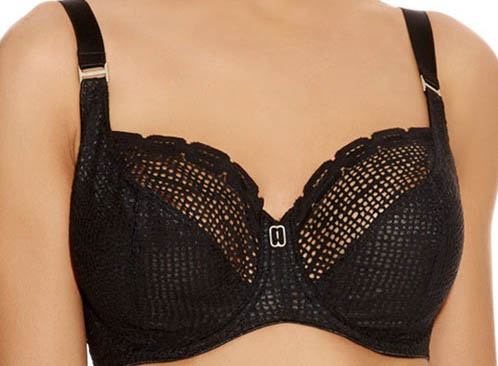 Every once in a while, a bra comes along that is a real winner in terms of quality, and price point. One of the mainstays in my closet is the Rio balcony bra by Freya, a bra that I truly believe is the best bra for my shape.
The Freya Rio is a classic, it came out ages ago and I've had it in my closet in one color or another since 2008.
As I mentioned in my Different kinds of breasts article, balcony bras are generally a good all-rounder bra for most breast types, and especially for me who has pendulous breasts.
Anatomy of the bra
Underwire
Part of the reason I love this bra so much may also be a reason why it might annoy some people. The underwire goes pretty far under my arm, translating into good support for the sides of breasts.
Cup
Void of any lace, this bra's main design feature is the perforated design on the cups. The whole cup is perforated, with an extra layer of material on the bottom part to create a stronger structure. This makes the bra great to wear in hot weather, as it feels very breathable. I found the cup true to size, and I like how my breasts can still manage to fill out the top of the bra without spilling over.
 Straps
The straps are fully adjustable and are just

under an inch in width. I can tell that the bra is well-constructed and fitted because at the end of the day when I take it off, I don't have deep lines in my shoulders where the straps sat.
Band
The band features two hooks, which may be a difficult idea to get used to at first, as many larger-sized bras tend to have three to five hooks for maximum support. The band is wide and supportive, but not so much that I mind it being exposed when I wear shirts with big arm holes.
Will it stand the test of time?
Yes. I tend to over wear this bra since I love it so much, but I usually get at least two years out of each one I've owned, by washing them on a super delicate cycle in a delicates bag, or by hand washing them when I'm feeling diligent.
The downsides:
The design of the bra with many textured holes featured on the majority of the cup means that it can sometimes show through a shirt, depending on the thickness and the color of the fabric of what you're wearing. This may not necessarily be a bad thing, but certainly it depends on your personal style and what you tend to wear.
Another downside to the holes is that sometimes, if you have softer tissue like me, you can end up with an interesting looking pattern on your breasts. It fades away quickly, but I can definitely see how that may annoy some people.
As the bra ages, I find the fabric at the top loses its shape a bit and you can end up with the material of the top of the cup not sitting so smoothly on your breasts, resulting sometimes in visible shirt lines.
Overall:
4/5
I've bought this bra five times. As long as they keep making them, I will continue to buy them, and will probably always have one in my closet, as I do think it's one of the best balconette bras for large breasts that I've happened across.
The reason I'm in love with this bra is because I find I can wear it all day long for a number of occasions. It's great for just wearing under a t-shirt or a blouse, and it fits well with most of my dresses, even the low cut ones.
Cleo by Panache Marcie Balconnet Bra (6831)

If you're looking for balconette bra in a larger cup size, chances are your search at some point will lead you to a Panache bra. Out of all of my favorite go-to bra brands, Panache seems to have the largest offering of balconette bras for bigger busts. Each style series has slight difference in underwire width, height, and cup projection, meaning there is probably a Panache balconette bra out there that will suit you.
The Cleo Marcie bra caught my attention because of the level of coverage it has, the look of the bra, and its affordable price point.
Strap
The Marcie Balconnet bra has got wide-set straps, as we've come to know and expect from the balconette category of bras. This isn't a particular issue for me, as I've got wide shoulders anyway. It may be worth nothing for you though, if yours are a bit narrower.
The straps have a nice ribbed texture which I appreciate because it means I don't need to worry about the adjuster moving up or down during the day.
One downside of the straps is that they are on the short side. At 5'7, I'm having to extend the strap almost all the way to the loosest setting, something which I don't normally need to do in bras that are sized correctly for me.
The strap material is a bit on the stretchy side, as far as straps usually go, so hopefully this means that as this bra ages, the straps will relax a bit.
The straps were a little on the thin side, for my liking. I'm used to and love wide straps like the ones you find on Elomi bras, so I was apprehensive of these at first. Fortunately, there wasn't any dig at the end of the day for me, which is a very good sign of how well-constructed this bra actually is.
Cup and gore

The Marcie Balconnet bra has a narrow gore, which is good news for me as somebody with close-set breasts.
The gore comes up pretty high along my chest wall, and tacks, which is no small feat for my chest! The gore sits pretty snugly on my chest. This doesn't bother me, but if you have sensitive skin, it could potentially irritate you.
While this is without a doubt a balconette bra and looks distinctively different from a full-cup bra, I have to say the lace on the cups of the Marcie come up quite high. This isn't a problem for me since I'm always after full-coverage anyway. If you're looking for something to wear under very low cut tops though, you might have to look elsewhere.
Another thing to note about the bra is that the cups have got a lace finish on the top part, which is thinner than the material used to sew the bulk of the cup. Fortunately, the lace is about the same level of rigidity as the rest of the cup, so there's no odd boob shaping to worry about.
The one downside I do need to mention is that the seaming and the difference in texture may mean this might not suit being worn under really thin material or something sheer.
If you're looking for the cakes on a plate look, the Marcie is definitely going to serve up your boobs in an appealing manner, especially if you are fuller on top. As someone who is fuller on the bottom with softer tissue, wearing this sort of bra usually worries me a bit as I often end up a bit flat on top. Putting this on though, I was pleased to see that my breast tissue fit flush at the top of the cup without any serious gapping.
Band/Sizing

A couple things about this band. My first issue is that even in the bigger sizes, Panache has gotten away with only two row of hooks. The side of the bra is very well-designed to keep things in and pointing forward. The band thins out at the back however, and could have used a bit of extra width, in my opinion.
This bra fit tight very snugly for me around the band, however it wasn't enough for me to consider sizing up. In the short term, I might consider wearing a bra extender, until the materials relaxes after a few washes.
As always, with UK bras, remember to convert your sizing so that you don't end up with the wrong size bra.
Underwire
In order to keep your breasts corralled and facing forward, the underwire at the sides of this bra come up noticeably high. This might pose a comfort issue if you have a wide torso, or if you are on the petite side, as the underwire won't sit where it's meant to, and could end up poking you. While I could certainly feel the underwire when I placed my arms flat against my sides, the high underwire did not feel uncomfortable to me.
Feel
This bra is quite comfortable. I love that it creates good separation between my breasts. The underwires are noticeably a bit rigid. I'm not sensitive to underwire though, so this fact doesn't really bother me at all. If anything, this to me is a sign of really good manufacturing quality. If this bra suits your shape and you can find your size, this shouldn't really be an issue.
Overall Shape
The narrow wires combined with a slightly projected cup mean breasts are pushed forward in front of you instead of out to the sides. Not a look I normally gravitate to, but for wearing a showy shirt or dress, I think it would work. Round boobs
Best for
As a contender for best balconette bra, the Cleo Marcie by Panache definitely packs a punch. This bra is best for every day wear and would suit being worn under moderately cut V-necks. It's supportive yet sexy enough that you could wear this bra for date night. 4.5/5.