For many, when it comes to the idea of a minimizer bra, a lot of negative images come to mind. Back in the bra dark ages, minimizers conjured up images of dowdy-looking undergarments that flattened your breasts and gave me the opposite of what I would call a 'youthful' bustline. Fortunately, times have changed, and manufacturers have varied their approach to minimizers, and have invested in the effort of producing some attractive options. I'll be looking at some of the best minimizer bras for big breasts out there, including some great plus size minimizer bra options.
| | | | | |
| --- | --- | --- | --- | --- |
| | | | | |
| | Lilyette Enchantment Bra | Lilyette Comfort Minimizer Keyhole Embellished Bra | Wacoal Elegance Hidden Wire Minimizer Bra | Glamorise Magiclift Seamless Support T-Shirt Soft-Cup Bra |
| Best For | Side Support | Looks | Lift and Minimization | T-Shirts |
| Cup Type | Seamed | Smooth | Seamed | Smooth |
| Underwire | Yes | Yes | Yes | No |
| | View on Amazon | View on Amazon | View on Amazon | View on Amazon |
What does a minimizer bra do?
In a nutshell, breast minimizing bras work to minimize or reduce the projection of breasts (how much your breasts appear to stick out in front of you).
Why they're great
Ever found a button up shirt that you've loved, only to discover that when you put it on, it does this?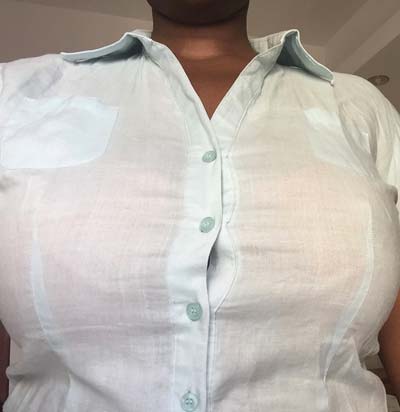 Bras that make breasts look smaller are great for reducing button gapping. They have also enabled me to squeeze into dresses that fit perfectly everywhere else other than the front. They also keep your tops from having that horizontal pull that is created when fabric is stretched around the bust line.
I also find some minimizers to be a great option to wear under T-shirts. They provide a smooth look, and are a great option for women with pendulous breasts, for whom a traditional t-shirt bra can cause some gapping.
How do minimizer bras … minimize?
A minimizer bra works by distributing your breast tissue differently. Usually this is achieved through a combination of your tissue being pushed out more to the sides, downward, and toward the center of your chest where your breasts meet.

Depending on which way your breast tissue is being moved, you can actually create some very different looks. If you've ever shopped for a minimizer bra, you will have noticed that even though they all minimize projection, different models can create vastly different shapes and levels of lift.
Is a minimizer bra right for everyone?
Not always. While a minimizer bra can certainly be beneficial for the vast majority of women with large breasts, they can be a little bit difficult for women with small frames. Because a lot of these bras push your flesh out to the sides, they can make you appear wider, especially if you have narrow shoulders.
My top picks for best minimizer bras for big breasts
Here are my top four favorite minimizer bras for 2018. Each of them excel in one particular area, but all of them are supportive options that do the job of reducing how big your boobs look.
Best breast Minimizer Bra with Side Support: The Lilyette Enchantment Bra

I have sung high praises about this bra and have even done a full review, but sometimes a bra just does a lot of things really, really well.
Pros
Side, support of course. This bra comes with reinforced side support panels to keep side spilling to a minimum and keep your boobs pointing forward.

This bra's minimization is done the same way as the Wacoal bra, by pulling the breasts toward the chest wall, and pushing things out a bit to the sides.
The bra's angled seaming helps to provide great lifting and shaping, without being as pointed as the Wacoal.
The lace fabric on the top of the cup makes the bra look pretty, without feeling over-embellished or showing through shirts.
Cons
Even in its biggest size, the bra only has two hooks. Even though the band is quite thick under the arms and on the outer part of your back, it would have been nice to see a little more support here.
The gore doesn't lie quite as flat as the Wacoal bra does on me, although it does come pretty close. If you do have more separation between your breasts, it should likely lie flatter for you.
The seam of the bra is prominent, and at the beginning it will show through thin material. The good news is the effect lessens as the bra ages and the material softens.
Prettiest Minimizing Bra: Lilyette Women's Comfort Minimizer Keyhole Embellished Bra

Fit: True to Size
Lilyette makes a lot of popular, attractive-looking minimizers, and the Keyhole Embellished bra is just one of many options, including the Lilyette Enchantment, which I absolutely love.
Pros
The biggest positive about this bra is that I like the rounded shape it creates. It doesn't flatten like a lot of minimizers.
Normally I avoid smooth cup bras because they don't provide as much lift for me as my beloved cut-and-sew bras, but the combination of underwire and sling fabric lining the cups gives me a lot more lift than I expected.
I love the fact that this bra has stretch lace over the cup. This means you get the beautiful aesthetics of lace without having to deal with the scratchiness of it. Those of you with sensitive skin will love this feature.

The gore of this bra doesn't come up high at all, so there's no weird bulging in the middle under my clothes when I put this on. The center of the bra manages to lie pretty close to my sternum.
The tall siding on this bra provides good side support, providing a good level of control where the cup ends. The underwire doesn't come up too high on the sides either, making this a comfy choice for petite women as well.
Cons
This bra does most of its minimization by pushing breasts out to the sides. If you've got narrow shoulders, this may not be the best pick because it will widen you a bit.
The straps on this bra are on the thin side. While the 2-3 hook band does provide adequate support, the straps might dig a bit if you wear this bra all day.
The cups on this bra are molded. While this provides some nice shaping and smoothness under clothes, the support might not be enough for breasts that need a lot of lift and are not fully self-supporting. If you want an option that is even more supportive and equally as pretty, consider the Lilyette Enchantment bra.
Best Lift and Best Minimization: Wacoal Women's Elegance Hidden Wire Minimizer Bra with Embroidery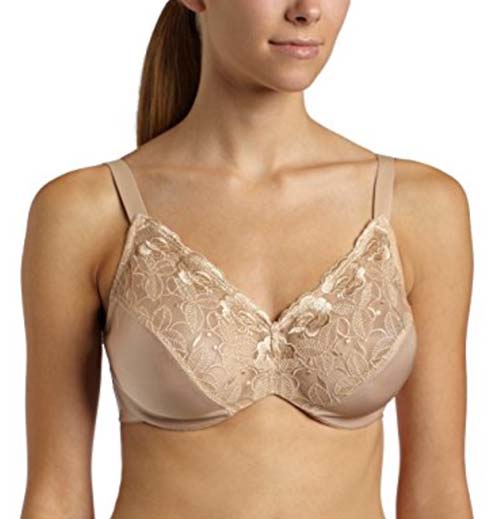 Fit: True to size
When I set out to make this list, my plan was to come up with five great minimizer bra options that each did something a little better than the others. That changed when came across the Wacoal Women's Elegance Hidden Wire Minimizer Bra with Embroidery. The appearance of the lace may be a bit much, but as a woman with heavy, pendulous breasts, this bra really surprised me, exceeding my expectations of the kind of support I expect to get from a minimizer bra.
Pros 
The bra features a wide back that does a great deal to smooth out pesky back fat, with 2-4 hooks depending on your cup and band size. Best of all the back stays in place and doesn't ride up at all.
The straps are a comfortable satin fabric that are fully adjustable, which I appreciate because I need all the lift I can get.
Despite the fact that I am narrow set, this bra somehow manages to lay flat on my sternum in the middle, which is a real feat for minimizers in my size.
The 'French darts' on this bra do an excellent job of helping to lift my bottom heavy breasts and provide some much needed shaping.

The genius of this bra lies in the fact that the bra minimizes your breasts in two ways. This first is by dispersing your boobs out to the sides a bit, which we have all come to expect from minimizers. The second way it minimizes is by pulling your breast toward your chest wall, thanks to the full cup and the assistance from the darting.
Because of this combo, this bra doesn't create the kind of side or oval boob often associated with minimizers, making it great for well-endowed women of all body shapes.
Cons
This one isn't a con for me, but because of the darting, the bra is going to be pointy. After a few washings, this effect goes down, but it won't be completely round.
Because it is pretty much a full-coverage bra, you won't be able to wear it under lower cut necklines.
Most of the original colors this bra was sold in have been discontinued. If you don't mind naturally nude, I'd say do yourself a favor and still buy this thing. It's a fashion sacrifice worth making.
Best Minimizing T-Shirt Bra: Glamorise Women's Magiclift Seamless Support T-Shirt Soft-Cup Bra

Fit: Usually true to size, but if you straddle sizes, consider going up in cup and band as it can run a little small.
Okay, this bra isn't quite a minimizer, and it isn't marketed as such either. Glamorise's MagicLift series as a whole is a great collection that has some decent options that offer a mix of solid support and comfort. I picked this bra over their Full Figure Minimizer Support Bra for my list because it has a more rounded look which is a more desirable option for many women, especially under t-shirts.
Pros
This is a super comfortable and breathable bra option from Glamorise that is wirefree. It still manages to create some lift through the use of its MagicLift band and inner slings for underbust support.
The wide, semi-adjustable straps are lightly padded for comfort, and prevent any shoulder dig from happening.

I'm in love with the band, which is very wide, and provides excellent back and side smoothing and support, with up to 5 hooks (yes!) in the largest sizes. You won't have a big, unsightly side bulge like you can get with a lot bras of similar styling. Most of the minimization effect on this bra comes from the breasts being pushed together.
In terms of comfort, I don't think this bra can really be beat by any other contender on my list. Because of the lack of underwire, the separation isn't the best out there, but this does mean you can gain a bit of cleavage with this particular cut.
Cons
The lack of underwire means that if your boobs are no longer fully self-supporting, it might not give you the amount of lift that you need.
Because this bra's minimizing effects involve pushing the breasts together without underwire, you are going to get some degree of uniboob in this bra. The shape I get in this bra reminds me of what I get in my Freya soft cup sports bra.
This bra is unlined, so if your nipples showing through is an issue for you, consider getting pasties for this bra.
For maximum support and more minimization, if you don't mind the slightly pointy look, I would look at the minimizer support bra. Its 2-part cut-and-sew seam provides great uplift, and even for those of us further down the alphabet can get around an inch in projection reduction.