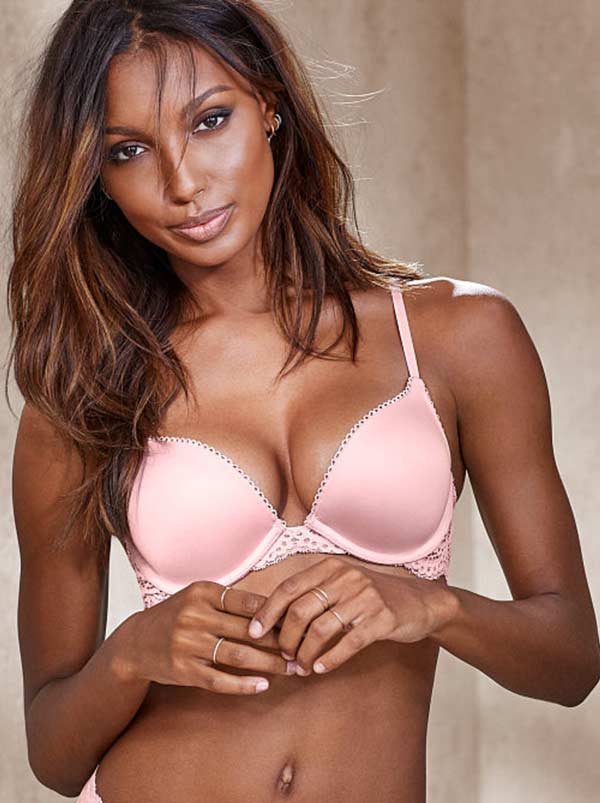 The push-up bra. A product that promises to boost the appearance of the size of your breasts by at least 1 cup size. Traditionally, this bra is designed for and usually associated with women who have smaller breasts. In fact, most manufacturers that produce push-up bras tend to stop at a D or DD, and if they do go larger, the band sizes tend to be relatively smaller. The world seems to think that busty, plus-size women have absolutely no need for such a thing. I used to as well, but I am warming to the idea, so I've set out to find some of the best push-up bras for bigger boobs.
Why would an already busty woman need a push-up bra?
Good question.
The most well-known and sought after effect of a push-up bra is of course to make your breasts look bigger. The standard claim is that they can look at least one size bigger, with some bras claiming a whopping three or four sizes more. Push-up bras do a couple other things well too, though. A good push abroad can provide more lift and create that coveted rounded, cleavagey look.
This effect, while not the most practical for day to day, can be great under dresses, low-cut tops, and any other time when you really want to show off the girls.
Can everyone wear a push-up bra?
Yes, but just like with any other style of bra, your results may vary. Because push-up bras often come in balcony or plunge styles, they are more suited toward women who are fuller on top, and women whose breasts are still self-supporting.
Many push-up bras are moulded, and because they provide a lot of support from the bottom, but little to no support on top. If your skin is loose, you might end up with a flat look where there is a gap between your breasts and the top of the cup of the bra (as is often the case when I put on a t-shirt bra).
The best push-up bras for big breasts
A good push-up bra for big boobs is like a unicorn. Because they are so difficult to find, I've put together a list of my top 3 picks for the best push-up bra for big-breasted women, with some plus-size options included.
Curvy Couture: Tulip Lace Push-Up Bra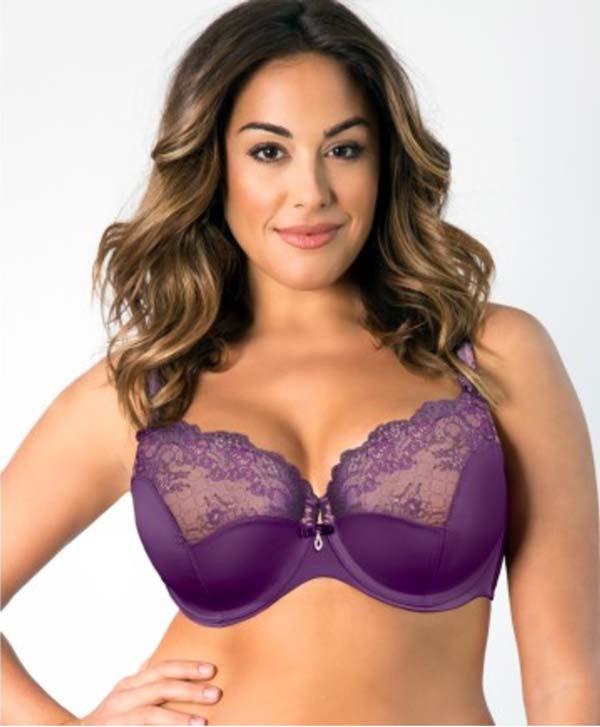 Fit: Runs a little big in cup.
If there was one single item that convinced me that a push-up bra could actually work for my chest, it would be Curvy Couture's Tulip Lace Push-Up Bra. This bra has great coverage, and actually manages to keep my boobs rounded up top. What a feat!
Pros
The Tulip Lace is a cut and sew style, with one horizontal seam, and one diagonal seam forming a sideways T across the center of the cup. This seaming goes a long way toward lifting the underbust. This, combined with fact that the top of the bra is about ¾ coverage, makes it a flattering style for most busts, and can be worn to good effect by someone who is a bit more pendulous.
The style of the bra strikes a good balance between sexy and practical, with some lace on the upper half of the cup, making it a good all-rounder bra that you can show off with clothes and with clothes off.
The back of the bra is wide-winged, which helps to smooth out back fat, and comes with up to three hooks.

I like the fact that the bra is lightly padded along the bottom of the cup. This gives those of us who want an increase in size a little more volume where it's needed most, as opposed to padding the entire breast.
This bra also has decent side support, with wide, boned panels to help rein things in and keep your girls pointing forward only.
Despite the bra being a cut and sew, it isn't pointy, and actually produces a well-rounded profile.
This was one of the most inclusive styles that I found, with bras going up to a 44H.
Cons 
The sides come up high (as is often the case with bras that offer a lot of side coverage), so if you are on the petite side, the boning may poke a little.
The straps are only back-adjustable, and depending on where you set them, they can slide a bit during the day.
As with most bras that have seams and lace, it will show through lighter material. If you're looking for something a little smoother with more cleavage, consider the Perfect Plunge Push-Up Convertible T-Shirt Bra.
Panache Women's Andorra Full Cup Bra

Fit: Runs a little small
I'm a big fan of Panache bras and have a fondness for the brand, as they were the makers of one of the first bras I ever wore that actually fit. Remember that this bra is from the UK, so make sure to use their conversion chart if you've never bought Panache before.
Pros
Style! You know by now how much I love a full-cup bra! One of the constant criticisms that I hear when it comes to this cut is that it can be rather unflattering. While the Andorra is not going to be your go-to for a low-cut top, it is absolutely sexy. It's the kind of bra that is supportive enough that it can get you through an entire day at work, and also make you want to flaunt it should your date run long.
The cup construction is fantastic with fabric slings sewn in the side and bottom of the bra to add more reinforcement and solid support all the way up to a J cup. The T-seams on the cups mean that you can count on maximum lift, while providing a nice shape. One of the perennial complaints when it comes to cut and sew bras is that they can often be pointy. This bra has a nice rounded shape from the beginning, and it only continues to soften the longer you wear it.
Together with the U-shaped straps at the back of the bra, the wide band works together to really hold the bra In place and keep it from riding up your back. As someone further down the alphabet, this is one of the points I always look for when I try on a bra.
Probably the thing I like the most about this bra is extra reinforcement

provided in the larger sizes. I can't begin to count the number of bras styles I've tried where the manufacturer has decided that B cups all the way through to H cups can all be supported with the exact same design and level of construction. They can't. The Andorra goes beyond what's standard at this point – increasing the number of hooks for larger sizes – and also provides extra reinforcement in the form of a sturdier elastic to support the underband of the bra.
Cons
The cup is not as roomy as I would like. If you're going for a proper fit, and have projected or full breasts, you may want to consider going up in size by at least one cup. If you don't mind a little boob spillage over the top and are really in the pursuit of cleavage, your usual size might still work for you.
This bra is not lined! If modesty is something you worry about and you have nipples that easily show through clothing, this bra will not offer you any shielding. The bra fits so nicely though that I'd consider wearing nipple shields if the headlights showing through ever became a problem for me.
This isn't a minimalist bra by any means. If you're someone whose skin is easily irritated and don't like extra fabric that isn't functional, the lace on this bra might be an issue for you.
Torrid's Smooth Push-Up Balconette Bra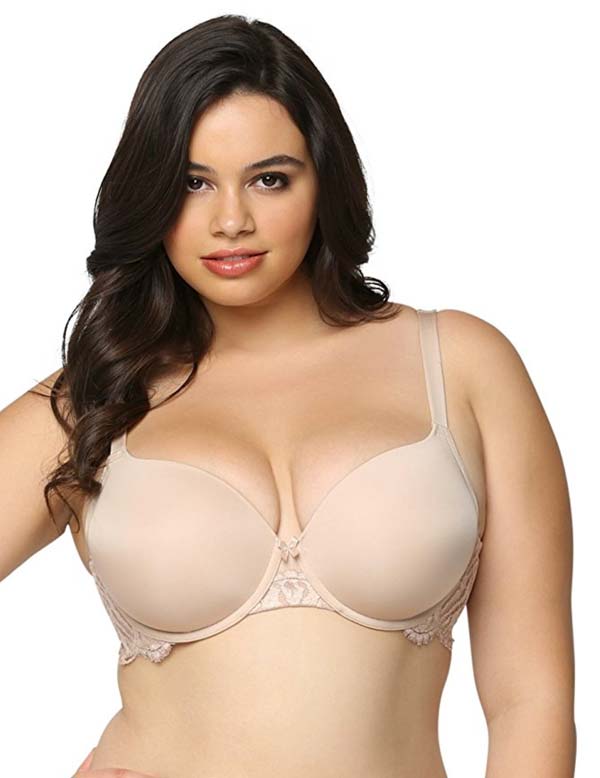 Fit: True To Size
Torrid is another great plus-size friendly brand that offers a ton of push-up options. In fact, their selection is absolutely dizzying! My top choice is the Smooth Push-Up Balconette bra, because it strikes a good balance between coverage and va-va-voom.
Pros
The amount of lift in the bra goes up and down based on the cup size, with smaller cups having more lift.
The bra is smooth cupped, which means if your breasts are full, it should create a nice, seamless look under your clothes.
The lace on the gore and the band is a nice added touch, which again makes a good all-rounder push-up bra.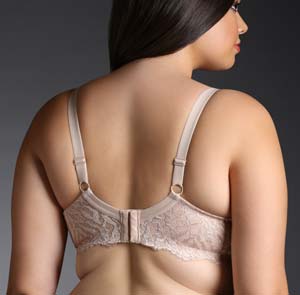 The straps on this bra come in a lot narrower than the Tulip Lace, so they won't slip off your shoulders, and provide a nice center lift. They're also made of a non-slip material, so the straps stay in place well.
The bra is pretty comfortable. Because it's not full coverage, it takes me out of my comfort zone in terms of support, but I like how my boobs look in it. As long as I don't have to run anywhere, I could wear a bra like this all day.
Cons
The band on the bra could do with being a little more supportive, it's certainly a contrast from the Curvy bra, but is find if you don't need to be active.
The gore doesn't really sit flat against my chest, despite my boobs fitting in the cup properly.
This bra can come up a little high for some necklines. If you want even more cleavage, I'd look into Torrid's Smooth Push-Up Plunge Bra.
Perfects Australia: Mila Plunge Bra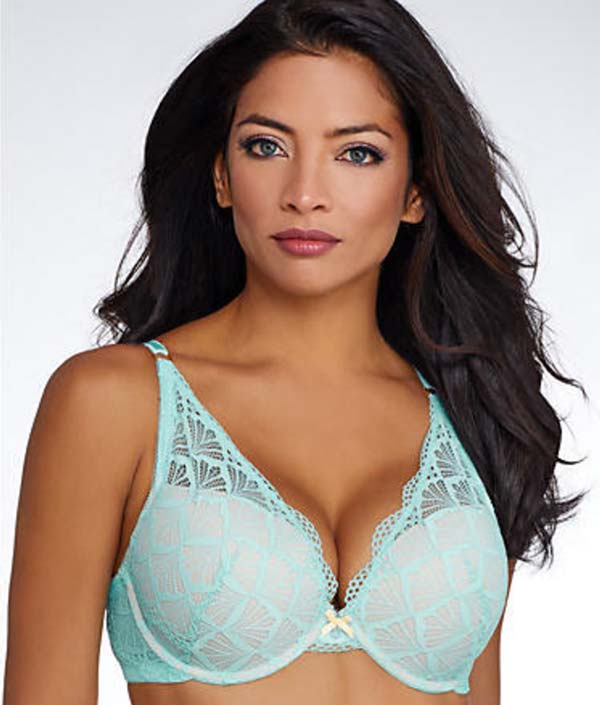 Fit: True to Size
I decided to take a chance on a little known brand and check out Perfects Australia. Despite the fact that it is not marketed as a push-up bra, the amount of cleavage produced when this thing is on makes me beg to differ. This bra is not the most versatile look out there, but it has some good lift thanks to its wide lace front which gives this bra a summery feel.
Pros
The look of the bra. It screams summer to me and the lace creates a nice halter-ish looking style. The lace also provides enough coverage up top so that your boobs feel a little more controlled than they normally do in a smooth cup bra.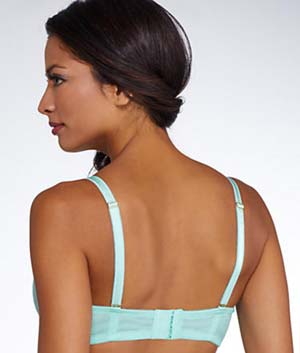 Because the lace covers more up top, if you adjust the bra the right way, it actually does a good job of pulling the molded cup toward your breast. The effect of this is that it minimizes the gapping that full on bottom girls usually have to deal with.
The straps are back-adjustable and narrow-set enough that they don't slip, and provide a little bit of center lift.
The straps can also be adjusted to create a criss-cross back to secure the girls little more and provide a little extra lift.
Cons
Despite the fact that this band has three hooks, it isn't the widest out there. The lack of U-shape on the back means it's not the best option when it comes to smoothing back fat.
The lace does not lend this bra to being worn under really wide necklines.
The straps are a little on the thin side. This is probably not an all-day bra.
When a regular cleavage enhancing bra just won't cut it
All of the bras listed above will definitely enhance the look of your boobs and give them a decent lift. But what if you want more? What if you're after that Christina Hendricks-level cleave at any cost? If you're willing to throw bra-fit common sense and caution to the wind, here's a few things you can try.
Pursue and openly embrace a bra that gives you a quadraboob. The quadraboob, as we all know, is when your breasts form a sort of muffin top above the cup of your bra because your bra is too small. Try sizing down a cup or two in most styles of bras and you should achieve a varying level of cleavage. A demi-cup bra or something with a molded cup like the Freya Deco can work especially well for this.
If you really want to go next level, give the Rosme Women's Balconette Bra a try. This super affordable option goes up to a 40DDD and promises cleavage enhancement. This wouldn't ever be an every day bra for me, but it could certainly make the cut for date night.
Pad the sides of your bra. If you don't want to shell out for a smaller bra just for the sake of cleavage, experiment with padding a bra that you already own. Divine Push Up Bra inserts come in D+ sizes and are an affordable alternative to buying a small bra because you can reuse them in different bras, depending on what you need. Use the padding in a bra that's got solid side support and/or a molded cup and your boobs will have nowhere else to go but toward each other, creating the cleave that you need.
Use a bra strap clip to create racerback straps. If your outfit allows for it, use a clip to attach your straps together at the back of the bra to enhance that 'center pull' and lift your breasts up even more.
Wear two bras. Go for a plunge bra, and make sure the inner bra is something really sturdy that holds you well.