One of my readers asked me the other day whether I could recommend a bra for under bathing suits. This question took me by surprise because as much as I have struggled over the years to find a supportive swimsuit, the thought had never crossed my mind.
When I think about support when it comes to a swimsuit, my mind inevitably drifts to shelf bras or well-sculpted bikinis. It never occurred to me to take my bra and put it under my swimsuit, though I totally understand why you would want to.


Even though there are tons of swimsuits out there nowadays that are designed with proper bust support in mind, sometimes you've got an old relic from the past you don't want to let go of that fits well in every other aspect, but could use a little more 'oomph' in the boob area.
It's not just full-figured women who are after that 'oomph'. Victoria's Secret was finally 'outed' for having their models wear push up bras underneath their swimsuits for photoshoots. (I used quotes around outed because anyone with big boobs looking at one of their ads knows there's some sort of voodoo going on underneath the bikini top to make boobs look that perky in a non-supportive top.)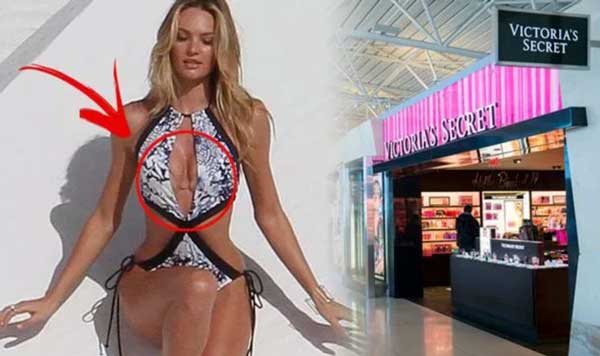 And they are certainly on to something. The only way you're ever going to get that Victoria's Secret look without a bra is if your breasts are naturally still self-supporting, or if you've had augmented breasts. It's simply not possible otherwise thanks to gravity. So what's a big-busted woman who wants to look perky in her swimwear supposed to do?
Enter the swim bra.
The swim bra was an invention by Comfort Choice that launched in 2011. The concept of the swim bra was to provide a multifunctional bra that could be worn under any style of swimsuit and provide extra support for band sizes 38-54 and cup sizes C-G. It came with two sets of removable straps, one clear, and one in either nude and black in order to provide discreet support.
The bra was made of a quick-dry nylon/spandex blend and featured underwire and foam cups that were supposedly not visible under a swimsuit.

Unfortunately, my discovery of the swim bra in 2018 was a few years too late. Evidence of the bra only exists in old blog posts and PR communiqués and broken links from 2013. It seems to have disappeared without a trace, sadly. The bra still gets over 100+ searches a month, which means people are certainly still looking for it.
So what happened to the swim bra?! I have reached out to a spokesperson from Comfort Choice's parent company about this. They didn't provide any comment as to why it was discontinued, just that they now produce bra-sized swim tops.
So what do I do now if I need a bra for under my bathing suit?
Well, if you do a search for 'swim bras', you'll still get plenty of current results. The term is still floating around, however the meaning seems to have shifted. Instead of a literal bra that you can throw on underneath any swimsuit, swim bras now refer to any sort of bikini-style top that is built in a supportive manner like a regular bra. The only differences between a swim bra and a regular bra is the material, and the fact that one is designed to be worn as outerwear, and the other is meant to be worn as innerwear.

Would you recommend wearing a standard bra under a bathing suit?
Definitely not. Your everyday bras were not meant to be exposed to chlorine and saltwater. Some of the synthetic materials will likely age pretty poorly if you do this, and you might end up ruining your bra.
Also, aesthetically it's a tough sell. Most bras are not going to appear seamless underneath a bathing suit, so people will probably be able to see the bra. Unless this is the look you're going for, it's probably not the best solution.
Also, who wants to wear all that hardware at the beach? It's already hot and sunny, would you really want to add an extra layer to what you're wearing?
What other forms of bathing suit support are there?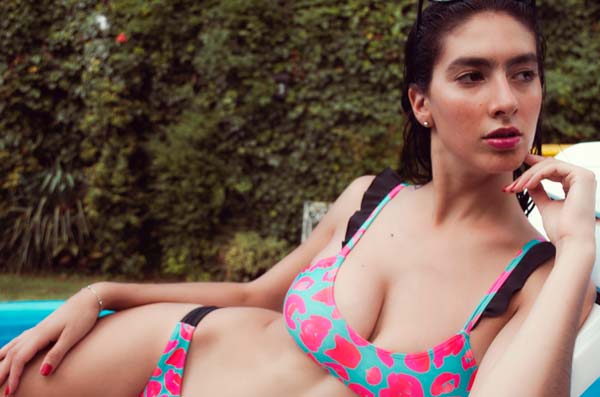 Probably the most common form of support in bathing suits is still the shelf-bra. This is a built-in component that secures the breasts in place using an elastic that sits just under the breast line.
There was a time that shelf bras used to fill me with feelings of dread. As someone who has been a D+ cup for a really long time, I've spent most of my life avoiding shelf bras, because they usually don't provide a whole lot of support.
I have to say that this has changed. As a big-busted gal, you should still be wary of a garment with a shelf bra, and definitely try before you buy, if you can. However, I can say there have been lots of improvements.

I was pleasantly surprised when I took the plunge and bought my first Freya Active swimsuit. Even as an F/G cup, it provided enough support and kept the girls in place well enough that I felt confident doing laps at the pool and wearing it at the beach. Freya is certainly not the only exception. Shelf bras are definitely getting better.

Now that we live in a world post the Comfort Choice Swim Bra, I've put together a list of some common swimsuit styles, looking at the support level offered by each.
The stylish one piece
When it comes to supportive swimsuits, one-piece bras offer a lot of coverage for those who want it, and depending on the style can also offer some great tummy control as well. The best support you're going to get in any type of swimsuit is when you wear one with a bra-like structure that contains an underwire.
Miraclesuit's Solid Madero Underwire One-Piece swimsuit is an absolute marvel. The criss-crossing fabric on the torso creates slimmer lines, and it's got a cute sheer panel as well. The underwire cups in this case are seamless and unlined. Extra effort was made to include inner slings which help shape your breasts and keep them in front of you. The swimsuit comes in a plus-size option as well, which goes up to 24W.

The athletic one piece
I have to say, full-figure swimsuits in athletic styles are still tough to come by. You know you can trust the Aussies to produce a solid swimsuit! This is the one piece you turn to when you're at the pool and ready to put in some laps. It may not turn as many heads, but it should keep you supported while you swim.
Speedo's Premiere Ultimate Sports Swimsuit is one of the rare athletic one-piece swimsuits out there with underwire. This suit accommodates busts up to K and comes in band sizes up to 38, and as a bonus, it can also pass as a long-torso swimsuit.

The Standard Bikini Top
Although the bikini offers the least coverage body-wise, I'd argue that it's the style of swimwear where you'll find the broadest range of cup-size options that accommodate larger chests. If you choose some staple neutral tops or patterns that are easy to match with neutral bottoms, you can mix and match your bikini tops and get a lot of mileage style-wise out of one or two pieces.
The Elomi Indie Plunge

comes in a standard and plus size version, covering band sizes from 34-44, and cup sizes from DD-H.

Bandeau Bathing Suits
Panache's Anya Bandeau Bikini

top comes in a number of different colors and variety of styles. This is another cup-size option that comes with detachable strap, should you find that you need a little bit of a boost in support.

Multiway-Way Bikini Top
The long-time readers amongst you were probably wondering when I was going to mention Freya. Freya Deco Multi-Way Bandeau Bikini Top

goes up to a 38FF and features the same Deco cup that their bras do. When you're spending a lot of money on swimwear, versatility and flexibility are important. This bra comes with scarf ties that allow you to style to top in a number of ways.

The Halter
Halter-top swimsuits can be found in bikini, tankini and one-piece style swimsuits, and are available in both underwire and non-underwire options. Because the center-pull of the straps offer more lift, this is actually one of the better style options when it comes to support should you prefer a bra with no underwire. A great halter style option is the The Diva Twist Front Bikini  provides support with the use of foam cups, power mesh, and sturdy side boning.
The Tankini
The tankini offers the versatility of a bikini with the coverage of a one-piece, allowing you to mix and match tops and bottoms as you please. The Freya Sundance Tankini Top

comes in some festive colors and showcases one of this year's trends—the crocheted swimsuit. The straps are also semi-convertible. They are attached in the front, but can changed to a criss-cross pattern in the back for a tad more support.

The Longline Bikini
Somewhere between the bikini and the tankini lies the longline bikini. Just like longline bras, these bikini tops over a little more coverage and support owing to their wider band. Lepel's Paradise Longline Halter Bikini Top

adds a splash of color with its floral pattern that would look good on any skin tone.

Bra for under bathing suit? Banish the thought!
Hopefully this list has given you a little hope that even if you are busty, you don't need to resort to wearing a bra under your swimsuit. You can definitely find a bathing suit that will support your breasts, and make you feel like a goddess when you put it on.
My list above is by no means exhaustive, and there are tons and tons of styles out there, depending on what you're looking for. Truth be told, it was a bit overwhelming compiling this list, because there were so many damn options!
If you've just started searching for cup-size swimwear and are getting overwhelmed, I would suggest starting the brands of bras you already wear and love. Freya, Panache, Prima Donna, Elomi and Fantasie all produce cup-size swimwear, just to name a few.
Swimsuit Support Checklist – A few things to remember
Remember, the same rules apply to swimsuits when it comes to assessing support level:
✓ Side support – Look for high on the side of the bust area and boning/structure.
✓ Material – Don't forget to factor in the amount of stretch in the material.
✓Underwire
✓Wide band
✓Thick straps
✓Adjustable Straps