First off, mea culpa. This post is long overdue. When the bralette trend first took off in 2016, I scoffed at it. I'm all about support when it comes to bras, as I have said time and time again. The very idea of it put me off, especially as someone who is full-figured and plus size. Why the heck would I give up support for my already difficult-to-deal-with breasts in the name of fashion? I may as well just throw on a skimpy top with an inadequate shelf bra and call it a day. It turns out I was wrong.
While every bralette was most certainly not created equally, there are definitely some great fuller bust bralette options out there for women who are D G cup or bigger who want to indulge in this trend.
Who is this article for?
If you're dead tired of clicking into a listicle by a mainstream media outlet that promises bralettes for 'big busts' only to find it replete with suggestions that stop at DD, then this article is for you. If you're band size is 38+ and you're in the market for bralettes for large busts, then this article is for you.
Bra? Bralette? What's the difference?
When you Google the word 'bralette', or punch it into any search on your favorite online bra retailer, you're probably going to get everything from a dainty little triangle bra to longline bras being marketed as bralettes. In fact, I'd venture that the bralette is one of the most misused terms in the bra industry, right up there with the demi-cup bra.
I really like Cora Harrington's (of The Lingerie Addict) definition:
"A bralette is an unstructured bra. It's usually unlined, unpadded, wire-free"
This makes sense. The '-ette' added to the word bra comes from French, and is a suffix used to indicate a diminutive, or often a smaller version of something.
Going by this definition, bralettes pose a big problem for women who are full-figured:
Big boobs need support but
Unstructured bras = no support

In order to put together a list of supportive bralettes worth considering, we're going to have to broaden the definition a little. Here's what I'm going with:
"A bralette is a bra that has less structure than a standard bra. A bralette has a decorative element (often lacy), and is designed to be able to be worn as outerwear."
Based on that definition, this list is going to include bralettes that feature adjustability of some sort such as in the band or the strap. I'll also be looking for straps with center-pull (like racerbacks or halter styles). Bralettes with lining and floating underwire will also count.
As with typical everyday bras, look for the hallmarks of support:
-Structured cup – Look for cups with double lining and vertical seams where possible
-Look for wide straps
-Look for full-coverage options
-Look for wide bands
What is a bralette bra used for?

Bralettes are another iteration of the 'innerwear as outerwear' trend. They work well for any type of outfit that looks good when layered, such as clothing with large openings—wide necklines or large armholes. They can also work well under loose-fitting or sheer clothing. Depending on the outfit and style of the bralette, they can even be worn on their own.
Things to remember
A bralette, by definition is going to have less structure than a regular bra. Don't go looking for a bralette for big busts expecting to find one that is going to make G cup boobs look perky. If you've managed to find one that does, it's most likely a bralette-ish bra. I've included a few of those at the bottom of my post.
If a bralette fits you, doesn't make your boobs look like they're heading far east and far west, and holds your breasts level with or just below your IMF (inframammary line), and you don't feel any strain while wearing it, you've likely found a good bralette.
Cosabella – Never Say Never Curvy Sweetie Bralette
Sizes 28-40, DD-H

Cosabella's Never Say Never Curvy Sweetie

is a large cup bralette, that comes in more than 10 colors was designed for women with a combination of a small band and full bust. This bra is a pullover which means there's no adjustability in the band. The width of the band, as well as a soft 'shelf-bra' style elastic allow the bra to keep its shape. At first glance, this bra doesn't look like it's got a lot of structure, but there's plenty going on underneath. The bra also has power-mesh lining in order to hold your breasts in place.
Small band size, big cup – ASOS' Rita bralette
Sizes 30-38, F-HH

This bralette for fuller busts features and adjustable band and straps so you can find the right fit. The cup is a simple triangle cut, which does provide a little bit shaping thanks to the vertical dart on the underside of the cup. It comes in a brilliant deep red lace that would look great under all sorts of colors.
Splurge: Ellesmere Lingerie's Blue Fig Bralette
30-36, DD-G (UK Sizing)

You can tell this bralette was designed by someone who truly loves lingerie. The cups are made of lightly-lined non-stretch lace to provide some support and it features an adjustable band and straps. The keyhole between the cups is an absolutely gorgeous detail.
For Projected Breasts: Cleo by Panache's Lyzy Triangle
28-38, D-G (UK Sizing)

The Panache Lyzy Triangle is a cute lace bralette for bigger busts has a lot of things going for it in terms of support. In addition to adjustability of the straps and the band, Panache has designed this bra with a wide band. This allows the bra to offer shelf-like support. While I think this bralette is definitely up to the task of supporting bigger boobs, the Panache Lyzy would look most flattering on women with center-fullness. The underbust of the cup is roomy, allowing for immediate projection from the band.
Cute but Casual – Ellice Lydia's Mae Bralet
22-42, AA-GG (UK sizing)

There's a few things that I like about the Mae bralet. The white triangle cup, which I usually associate with something casual, is brought up a notch by the tulle lace that sits on top of it. The bra also features a wide, elasticky band that is adjustable, and double straps that make this bra beautiful from behind.
Ellice Lydia also allows you to customize what you order from them, so there's wiggle room when it comes to what sizes they can offer.
Customizable: Impish Lee
28-44, A-J

I believe I've found my new bra crush!
I think the search for cute lace bralettes ends here! Impish Lee makes some absolutely gorgeous bras and bralettes in the most inclusive size range on this list. They produce some truly elegant designs that look effortless, despite the amount of construction involved.
This particular bra has adjustable straps with a J-hook, as well an adjustable band. This simple triangle bralette creates its shaping through a single vertical seam on the cup, and attaches to the bra band in a way that complements the natural curve of your underbust.

Who makes a plus size bralette out of velvet? Impish Lee does! Another bralette of theirs that caught my eye is the Vanna Strappy Longline Triangle Bralette.
Not only does Impish Lee have some great off-the-rack options, they also allow you to create your own designs, which they can produce and ship to you within a month.
Minimal Structure – Rosa Lace Essential Easy Fit Bralette in Apricot
XS-3XL

Clothing maker Uye Surana makes custom-size clothing in NYC, including some beautiful plus size bralettes. If you're ready to jump into custom-clothing and want to keep your costs under $100 for a bralette, this brand is a good starting point.
Surprisingly, this is one of the few non cup-sized garment on my list! This fuller bust bralette uses stretch lace and a wrap-around adjustable brand that will allow you to adjust the fit of the bra should your size fluctuate. The straps cross behind, providing good weight distribution. If you're daunted by the lack of cup-sizing, you can e-mail the company with your measurements in order to confirm your size.
Athleisure – Lively Bralettes
24-38, D-DDD

At one point this brand had a waitlist thousands of names long for their Busty Bralette, such was the thirst for bralettes that went bigger than a DD. Their once revolutionary size range has been eclipsed by a number of brands who go bigger in both band and cup. Despite their limited sizing, their bras are still worth a mention giving their excellent value-for-money pricepoint and good quality.
Bralettes with support, aka 'Bralette-ish' bras
Not quite ready to give up support? Go for something bralette-ish—a bra with some or all the supportive structural elements that you're used to that still has enough of a design element that you could wear it as outerwear, or at least let it show under some layers.
If you're looking for a standard cup structure with an ornamental-looking back, some of the picks in my article about racerback bras might do. Otherwise, here are some bralette hybrids that offer a little more support.
Most supportive bralette: Curvy Couture's Crochet Lace Halter Bralette
C-H, 24-46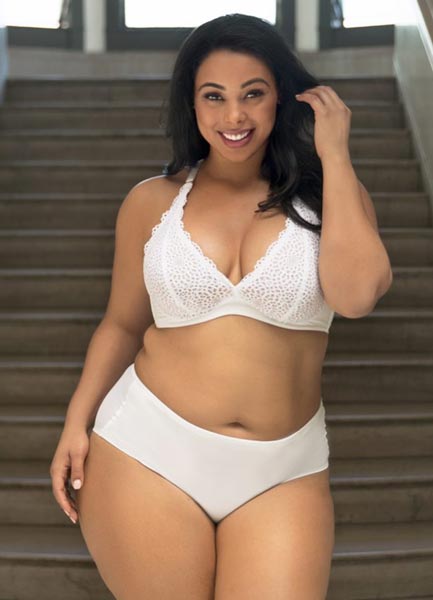 Curvy Couture's Crochet Lace Halter Bralette is one of those bralettes that stretches the definition a bit and verges on being bralette-ish. In addition to a wide, adjustable band, this supportive bralette provides some great uplift through the use of a halter neck. Lastly, it provides some shaping and support through the use of a floating underwire—an underwire that doesn't extend all the way to the edge of the bra.
Back Support – Ashley Stewart's Butterfly Bralette
1X-5X

When it comes to support elements, the only thing missing from this bralette is an underwire. This bra features adjustable traps and bands, as well as removable padded cups. What sets this bra apart is its double wrap panels. It's basically got two bands on the back of the bra, with four hooks each. These bands go a long way to providing more support, without taking on the esthetics of a support bra.
Support and Coverage – Adriana Pearl White Lace Non-Wired Longline Bralette
D-FF, 30-42 (UK sizing)

Here's a pick, like the Curvy Couture option, that is also verging on bralette-ish. (When does a bra go from being classed as wirefree to a bralette?)
Semantics aside, this bralette has got beautiful all-over lace on the front of the bra. For those wanting a bit more structure in the cups, especially on the sides, this might be a good option for you. The band is lace-covered from behind as well, and is adjustable.
Bra as a shirt – Pour Moi Cherish High Neck Underwired Bralette
C-G, 32-38 (UK Sizing)

The Pour Moi Cherish High Neck Underwired Bralette is the answer to all those times I bitched about the lack of shirts or camis with built in bras. This bralette is basically molded cup underwired bra with high neck halter-style lace. The lace also comes down below the band to give the bra a mid-line look. Depending on how long your torso is, or what you pair this with, you could probably get away with wearing this as a top.
Bra as a cami – Freya Soiree Lace Bralette
28-38 C-G (UK Sizing)

Another bralette built quite like the Pour Moi Cherish but with a slightly more sleek look is Freya's Soiree Lace Bralette. Technically it's more of plunge-cut longline bra, but the beautiful lace and effortless look makes it a good supportive alternative to a through-and-through bralette.
Other Options
If you can't find what you're looking for when you search for bralettes, you can also achieve similar looks/level of comfort with strappy sports bras or wirefree bras.
Seven 'til Midnight Plus Size Seamless Cage Sports Bra, Plus Size Cage Sports Bra
1X-4X

Alice non-wired full support bra,  30-40, DD-G

Two other brands you can try for bralettes and bralette hybrids are Torrid and Lane Bryant. Both brands produce bras for larger band and cup sizing. Be careful to read the fine print though, some of the models pose with strapless or plunge bras, meaning that the fit of the bra is not properly represented.