I still remember the first T-shirt bra that I bought. It was the Elomi smoothing foam underwire bra (now discontinued). It was by far not the most perfect bra I have ever worn, but it gave me a (mostly) smooth rounded look under my shirts that I had never had before. What it also gave me was sweat stains. Thanks to all that foam padding, that thing was hot!
Enter the spacer bra.
| | | |
| --- | --- | --- |
|   |   |   |
| Prima Donna Satin Full Cup T-Shirt Bra (016-01337) | Freya Muse Underwire Plunge Spacer T-Shirt Bra (AA1901) | Elomi Amelia Band Less Underwire Spacer Molded Bra (EL8740) |
| Underwire: Yes | Underwire: Yes | Underwire: Yes |
| Support: 4.5/5 | Support: 3/5 | Support: 2/5 |
| Comfort: 4/5 | Comfort: 3/5 | Comfort: 4/5 |
| Aesthetics: 3.5/5 | Aesthetics: 4/5 | Aesthetics: 3/5 |
| Breathability: 4/5 | Breathability: 4/5 | Breathability: 4/5 |
| Fit: Small in the cup | Fit: Small in the cup | Fit: Small in the cup |
| Overall : 4/5 | Overall : 3.5/5 | Overall : 3.25/5 |
| Check Price | Check Price | Check Price |
What is a spacer bra?
It's a cousin of the t-shirt bra. The reason it has such a fancy name is because it has two layers of foam fabric that work to make the bra feel more breathable. More breathable means less sweat.
How does a spacer bra work?
It's all about the fabric. The type of foam used to pad this particular type of bra is created specifically with air pockets so that air can actually travel through the cup. The result is a feeling of wearing a bra that barely seems to be there, something that is very welcome during hot months.
Other benefits
The other magical thing about this type of bra is that even though the material is seemingly more lightweight, a well-made spacer overall will still feel as supportive as its old-school T-shirt bra cousins.
Because there is a focus on lightweight fabrics and less padding, this type of T-shirt bra is perfect for large breasts. We've all put on a T-shirt bra that we've loved in most respects, only to look in the mirror and see that we've actually added bulk to our boobs. While spacer bras are definitely not unpadded, they do provide T-shirt bra benefits without the addition of extra boobage.
Choosing the Best Plus Size Spacer Bra
When shopping for a full figure spacer bra, you can evaluate them same way you would a t-shirt bra. Look for:
Smoothness
Cup shape and depth
For women like me who are no longer full on top, finding a great spacer bra will not be without some problems. Generally, this type of bra does not offer as much support as necessary. The main problem I've experienced with this type of bra is that my breasts have a bit of a flat appearance on top and there is sometimes a space between the natural curve (or lack thereof) of my breasts and the top of the cup. This can end up creating an odd kind of visible ridge under the shirt, depending on the material. Sticking to bras with sturdy underwires that provide a lot of underbust support will help to alleviate this problem a bit.
My Top Three Picks for Spacer Bras
Freya Muse Underwire Plunge Spacer T-Shirt Bra (AA1901)

There are two things that attracted me to this bra. The first thing is that I have a soft spot in my heart for Freya as you may know. The second thing is that as a wardrobe minimalist of sorts, I'm a sucker for versatile bras, and the fact that the Muse has a built-in hook that allows you to make this bra a racerback is excellent. For the type of breasts I have, center-lift is important. While narrow-set straps are good, racerback straps are better.
Adding to its versatility is the fact that this bra has a bit of a plunge too, which means you can wear it a bunch of different necklines.
Strap
The straps on this bra are not especially thick. Expect your standard Freya strap with full adjustability and of course the add-on of the J-hook.
Cup and gore
The gore on this bra doesn't quite tack for me, but most of the time they don't on t-shirt bras, so I am used to this. At this point, what I look for is how much the gore sticks out, and whether there will be any weird lines under my shirt. While this bra didn't exactly tack, there was less than an inch of space between it and my sternum, which is relatively good.
I think the gore problem happens because of the fact that the molded cups don't have the level of depth that I would usually like. What ends up happening as a consequence of this is that my boobs tend to get pushed out to the side a bit. While this did happen in this bra a bit, the side boob was not as pronounced as it was on other bras.
Besides this though, the cup does as it promises, and the bra feels nice and cool, with the inner-layer feeling nice against the skin.
I'm also quite a fan of the design of the material on the cup. It gives the bra a bit of a shimmery look without looking over embellished at all.
Band
The band

feels comfortable and true to size. I'm a little annoyed at Freya for only having two or three hooks on this bra (three from DD+). Despite this though, the band support feels good and it doesn't ride up.
Underwire
The underwire of this bra feels quite supportive, and doesn't come up too high in the center, nor does it come up too high on the sides. Even those with a high stomach would feel comfy in this as it doesn't dig in anywhere.
Comfort/Support
The level of support for this bra is good. If you have fuller breasts, you'll do fine with this bra. My breasts actually round out decently in this bra, which was a surprise.
Support-wise, things are good on the bottom, but a bit precarious on top. This is the type of bra that I would dread to have on if I had to break out into an impromptu run. The cup is not as full on top as I would personally prefer.
Overall Shape
The bra creates a nice rounded shape as you can expect from t-shirt bras, and despite my usual issues, there is not much gapping going on between the top of my boob and the top of the cup.
Best for
Summer! The cut of this bra makes it extremely versatile and it is easily worn under all kinds of necklines.
This bra also comes with option of matching panties in two different cuts! Overall, I'd give this bra a 3.5/5 simply because while my t-shirt bra issues weren't completely eliminated, they were less than usual, and that is a feat in itself.
Prima Donna Satin Full Cup T-Shirt Bra (016-01337)

Okay this Prima Donna is no Deauville, that's for sure, but even plain Jane bras have a place in our closets. This bra made my list because it is comfy as hell. I'm also a sucker for a full cup option because that's what usually suits me best.
Strap
The straps on this bra are a tiny bit wider than the Freya Muse, which works to make it feel slightly more comfortable. They're fully adjustable as well, making this bra a great option for women of different heights.
Cup and Gore
As I said in my Freya review, T-shirt bras don't normally tack for me, and this one is no exception. The cups still lack the level of depth that I usually love, but my breasts push out less to the sides than the Freya. Because it's not super deep, I would consider going up a cup if possible.
Going by degree of distance between my chest and the center of the bra, it's about the same as the Freya. Despite this bra being a full-cup, the gore doesn't come up too high, meaning even with my non-tacking issue, the bra is still wearable.
The cups on the other hand are awesome. They have a great feel to them and I feel like I get more underboob support (which is where I need it) due to the fact that the bra is constructed with underwire and a fabric sling reinforcement. 
Band
This bra, like Freya only has two to three rows of hooks depending on cup size. It still manages to feel supportive though and feels well reinforced on the sides compared to the Freya.
Underwire
You won't get a complaint from me about Prima Donna underwires. All of their underwires are coated with a layer of rubber, which is probably why the usually feel so damn comfortable. As with the Freya, it does not come up to high and feels comfortable under the arm.
Comfort/Support
This is the kind of bra you could definitely wear all day long, and it certainly feels very well-made. As I said earlier, t-shirt bras are not the most supportive bra in existence, but the full coverage helps to alleviate my usual worries.
Overall Shape
The bra has a nice rounded shape, and the material seems to be even lighter than the Freya. The fit is better on this bra for me, as I didn't have any gapping between the top of the bra and the top of my boob.
Best for
Summer wear, all day wear.
This bra is a tough sell. I'm so used to buying expensive bras and spending extra money just to get things that are more colorful and feminine. Then this bra comes around, looking very plain and simple, and costing more in price than what I usually buy.
The justification for this bra is that it's so simple and comfortable, you can wear under a lot of different looks. On top of that, Prima Donna's quality is such that I know this is an investment that I'm going to get a lot out of, so long as I'm a good girl and always hand wash this baby. 4/5.
Elomi Women's Plus-Size Amelia Band Less Underwire Spacer Molded Bra (EL8740)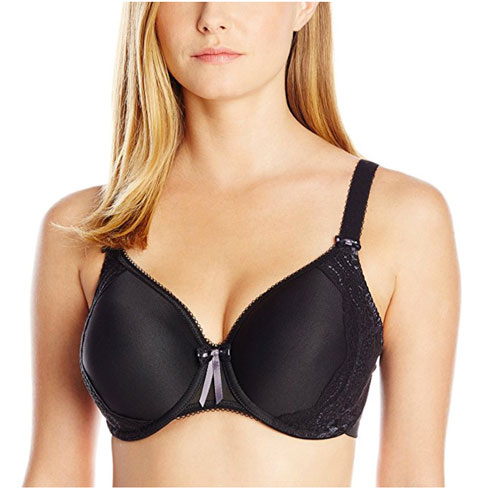 While not as eye catching as the Freya Muse, this bra makes a little more effort than the Prima Donna. Its range of cup sizes, along with the fact that there's an option for a nice full panty are the reasons this bra caught my eye.
Strap
The straps on this bra are made of a nice soft material and are similar in width to the other two bras and fully adjustable. The bra straps are set a bit wide though, so they need to be snug so that the straps don't slip.
Cup and Gore
Of the three bras, the gore on this one got as close to my sternum as I've ever gotten from a T-shirt bra, which was a nice surprise.
The cups on this bra are actually nice and roomy compared to the other two, although the cup still runs somewhat small compared to my usual Elomi fit. Elomi claims the bra eliminates side spillage because of its side support… while I would agree that the cups contain everything and do come up high, there's not enough support to support this claim (see what I did there?).
Band
The band on this bra feels somewhere between the Freya and the Prima Donna in terms of comfort. It nice and wide, and I definitely appreciate the U-shaped back and the efforts Elomi has made to smooth things out.
Again as with the other two bras, there's 2-3 hooks depending on your size.
Underwire
Despite the cup and underwire coming up high on the sides, the underwire doesn't dig either, and is comfortable.
Comfort/Support
Overall, this bra is incredibly comfortable, in fact possibly the most comfortable of the three. I didn't have problems with the material, either, which is good considering all that (pretty) side lace. Structurally too, the bra felt comfortable in that I didn't feel like any one part of the bra was compensating for another part.
Where this bra let me down (literally) was the support. While the cups are full which I like, I feel way too pushed off to the sides. In addition because this bra is 'bandless' in the front, it lacks the structural support in the front for my type of bust. If the straps were more narrowly set, this problem might have been offset a bit.
Overall Shape
The bra does create a smooth look on your breasts and isn't pointy at all, just that as I said, it does distribute weight to the sides a little more than I'd like.
Best for
Lounging, casual wear.
This bra didn't work as well as the others for me. For women who still have pretty full breasts, especially on top, I would still consider this bra because of how comfy it is and the fact the price isn't too bad either. It definitely feels light and airy and the Ink/Purple option is super cute.
Is it the best plus size spacer bra? No. A little more band in the front and I would be all over this thing. 3.25/5.
Honorable Mentions

My first honorable mention is the Bali Women's One Smooth U Ultra Light Illusion-Neckline Underwire Bra. It comes in a ton of cute colors, is great value for money and has convertible crisscross straps. The only downside is the limited range of cup sizes.
My second honorable mention is the Chantelle Me

rci Spacer T-Shirt Bra. It sits somewhere between the Freya and the Prima Donna in terms of price and style. While it's not a bra that'll fit me, it's a great choice for women who have small band sizes and larger cups. See what people are saying about it.