If you are the proud owner of big breasts and have shopped online lately, you have probably come across posture support bras. They look a little scary, what with their big back panels and mostly plain coloring. If a bra that can provide orthopedic benefits exists, surely it would look something like this, right?
Today I'll be taking an in-depth look at the posture bra, what it is, what it claims to do, and what it can actually do for you. Lastly, I'll be looking at some of the best options out there if you are in the market for a posture-correcting bra.
| | | |
| --- | --- | --- |
|   |   |   |
| Glamorize MagicLift Front Close Posture Support Bra | Exquisite Form Front Close Posture Bra | Comfort Choice Plus Size Posture Support Lace Bra |
| Underwire: No | Underwire: No | Underwire: No |
| Front Support: 4/5 | Front Support: 3/5 | Front Support: 3/5 |
| Back Support: 3/5 | Back Support: 4.5/5 | Back Support: 4/5 |
| Adjustability: 4/5 | Adjustability: 3/5 | Adjustability: 3.5/5 |
| Comfort: 4/5 | Comfort: 4/5 | Comfort: 3/5 |
| Aesthetics: 2.5/5 | Aesthetics: 3.5/5 | Aesthetics: 3.5/5 |
| Overall : 3.5/5 | Overall : 3.6/5 | Overall : 3.4/5 |
| See more Reviews | See more Reviews | See more Reviews |
Posture support bras and posture correcting products in general are a huge industry. From bras, to braces, to pillows, to chairs, there seems to be a posture-correcting product for every aspect of your life.
Like I stressed in my article about sagging breasts, one of the best ways for you to assess if a product is actually going to work is by understanding the underlying problem that it is trying to fix.
With that in mind, let's start by defining posture:
Posture is the position in which someone holds their body when standing or sitting.
According to the Cleveland Clinic, good posture:
Keeps bones and joints in the correct alignment so that muscles are being used properly.
Helps decrease the abnormal wearing of joint surfaces that could result in arthritis.
Decreases the stress on the ligaments holding the joints of the spine together.
Prevents the spine from becoming fixed in abnormal positions.
Prevents fatigue because muscles are being used more efficiently, allowing the body to use less energy.
Prevents strain or overuse problems.
Prevents backache and muscular pain.
Contributes to a good appearance.
Bad posture, is caused by a combination of bad positioning caused by external factors and internal factors.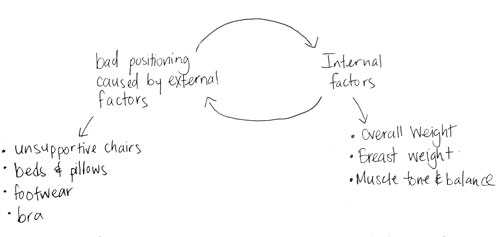 So where does a posture support bra come in?
Posture bras work to provide extra support in order to decrease the strain caused by heavy breasts. Strain in the upper back, neck and shoulder muscles can lead to headaches and chronic pain, amongst other health issues. Posture bras aim to correct this problem by providing a better distribution of the weight from your breasts.
If it sounds familiar, that's because it is. Other types of bras, from full coverage bras to all day wear bras like Playtex's 18-hour bra also claim to do the same thing.
So what makes posture support bras different?
Well, according to manufacturers, posture bras not only support you, they can also correct your posture.
Can a posture bra actually do what it claims?
The short answer is no. After doing a fair amount of digging, I could not find any studies supporting the idea that a posture bra can actually correct your posture and realign your body correctly.
In fact, posture braces, which are structurally even more supportive than posture bras have limited evidence that they can actually correct posture in the upper back when it comes to fixing hunched shoulders.
So is it worth buying a posture support bra then?
Yes. You just need to adjust your expectations. While posture bras cannot actually correct your posture, they do provide more support than the average bra. You can't expect to put on one of these bras and after some time develop the posture of a ballerina. It really helps to just think of a posture bra as just a really supportive bra.
Calling a bra 'really supportive' is a mouthful and doesn't really sell you the way 'posture bra' does, so you can understand why the marketers tasked with selling these bras chose a name that is not entirely reflective of what the product can actually do.
If you have back pain that is clearly linked to the weight of your breasts, a posture bra can definitely be a helpful addition to your wardrobe, you just need to keep in mind the limitations of this kind of product.
Corrective vs. Supportive
A few weeks ago, I was getting fitted for a new pair of insoles for my flat feet (I really won the genetic lottery), and I asked my podiatrist if Birkenstocks were any good. His answer was that they were certainly a good brand to wear for people with feet like my own, but that while they were definitely supportive, they were not corrective. Birkenstocks might make my feet feel better by attacking the symptoms of having flat feet, but they weren't going to correct the underlying problem.
Think of posture bras the same way. They will give you that extra needed lift and support, but they won't fix your posture issues.
What to look for in a posture bra?
If you do decide to opt for a posture bra, you should be looking for a bra that has the following characteristics:
Better support in the usual "pain points" of a bra, meaning
Wider, padded straps
Wide, full coverage back (think Enell sports bra style)
The back should be reinforced with sturdy elastic bands arranged in an X-shape that spans the upper part of the back
Look for a wide band around the sides of the bra
Good cup separation
The best posture supporting bras
With those in mind, here are three options I recommend when you're looking to purchase a posture bra.
The Exquisite Form Women's Front Close Posture Bra
Available in cup sizes B-DD and band sizes 34-46
My score: 3.6/5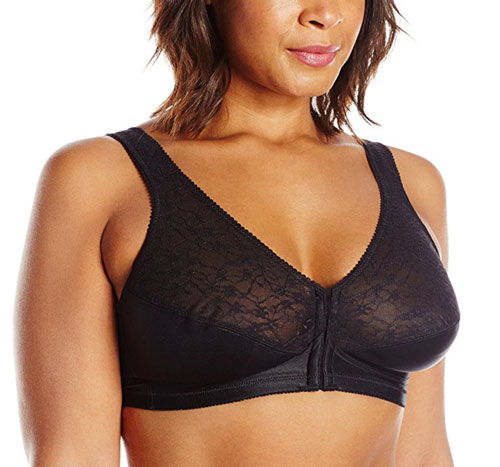 This bra is my number one pick because the back reinforcement feels more solid than the other two bras. My only serious disappointment with this particular bra is that it does not come in larger cup sizes.
Again, this baffles me for reasons previously stated. One of the things I do really like about it though is that Exquisite Form did put in some effort to make this bra look less like post-surgical wear.
Level of Support
The band of this bra has a wider back that feels more reinforced than the Glamorize. In addition to this wider band, the shoulder straps are also super wide, the widest of three options I've looked at. This goes a long way to boost comfort.
The material seems a little more durable than the Glamorize, meaning there's less guesstimation needed when you buy this bra. You don't have to worry about the bra relaxing too much once you break it in.
While the bra wins on band support and back support, there is not as much cup separation on this bra as I would like, and not as much lift as the Glamorize. Even in the right size, there will be some space between your sternum and the middle part of the bra.
Adjustability
The straps on this bra are not adjustable, and there is only one row of hooks in the front. The good thing is this bra runs relatively true to size.
This bra should be fine for women who are of average height, but the lack of adjustability might be an issue for women who are taller or very petite.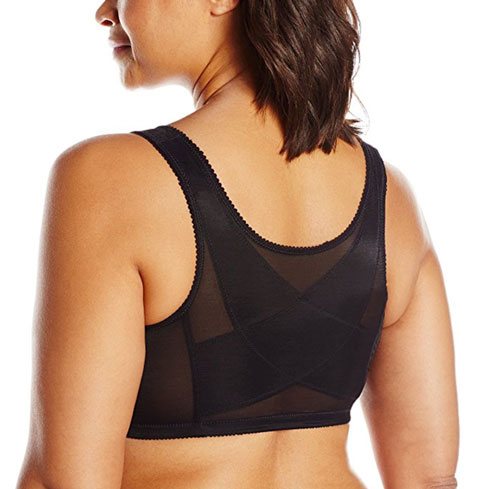 Comfort
Overall, this bra is comfortable once it's broken in, and the wide straps have a lot to do with that.
When you first put this bra on though, the lacy material on the top part of the cup is a bit on the scratchy side. The good news is that this goes away after a few washes.
Aesthetics
As I mentioned in my introduction, the front of the bra actually looks okay. It's got a little bit of patterned detailing on the top part of the bra, which helps to make it look a little less utilitarian.
Though the seam lines are less prominent in the Glamorize bra, you might still have issues wearing it with lighter fabrics.
This bra might be tricky to pair with lighter fabrics or low necklines. The cups, thanks to that horizontal seam are on the pointy side, but less so than the Glamorize bra. The bra just seems to be on the big side, which would make it a bit cumbrous to wear in summer. For casual t-shirts, sweaters, or looser-fitting clothing, this bra is perfect.
Glamorise Women's MagicLift Front Close Posture Support Bra.
Available in cup sizes B-K and band sizes 36-58
My score: 3.5/5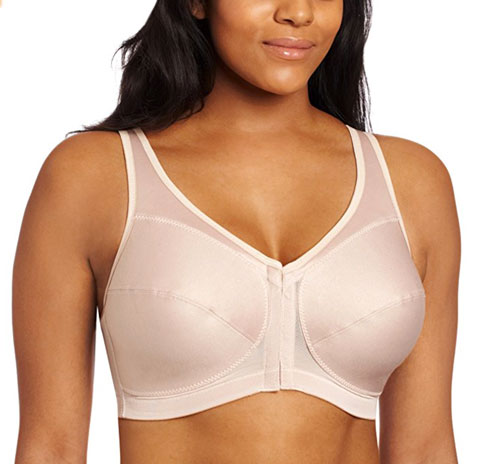 This is one of my picks mainly because it is one of few brands that offers such a wide range of sizes. Considering that there is definitely a correlation between bigger cup sizes and postural/back pain issues, I'm actually very surprised that a lot of the better brands out there generally only stop at D or E.
Level of Support
This bra does not have any underwire to speak of, which is an issue for me. This basically means that the bra is not as supportive as it could potentially be. This, however, seems to be a trend in the posture bra industry.
The MagicLift bra compensates for its lack of underwire by having a well-lined under cup, or fabric sling that helps to support the bust from below. The bra provides a good level of separation between the cups as well.
In addition to the straps being wide, they're also a little more narrowly set, which provides better uplift.
One thing that lets this bra down is its material. It will stretch out relatively quickly, and this may cause the band to roll. It may be worth opting for a slightly smaller band so that when the material relaxes, it will still provide the support you need.
The material problem also affects the effectiveness of the back support. Again, my recommendation is to go one or two sizes smaller in band to anticipate for the stretching that is going to occur later. While the level of back support of this bra isn't amazing, it will feel more supportive than your average bra.
Adjustability
The bra closes in the front and has two rows of hook and eye closures that will give you a little bit of of adjustment. This is a feature I really like, as most of the manufacturers producing bras in this category tend to only have one row of hooks.
The shoulder straps allow for a limited range of adjustability, which is another feature I appreciate because you can get the exact fit that works for you.

Comfort
The straps are very comfortable as they feature extra padding on the shoulder and are very wide.
The lack of underwire as well contributes to the overall comfort of the bra. Though the bra attempts to encourage better posture through its back reinforcement, it doesn't make you feel restrained, or like you're forced into an unnatural position.
Aesthetics
Make no mistake, this bra is pointy at first. Over time though, and after a few washes, this seems will soften and give you a rounder look.
The bra is also heavy duty enough that you will have to consider what types of clothes you pair it with. The seams and the outline of the bra will definitely show through lighter materials.
Comfort Choice Women's Plus Size Posture Support Soft Cup Allover Lace Bra
Available in cup sizes B-G and band sizes 38-54
My score: 3.4/5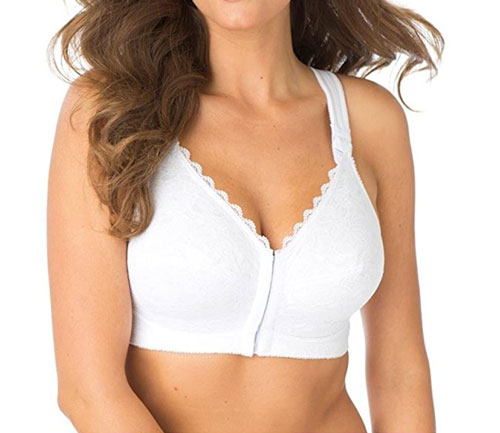 I picked Comfort Choice's bra because although it isn't perfect, it does provide a good level of support, and it comes in a great range of cup sizes and colors. 
Level of Support
The shoulder straps are very wide, which definitely helps to make it feel like the bra distributes the load well. The straps are only slightly adjustable though, which means you can't rely on them to provide much lift.
This bra falls into the same trap that the Exquisite Form does. It's got a solid back, with crisscrossing bands that go even further than the Exquisite. In fact, I'd say the back of this bra is almost on par with the Exquisite. Where this bra could have done better is the front. The level of lift provided by the cup structure is lacking.
While I feel the bra has a good level of side support, it doesn't do enough to separate the girls in the front. 
Adjustability
The straps on this bra do adjust a little. There are two sets of eye hooks that allow you to change the length a bit. You would likely need to do some alteration if you're on the petite side.
This bra, like the Glamorize does however have two rows of hooks on the front closure, which gives you the ability to adjust the bra about an inch in width, which is more than the Glamorize.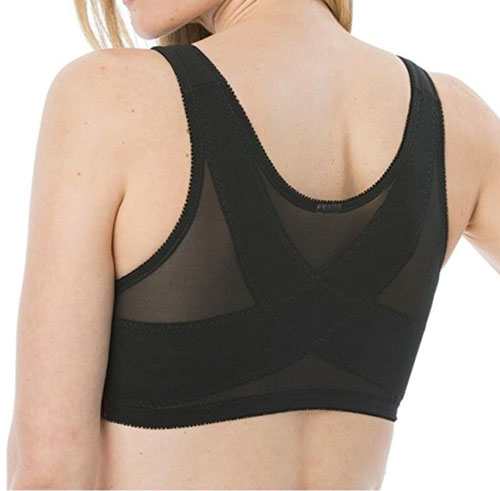 Comfort
The shoulder straps on the bra feel great and there is an extra padded section at the top of the shoulder which helps to make it more comfortable.
Again, with all that lace, it does feel a bit scratchy at first, but this will eventually go away. Apart from this though, overall, this bra is comfortable to wear.
Aesthetics
While all-over lace may not be your thing, you have to credit Comfort Choice for making a real effort to make posture support bras look attractive. I also love the fact that it comes in a range of fun colors.
The bra's seams as I mentioned earlier are not prominent, which means this is much easier to throw on under a thinner shirt than the Glamorize or the Exquisite Form.
For those of you looking for a more rounded look, this is probably the better bra of the three, as the seam is not as prominent.
Honorable Mentions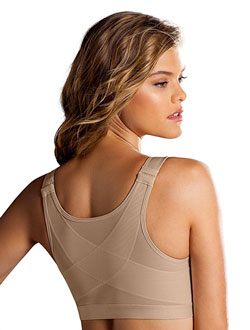 There were a couple other bras that caught my eye that I did not end up reviewing. One is Leonisa's posture corrector bra. What attracts me to this bra is the fact that the straps are both very wide and adjustable and the back of the bra is well reinforced. This company also makes a range of pretty looking bras.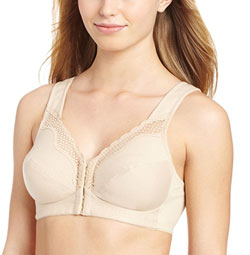 My other honorable mention is Exquisite Form's Cotton posture bra. I love the fact that a bra in this category comes with cotton cups. Because of the large amount of material this style of bra has, it's not the best thing to have to wear during warm months. The cotton adds to the breathability of this bra, and is great for those with sensitive skin.
What's missing from this category of bras?
The biggest thing that I was surprised to see missing from this category of bras is the lack of underwire. When it comes to cup support, underwire is king, whether we like it or not.
There are a lot of good posture bras out there that provide great back support, but they drop the ball when it comes to front construction. There's definitely a market for it if someone can come up with a design that is comfortable.
How can I change my posture?
If you are looking to make actual changes to your posture, you will have to do more than just buy a bra or buy a chair. You have to also attack those other internal factors that I talked about earlier.
Exercise
I'm a big proponent of exercise when it comes to solving issues, and there are a couple things you can do. Losing weight is one of them. Being heavier adds extra strain to your entire body, including the muscles that work to support the weight of your breasts.
In addition to losing weight, another thing you can focus on is strengthening the muscles that help to support your trunk. This includes your abs, pectoral muscles, shoulder muscles, and upper back muscles.
See a professional
If you have severe postural issues, it might be worth going to a physiotherapist. They can analyze your gait and stance and recommend exercises and stretches that can help to correct some of the posture problems you have.
Electronic Posture Coaching
Another option that seems to be gaining traction are smart devices or braces that track your posture and remind you to correct it by signalling when you begin to slouch. One interesting looking gadget in this domain is the Lumo Lift.