It's resolution season! For many of us, that includes getting fit, getting healthy, and starting off the year on the right track at the gym. When I haven't been to the gym in a while, I tend to ramp up my enthusiasm by doing a little bit of shopping for some new gym gear. A better version of myself would say that exercise and getting fit should be its own reward, but I'm of the mind that a new sports bra to replace one of my current ones in my rotation and a new pair of sneakers can hardly count as frivolous and unnecessary purchases, and certainly don't hurt! Here's a look at some of the best sports bras for large breasts out on the market.
| | | | | | |
| --- | --- | --- | --- | --- | --- |
| | | | | | |
| Enell High Impact Sports Bra | Panache Underwire Sports Bra | Wacoal Underwire Sport Bra | Glamorise Double-Layer Custom-Control Sport Bra | Glamorise No-Bounce Full-Support Sport Bra | Freya Active Epic Molded Sports Bra Crop Top |
| Underwire: No | Underwire: Yes | Underwire: Yes | Underwire: No | Underwire: No | Underwire: Yes |
| Reduces Bounce: Excellent | Reduces Bounce: Excellent | Reduces Bounce: Very Good | Reduces Bounce: Very Good | Reduces Bounce: Very Good | Reduces Bounce: Very Good |
| Uniboob: Yes | Uniboob: No | Uniboob: No | Uniboob: A little | Uniboob: A little | Uniboob: No |
| Compression: Very High | Compression: Medium-High | Compression: Medium | Compression: Medium-High | Compression: High | Compression: Medium-High |
| View on Amazon | View on Amazon | View on Amazon | View on Amazon | View on Amazon | View on Amazon |
The importance of a good sports bra
I've previously talked a lot about the importance of a good sports bra in a couple of my other articles. Breasts and lack of proper bust support are often cited as one of the top five reasons why women refrain from exercise.
So many bras on the market simply do not do the job of keeping boobs in place. This results in feelings of self-consciousness as your breasts move, and for many, feelings of pain and physical discomfort during and after exercise.
I know personally that a good sports bra was integral during my weight loss journey that began in 2010. The first time I entered a gym at over 250 lbs, I felt awkward as hell, and my body hurt. Having a good bra meant I had one less thing to worry about.
What kind of bra should I be looking for then?
First of all, if you have big boobs (or any size, for that matter) and strong support is your main goal, you need to banish the over-the-head crop top sports bra from your closet.

Why? Ask yourself, how can a piece of material that is wide enough to stretch over your shoulders also be snug enough to keep your breasts in place?
Ideally, for high impact activities, you should be looking for encapsulation bras, molded sports bras that separate and support each breast individually (basically a reinforced, super-supportive version of the bras you wear day to day). For even more movement control, look for a bra that encapsulates and also compresses your breasts.
Why? Breasts move in a figure 8 fashion. Up, down, side to side, and in and out. As a woman ages, breasts actually move more during exercise and need more support. Thanks, gravity! A bra that encapsulates will separate breasts and support them from all sides with the help of a sturdy underwire (or reinforced soft cups) and rigid material. The compression action of the bra will help to reduce the in and out motion.
What makes a sports bra supportive?
I touched on the characteristics for a supportive sports bra in more detail in my article Do you wear a bra under a sports bra? So, here's a quick summary of that list. Keep in mind that these are general guidelines, and that there are bras out there that are exceptions:
For the most part, stick to cup-sized sports bras for the best fit.
Make sure the bra fits snugly. It should fit more snugly than your everyday bras, even if it is roughly the same band/cup size.
Find a bra with wide, comfortable straps.
Find a bra that contains your entire breast. 'Swoop and scoop' applies here.
Check your breast sits comfortably within the underwire.
Find a bra that has a back closure.
Make sure your bra has a good, sturdy band.
Look for breathable, moisture-wicking material.
Look for molded cups where possible
Best sports bras for large breasts 2018
Enell High Impact Sports Bra

This bra, in my eyes, remains the king (or queen, rather) of high impact sports bras for bigger cup sizes. It is the bra I see most recommended by female long distance runners, and when it comes to support, it can't be beat.
It's not the most attractive sports bra in existence, you will have a uniboob, but it will keep things in place. A 100% no-bounce sports bra does not yet exist, but this bra comes pretty darn close.
It meets almost every guideline on my list, except that it fastens in the front and the bra is not sized by cups. This bra doesn't have any underwire, and doesn't really count as a molded sports bra. Instead, it creates encapsulation through inner fabric slings and a very well-reinforced band.
I was a bit skeptical about the sizing at first, but Enell has a super easy guide on their site that will help lead you to the right fit. They also have fit experts ready to help if you have questions.
Why I love this bra

This bra overcomes the usual pitfalls of a front-hooking bra by having material with virtually no stretch at all. Once you get the right size, this bra should hold you in place with little need for adjustment throughout the usable life of the bra. As long as you take care of it, this bra will last.
When you put this thing on, it kind of feels like you're putting on a piece of armor. It is full coverage, and has a fully-reinforced back. It's a bit weird at first to feel so covered up, but do a couple jumping jacks and you will warm to the idea.
perfect for
If you do a lot of high-impact sports and stopping movement is your only concern, this is the bra for you.
Other options
If you're an Enell fan, and don't need a ton of support, the company also makes a medium-impact bra of similar styling.
Panache Women's Underwire Sports Bra

The Panache Women's Underwire Sports Bra has been around for a while, and hasn't been unseated by many of the new bras that have debuted since this bra hit the market in 2011.
If I could choose two #1s from this list, then I would put the Panache right up there with Enell. For women who want a nearly-equal high level of support, this is a great option. It's definitely more fashionable than the Enell, and you won't have to suffer through uniboob, either! This bra gives great separation and some lift as well. For women who do not like the amount of coverage that the Enell has, the Panache is the best alternative sports bra for large breasts.
Why I love this bra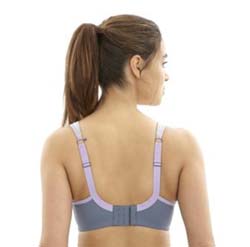 This bra hits all the criteria on my list of guidelines, and is also convertible, giving you the option for a racerback look, which is a great option if you need that extra bit of support, or want to wear it under a racerback tee.
Women who are not fans of underwire can rest easy with this sports bra as the underwire is wrapped in silicone and encased in thick fabric layers, which keeps friction to a minimum.
Panache markets the bra as 'non-compression', but I would argue that it is a combination compression/encapsulation bra. They probably did this to distance this bra from the negative connotations that compression-only sports bras have.
You will get great cup definition and protection from all sides thanks to the underwire and high coverage. That sturdy, slightly molded fabric that is snugly encasing your boobs, keeping them pressed firmly to your chest wall, and making your boobs look smaller? That counts as compression to me, and it's not a bad thing. This bra wins because it marries the two types of movement control very well, in a very stylish and comfortable package.
perfect for
This bra is great for women who do high impact sports and want a reliable balance between support and style.
Other Options
For women who are not fans of underwire, Panache also offers a non-wired version of this bra.
Wacoal Women's Underwire Sport Bra

Next up is Wacoal Women's Underwire Sport Bra. This bra comes in third because although it encapsulates extremely well, it has less compression action going on than the Panache, which translated into a little bit more movement (at least for me).
In terms of fit and coverage, it reminded me a lot of my first cup-sized sports bra, the Freya Women's Active Underwire Sports Bra. This bra separates really well, and I really like how wide the underwire goes on the bottom of the cup. For someone who is full on the bottom, this is a great fit for me.
The bigger cup sizes (G & H) even come with an inner sling, which creates extra support around the cup area.
WHY I LOVE THIS BRA

The straps are wide and super comfortable, with a 6-hook adjustment for length. They actually feel more comfortable to me than the straps on the Panache. Unlike Panache's bra though, this one does not have a J-hook racerback option. Women who do need a lot of lift will still like this bra though because the straps are narrowly set.
One feature I find really great with this bra is that the underwire 'floats'. It's not sewn on the inside layer of the bra, it's actually secured between the inner layer of the bra (the part that touches your boob) and the outer layer. This helps to reduce direct contact between the underwire and your breast, which minimizes chafing. The floating underwire makes this bra another excellent choice for women who normally shy away from underwire bras.
Two small downsides—there isn't much by way of lining in this bra, so your nipples may show if you have prominent ones. The other one is that the underwire does come up high under the arms. While this didn't bother me at all, this might not be ideal for petite women, or women with shorter torsos.
Perfect For
Pick this bra if you want an even more defined breast shape than the Panache. This would also be a great pick for women who have breasts that are widely set.
Honorable mentions
I have reviewed a few other sports bras already and I honestly think this list would be incomplete without mentioning them.
Glamorise No-Bounce Full-Support Sport Bra – Full Review

One is a crowd favorite, the Glamorise No-Bounce Full-Support Sport Bra. I covered this one in my article reviewing some affordable sports bra options. This bra is on the upper end of the spectrum and is great value for money.
Highlights include the fact that the bra has no underwire and is full coverage. Like the other bras mentioned in the list, there is a rigid inner layer that helps to keep your breasts supported and in place.
In terms of encapsulation, it doesn't do as great of a job as the Panache or the Wacoal, as it relies on fabric slings alone to create shape. However, you definitely won't get the level of uniboob that you have with the Enell. While I would still call this bra a combination encapsulation/compression bra, it relies more on compression to control your boobs.
Glamorise Women's Double-Layer Custom-Control Sport Bra – Full Review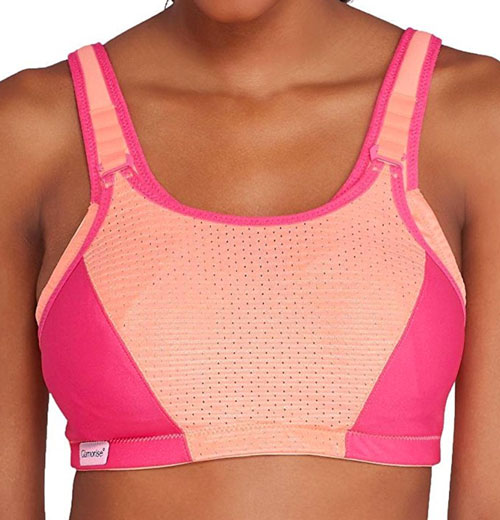 The other Glamorise bra I think deserves a mention is the Glamorise Women's Double-Layer Custom-Control Sport Bra. It is also underwire-free, and I actually like this one better than the No-Bounce because it has a unique way to adjust the level of support for this bra.
Sports bras are expensive. When faced with having to find the best all-rounder bra that will be good across as a number of different types of sport, most people will tend to go for the most supportive. What I like about this bra is that you can adjust the outer layer for a looser fit for lower impact activity, and tighten things up when you need more support.
Freya Epic Underwire Crop Top sports bra – Full Review

The last bra I will mention is the Freya Epic Underwire Crop Top sports bra. This bra, to me, is Freya's answer to Panache's Underwire Sports bra. Like the Panache, it also has a J-hook for a convertible racerback. This bra also features an inner cup for excellent coverage and encapsulation, as well as an outer layer.
The biggest difference for me is that the molded cup on the Freya feels a lot thicker than the Panache. This bra holds me in well, and is another combination encapsulation/compression bra, but for me the Panache bra wins because it's more breathable.
Pick this bra if you are a Freya fan and are keen for a molded sports bra, you will not be disappointed.
Final thoughts on the best Sports bra options for 2018
As I compiled this list, it struck me that a lot of the entries on it are old. A lot of new bras have come out since the initial release of the bras that I've reviewed, but there haven't really been many serious challengers that lived up to their no-bounce (less bounce) claims when it comes to catering to the larger end of the spectrum.
If you've come across a really great contender for my list of the best sports bras for large breasts that you think has been missed, me and my girls would love to hear from you!