95% of the time, when I come across a low back dress, I pause, I admire it, and then I look wistfully at it as I place it back onto the rack in search of a more practical option. But sometimes, just sometimes, a dress or an occasion warrants the effort necessary to pull off wearing a low back dress with boobs that are E cup or bigger. From the low back bra converter, to bras to something called the D-Up Cup, I'll be looking at some of the options available for bigger sizes.
Manufacturers of bra alternatives such as the NuBra or the Braza Backless Freedom Bustier or even Instant Breast Lift Tape can comfortably accommodate breasts up to a D cup, especially if your breasts are full on top and have a little sag. When it comes to heavy lifting though, those NuBra chicken cutlets are not going to cut it.
In order of practicality, here are four options you can consider when your love for a backless dress defies what some might call rational thought.
Option 1: Longline Bra
Cost: High
Difficulty Level: Low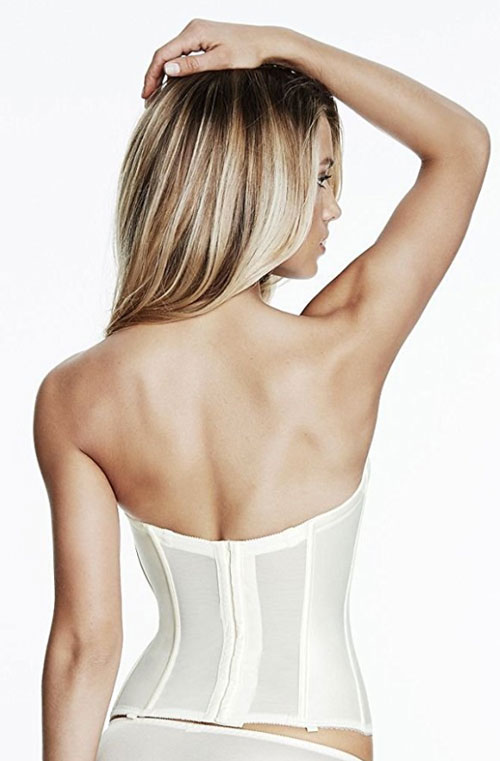 A longline bra can be another good option. These bras offer excellent shaping and the long bodice of the bra means you will get excellent support. If you go the longline route, you have a couple of options:
Pick a 'backless' longline, or a bra that has a very low back, such as the Va Bien Backless Strapless Molded Long Line bustier.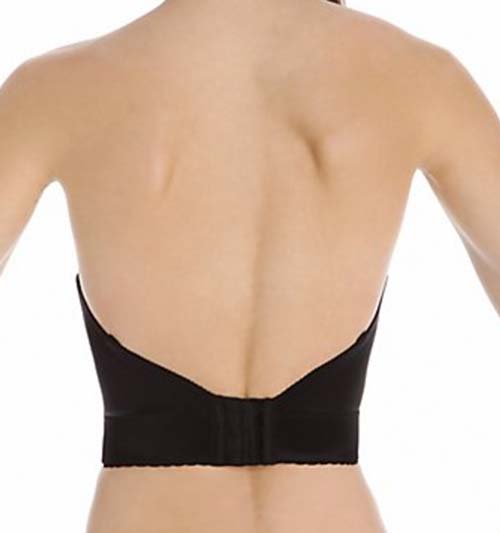 Take a longline you already have, and fold it in. If you already own a longline bra like the Dominique Satin Torsolette (full review), all you have to do is undo a few hooks and fold in the bra until the desired coverage (or uncoverage) is achieved.

If you plan to wear your longline in this way a lot, I would advise reinforcing the eye hooks toward the bottom of the bra. Wearing the bra this way will put extra strain on these hooks, and they could end up pulling and damaging your garment.
Option 2: A low back bra converter
Cost: Low
Difficulty Level: Low
The low back bra is a great option because you can use it to extend the bras you already own for a good fit. This means that with one piece of hardware, can potentially see you through many different looks, depending on which bra you need.
How it works

Instead of securing the two ends of your bra strap together like you normally would, you clip the extender on one side, pull the extender around your front and then hook the other end on the other side.
Some low back bra converters come in two separate pieces. They function exactly the same way, except that there is an attachment in the front to connect the two straps together.
Because you'll be hooking the extenders up to the hook and eye closures on the back of your bras, make sure to ensure that the number of hooks on the extender match the number of hooks and your bra.
Recommended low back bra extenders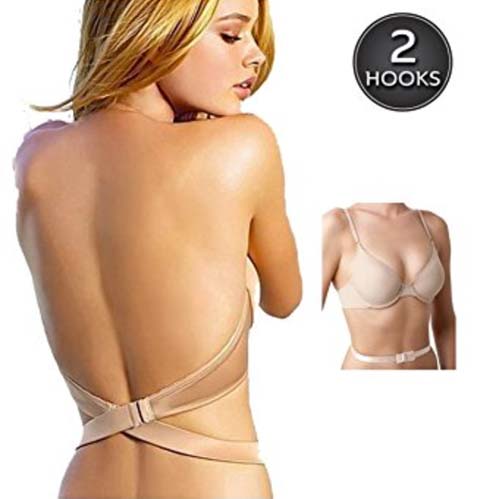 For a 2-hook extender, I recommend Coco's Low back bra converter. It's adjustable (always look for an adjustable converter!) and I managed to get it around me, though I found it a little snug. I was able to fix that with a bra extender, and then it was manageable.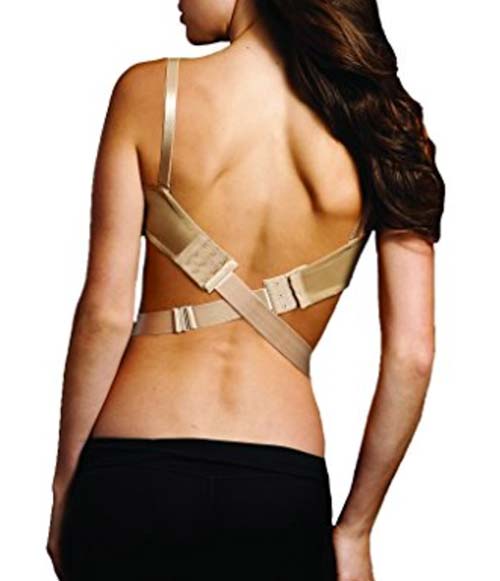 Another option for 3 or 4 hook bras that I recommend is Maidenform's Wide Low Back Converter. It comes with two straps which have another adjustable hook closure in the front, as well as a sliding adjuster like the Coco.
I'm still struggling to find a good plus size low back bra converter. While it's not marketed as plus size, the fact that I was able to get this on relatively comfortably without an extender means that this is a worthy option to consider if you have a bigger waist. Another big plus is the wide band, which feels a little more heavy duty than the Coco.
Option 3: Taping your boobs
Cost: Low
Difficulty Level: Medium

To borrow a phrase from Dolvette Quince, this option is all about hard work and determination. I never thought I would admire anything Kim Kardashian does, but I do admire her for popularizing the idea of using tape on your boobs to create lift, hold them in place, and avoid any VBL. She basically made a halter-neck sling with tape, and everything stayed in place!
All you'll need for this is some tape, clean skin (free of moisturizers or anything that would cause the tape to unstick), something to shield your nipples (cotton make-up remover pads work well), and some patience. There are some great YouTube videos out there showing you how to do it.

Personally, I'd recommend using gaffer tape over duct tape, just because it's less sticky and will be easier to peel off. Some people also suggest using athletic tape, but for big boobs I don't think this will have enough pulling power.
To minimize how much of the gaffer tape adhesive touches your skin, My suggestion would be to cover as much of your boob with a layer of athletic tape, or even medical tape, because the skin on your boobs is quite sensitive. The gaffer tape will have to touch your bare skin on your shoulders though, and some parts of your boob, for it to stick really well.
Option 4: Sew in your bra cups 
Cost: Low, unless you pay a seamtress to do it for you.
Difficulty Level: High

This isn't the most practical option, but if you have backless dresses you wear a lot, or one for a super special occasion, sewing in cups into the front of the dress is another way to achieve some support.
Your mileage with this option is going to vary depending on the shape of the front of the dress. This option would work well with a halter or an empire waist dress, but you might have some trouble fitting in cups if the dress has less structure up top.
Bonus Option: D-Up Cups

Okay, I'll admit I threw in this option a little bit for my own amusement. While doing my research to see if any new options were out there, I came across the D-Up Cup. The whole idea sounds good in theory, but an execution it produces an odd look.
I think women with fuller breasts could probably manage with this option, but if you sag a bit like me, no dice. The … contraption creates a big space between your boobs and causes them to jut out, without really giving them lift per se. It might not work on all looks, but it is certainly an interesting option!