When it comes to bras, I am all about comfort and support. But almost inevitably, at some point in your life, you'll fall in love with a strapless dress, or have to wear one to prove your bridesmaid allegiance at a wedding. For those times of need, you'll have to rely on a strapless bra. Thus begins the tiring hunt for nice plus size strapless bras that actually stay up.
| | | | | | |
| --- | --- | --- | --- | --- | --- |
| | | | | | |
| | Elila Molded Strapless Bra | Fantasie Smoothing Seamless Strapless | Le Mystere Soiree Strapless Bra | Wacoal Women's Plus Size Red Carpet Strapless | Delimira Women's Full Figure Underwire Contour Multiway Strapless Bra Plus Size |
| Cup | Full, Molded with Boning | Full, Molded | 3/4 cup, Molded | 3/4 cup,  Lined, Has boning | 3/4 cup,  Lined, Has boning |
| Convertible | Yes | Yes | Yes | Yes | Yes |
| Max # of hooks | 4 | 3 | 4 | 4 | 4 |
| Fit | True to Size | Runs Large in Cup | Runs Small in Band | Runs Small in Cup | Runs Small in Cup and Band |
| Band Support | Excellent | Very Good | Excellent | Excellent | Excellent |
| | Check Available Sizes | Check Available Sizes | Check Available Sizes | Check Available Sizes | Check Available Sizes |
The challenge of the Strapless Brassiere
A properly fitting and well-designed bra with straps provides about 80 to 90% of its support through the band. You have probably noticed that as a bustier gal, the bands on bras meant to hold larger busts tend to be thicker, because they have a lot of work to do.
The last 10 to 20% of the support work is done by the straps. Take the straps away, and you lose some of the lift and shaping that a good bra provides.
Strapless bras aim to make up for this lack of straps by creating a more supportive band, usually by adding more width to the band in order to provide as much structure as possible from below. Strapless bras also tend to have a more snug fit around the band in order to make sure everything stays in place. The bigger your boobs, the more work the band has to do, and some bands just aren't up to the job.
Without anything holding the bra in place from the top, a strapless band struggles to support heavy breasts, and sometimes they fail. I'm sure you know what a strapless bra fail looks like! Ideally, you've only seen it happen to other people, but I'm sure you have experienced it on some level.
When the bra fails mildly, you might look down after a spirited dance of the Macarena only to notice that your cleavage line that was an inch when you started has now grown 2-3 inches longer as your bra has slowly migrated toward your navel.
When the bra fails hard, you can end up with the sliding down all the way, or in the worst-case scenario, completely flipping over.
Today I'll be looking at some strapless bras that are up to the task of doing some heavy lifting. I've created a separate page with reviews for longline bras for plus size women. There, I look at some longline/bustier options (my personal preference) that are a great and a more supportive alternative to the strapless bra.
Should I wear a Strapless bra or Longline bra?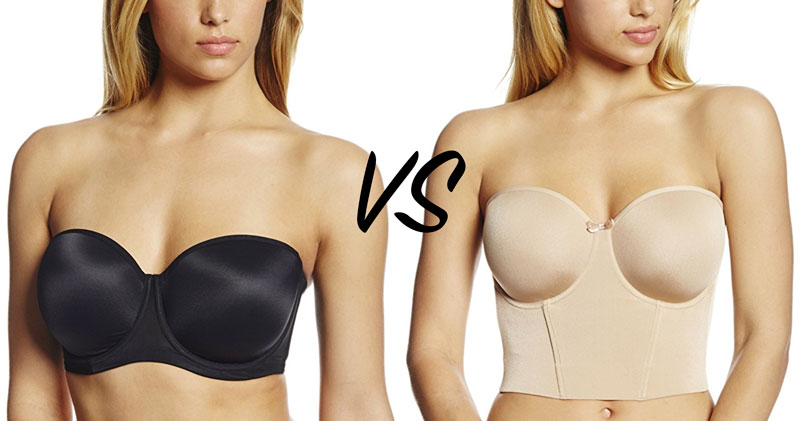 Whether you decide to opt for a strapless bra or a longline ultimately comes down to personal preference and sartorial constraints. Strapless bras are the easy option because you only have to worry about them fitting your chest area, which means that they will work on a variety of body types and under many different types of clothes with different cuts and different materials.
If you're looking for extra support in a strapless bra, a longline bra may be a good option. However, depending on the length of the bra and the shape of your body, they might end at an awkward spot on your torso. You also have to worry about the fit around your midsection and whether or not the long line will show through your chosen outfit.
The upside of this of course is that longlines do provide more support, meaning that you will have a good chance of finding a plus size strapless bra that actually stays up. Another added benefit is that depending on the type of garment you choose, they also can have shaping benefits, similar to a corset.
The List: 5 Plus Size Strapless Bras that actually stay up
Elila Molded Strapless Bra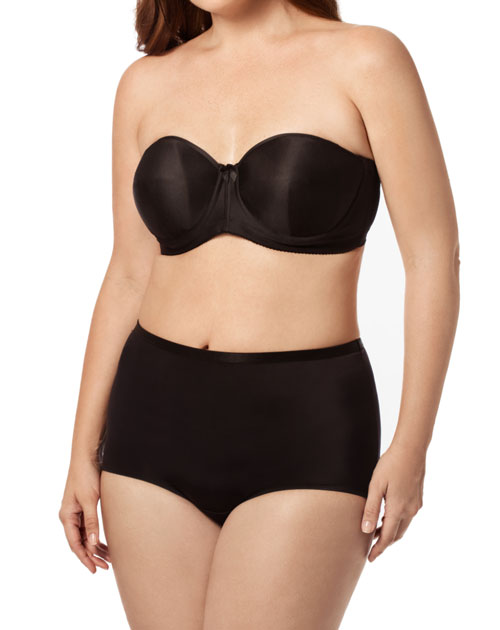 This was the first time I tried on an Elila bra, and I was pretty excited because I have heard good things about the brand. There is something about a brand that specializes particularly in large cups that gives me faith.
This bra is full coverage, and made of spacer fabric and has side boning, all the makings of a bra that should provide a good amount of support.
Cup
I loved the fact that the cup is full coverage, and contains a three-piece sewn inner cup for lifting and structure, with a molded outer cup for smoothness. In a way, this is sort of the best of both world, although it is a little thick. Breasts that are full on the bottom can always benefit from a sewn cup for uplift in a bra with straps, but this doesn't always work out well strapless bras. If you've ever worn the Elomi Maria convertible bra, you'll know what I mean. Unless your boobs are self-supporting, it's sort of tough for them to fill out the cup really well.
This bra really goes above and beyond to provide cup structure, and is even some boning on the inside of the cups.
Band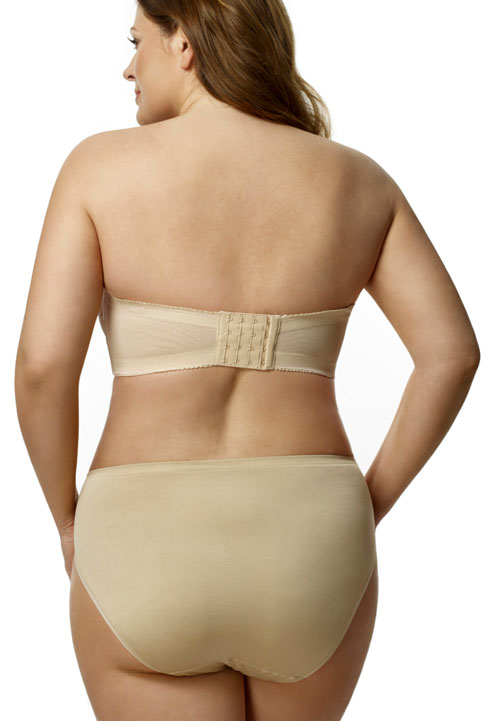 The bra is also boned between the cups to create a strong, supporting structure. The boning on the sides of the bra combined with its high underarm cut keeps things controlled on the sides, keeping side boob to a minimum. The band features four rows of hooks in the back and large elastics lining the top and bottom of the band to help keep it in place. The only thing this bra is missing that I usually expect to see in a bra are those rubbery strips that help to keep the band in place and reduce slipping.
Overall
Finally, a strapless bra that works! Overall, this bra felt comfortable to wear. Despite all the boning, it didn't poke in to me, which was a pleasant surprise. I wouldn't wear a bra like this every day, even with the convertible straps, but for an evening out it certainly does the trick. I felt more supported than I thought I ever would in a strapless bra. While it doesn't provide lots of lift (hard to without straps!), it does keep your breasts in place well enough that you don't need to constantly sneak off to the bathroom to pull it back up.
The only downside I can see to this bra is that it is full coverage, which means it might be a little high depending on the neckline of the dress you plan to wear it with. Overall though, an awesome, awesome find.
Fantasie Smoothing Seamless Strapless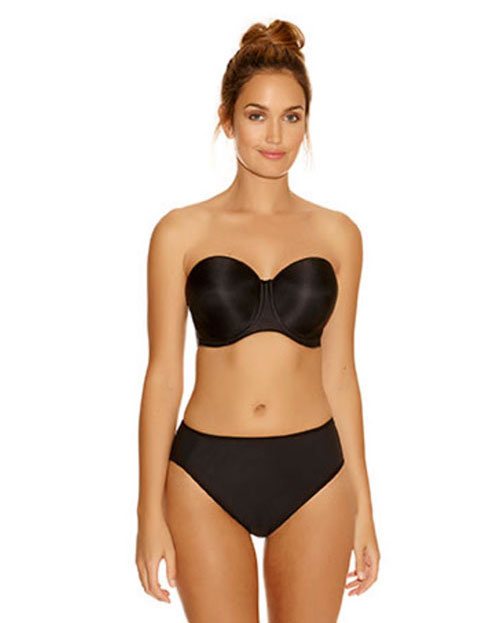 Fantasie also produces an excellent seamless strapless bra that is good competition for the Elila. It's got equally amazing fit. It comes in second because it's not as supportive, and the higher you go in cup size, the fewer options you have in band size.
Cup
This is another full coverage option, like the Elila. While this bra has less structure in the cup than the Elila, it does still feel supportive thanks to tall center panel, which keeps your boobs contained in the cup. For a full on bottom bust, you do feel like everything is at the level it should be, and your breasts feel well-contained in the cup, without that flat, 'on a platter' look. There's not much cleavage going on in this bra, compared to the Elila.
The panel is a bit on the wide side, and it really creates space between your boobs. Depending on what you're wearing/how wide or narrow set your breasts are naturally, this might not produce the most ideal look.
Band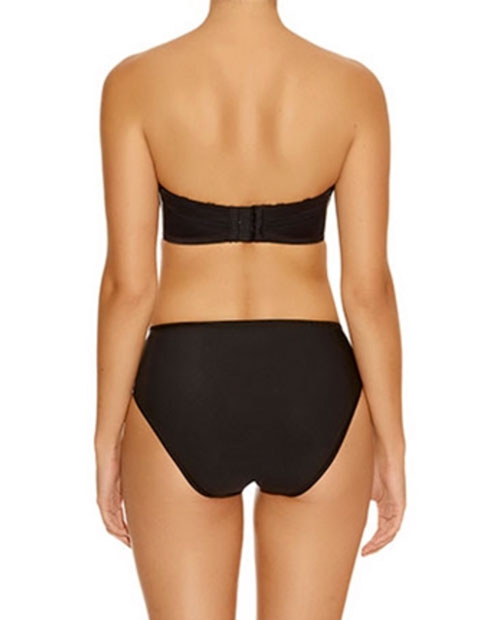 Even in the bigger cup sizes, the band is not as wide as the Elila bra features a maximum of three hooks. It does have a wide elastic band to help hold things in place. The bra also relies on a gripper strip on to hold things in place, which makes up a bit for the fact that the band is thinner. It would have been nice to have gripper strips on both the top and bottom edge of the band.
Overall
This bra isn't quite as comfortable as the Elila. Sure, strapless bras are never truly comfortable, but by the end of a night out, you really start to feel this thing. At the end of the day though, it did its job, and there wasn't any need for re-adjusting. Again, because this is a full-cup bra, it may not work under less conservative necklines.
Le Mystere Soiree Strapless Bra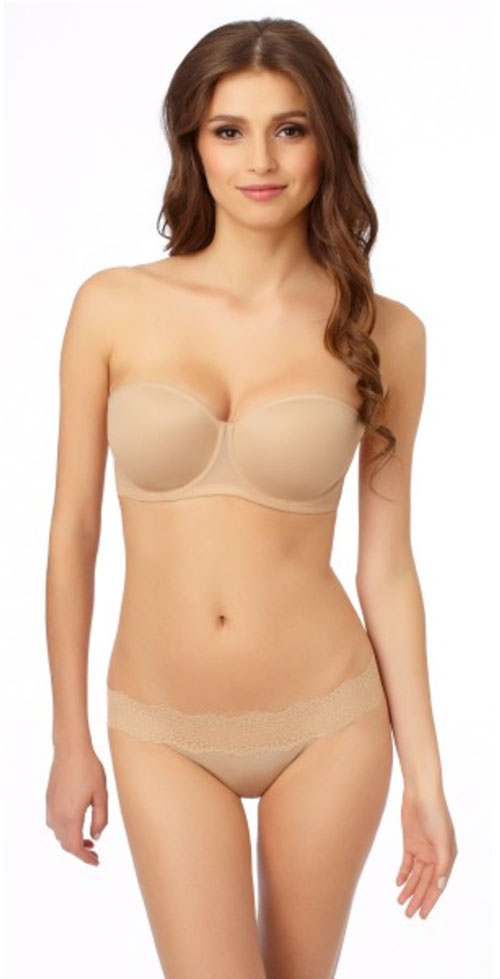 The Le Mystere Soiree Strapless Bra is a great option for women with larger cup sizes and band sizes who need to pair the bra with a lower cut dress or top.
Cup
The cup on this bra is not full, making it a versatile option you can wear under a bigger range of necklines than the other two options previously reviewed. The idea of this worried me a bit at first, because I was afraid that I could easily pop out of a shorter cup. Fortunately though, there is silicone lining on top part of the cup to keep things in place.
One thing I do like about the bra is that it does provide some nice round shaping, which I didn't expect. I definitely preferred how my boobs looked in this bra as compared to the Fantasie.
Band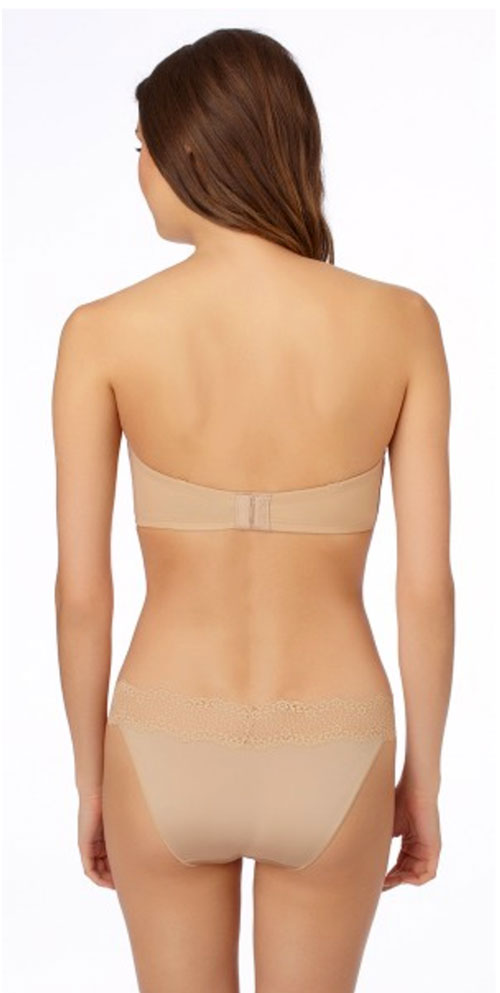 The band on this bra comes with up to four hooks (yay!) and is wide on the sides and underarm to provide support, though it could be wider on the back. This bra has gripper strips on both the top and the bottom of the band to keep it from slipping, which it does well. It managed to stay in place better than I expected.
The band runs tight! As I said in the intro, generally you want a strapless bra to feel snug, but as someone who normally fastens my bra in the front and then slides it around the right way, I struggled hard to turn this thing around. Normally, I go for my lower band size in strapless bras, but in this one I had to try on a 40, and even that felt a little bit snug.
This bra has a lot of boning on the sides and even the back, with larger sizes being even more structured. I like this feature because despite the fact that the bra isn't full coverage, you'll never get the feeling like the band is going to bunch up or flip over, which is pretty much my nightmare scenario whenever I wear something that is isn't full cup.
Overall
Despite what seems like a lot of boning, this bra is surprisingly comfortable. You could probably wear this bra from day to day with straps without feeling like you need to rip it off after a few hours. Because of the fact that the cup of this bra is lower, you can wear it with more cuts. For this reason, I actually prefer this bra over the Fantasie.
Wacoal Women's Plus Size Red Carpet Strapless bra

Have you ever put on a bra and just loved it immediately? There's very few bras that elicit love at first sight for me, let alone a strapless bra, but the Wacoal Women's Plus Size Red Carpet Strapless does it for me.
The first thing that caught my eye with this bra is the incredible amount of size range they offer. There are not many manufacturers daring to make strapless bras all the way to an H-cup, which really is a shame. While I focus mainly on full-figured plus size bras, it is worth noting that this bra is a great option for those of us who have small band sizes coupled with a large bust.
Cup

The cup of this bra is so sturdy. It's got a nice silicone strip at the top of the bra to keep your breasts in line with the top of the cup.
A drawback to the fact that this cup is so sturdy is that it's only going to work well with specific breast shapes/types. If you're mostly full on top, you'll probably have issues filling the bottom part of the cup.
If you're like me and full on the bottom, you'll fill this bra out okay, though again you might want to opt for a bigger cup size if you've got a lot of projection. The gapping on this bra wasn't too bad for me, and I wouldn't hesitate to wear this bra with a dress that had a neckline that matched the level of the top of the bra. It does take a little bit of fiddling to get this bra adjusted the right way, and the gore doesn't tack completely, but it will still hold you in place.
Band
One of the things I absolutely love about this bra is the attention Wacoal took when the crafted the bottom band of the cup. Strapless bras by design have to fit a bit more snugly than an everyday bra since they rely almost exclusively on the band to provide support. This usually makes for a bra that you'd hate to wear all day because it usually feels tight and uncomfortable and like the life is being choked out of you.
While I won't be wearing this bra as my go-to for work or daily use, the band is surprisingly comfortable, especially at one of the common 'pain spots' of a strapless bra, the underwire/underbust.
Okay now that I've stopped gushing about the underbust, It's also worth mentioning that the band is well reinforced, with vertical boning along the back and sides.
Overall
Most of us with big boobs have learned to be satisfied with a strapless bra simply when it holds boobs in place. This bra goes the extra step and even provides a little bit of lift as well, which is a welcome surprise.
Delimira Women's Full Figure Underwire Contour Multiway Strapless Bra Plus Size

The Delimira Women's Full Figure Underwire Contour Multiway Strapless Bra Plus Size (oof, that's a mouthful!) was a surprising find for me. Previously I've had a look at reviews of Delimira bras before, however at the time they hadn't come out with a solid strapless bra.
Cup
I am thoroughly impressed by the structure of this cup. Looking on the inside, it has a wide underwire to keep things held in from below. The inside of the cup is well-molded and padded with a thick banding strip to help support breasts from the sides.
The one thing I would say about the cups of this bra is that they are a bit shallow. If you're fuller on the bottom and you have a lot of flesh on the bottom of your breast, it's just not going to have a whole lot of space to go, and the bra is not going to tack properly. There's also a chance that you'll experience some gapping with this bra if you're not full on top. To be sure, I'd
If you are narrow-rooted and not too projected, this bra could work for you easily. If not, you might want to consider going up in cup size and down in band to find the right fit.
Band

The band of the bra has a pretty reliable grip strip on the top and bottom. It's really wide along thee back, boasting four hooks and wide sides.  There's also a bit of boning along the sides of the bra too to help keep your breasts from spreading out to the sides.
Overall
The low price of this bra is definitely part of its appeal. It's definitely up to the job of keeping your chest nice and supported, although it doesn't do a whole lot to lift. You could probably get away with wearing it all day without having to adjust it, which is always a rare find in this category of bras. The fact that it's a multiway too means you'll be able to use it on lots of occasions as an everyday bra when you're after a molded shape. Will this withstand the test of time? Likely not, but if you need a strapless on a budget and don't have occasion to wear one too often, the Full Figure Underwire Contour Multiway Strapless Bra is definitely worth a look.
Honorable Mention
If you're looking for a strapless bra that works and are on a budget, I'd also consider the Vanity Fair Women's Beauty Back Strapless Full Figure Underwire Bra (74380). It's also a multi-way and has great construction, especially around the sides of the bra.