An Alternative to Custom Sports Bras?
Okay, I must admit that the marketing of this bra sucked me in. A bra that has so many adjustments that you can really use it for anything?! For a wardrobe minimalist like me, the idea of plus size sports bras that suit all styles of workouts is too good to ignore. The Glamorise Double-Layer Custom-Control Sport Bra comes in four different colors and promises a breathable, moisture wicking bra that will lift the girls and keep them from bouncing. For someone who has dreamed of adding custom sports bras to her wardrobe, I must say expectations are running high.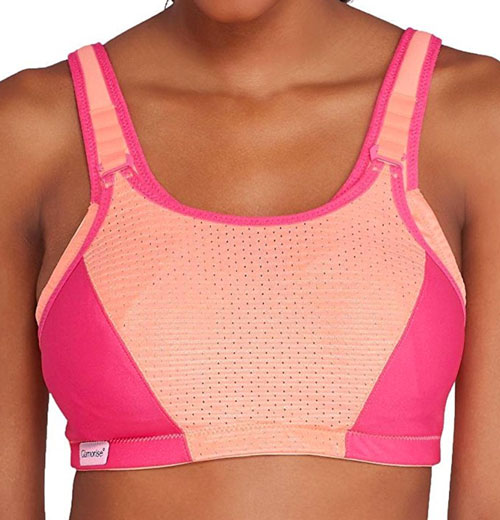 Strap
The straps on this bra are close set, in fact it reminds me a lot of Glamorise's No Bounce Full-Support bra which I reviewed previously. The strap could stand to have a little more padding, or be made of softer material for added comfort, but despite this, there's no shoulder dig.
Just like the other Glamorise bra, the straps are only half adjustable. Fine for me at 5'7", but probably a little tougher for petite women.
Cup

The cup on this runs big. Currently I go between an F cup and a G cup, and an F is definitely the only option for me in this bra, especially since I've got volume issues. The shape of the under part of the cup is a little weird, but once you add on the second layer, it's not an issue. The cup is soft and comfortable, though I wouldn't call it lined by any stretch.
Now, on to the front panel. I'm a fan of innovation, generally, but I am also a creature of habit. I really like the fact that the front panel can adjust to four different levels of bounce control. At the highest level, I feel pretty confident doing high jumps.

The downside of this two-panel design is that depending on which level you put it at, and how your bra fits, you might find the under cup wrinkling a bit which might create visible lines. For me though, this is a small price to pay considering everything else that is on offer.
As is with all high-impact bras, compression is the name of the game. The lack of underwire means you will have a bit of a uniboob, and your breasts will have that flattened look, but the excellent side support of this bra makes the whole experience of having your boobs squashed less awkward and fairly comfortable.
Band/Back
Anyone who has read my reviews knows how annoyed I get when a 'full support' plus size sports bra has only 2-3 hooks for the larger cup sizes. This bra has 3-5 hooks depending on your bra size, and for that, it deserves some praise.
The upside of 5 hooks is more support and a feeling of being strapped in, and I sure love not having to spend a lot of time learning to maneuver into this bra, as you do with racerback bras.

The band on this bra has absolutely no stretch. The rigidity is probably necessary in order to compensate for the fact that this bra is trying to create a ton of support without any sort of underwire. Now add 5 hooks to a band with no stretch, and you may experience some trouble getting this bra on, especially in the early days, but it gets better, I assure you.
My major piece of advice for this bra is to get on to the Glamorise website and watch their video and understand their fitting guide. Do it! The band on this bra runs on the small side, which for me meant I had to go down a size in cup, but up a size in band.
Overall Fit & Feel
This bra is comfortable! In fact, it's probably as close as you can get to custom sports bras without actually having one made. Being able to adjust the front panel and the strap (although not as much as I'd like) go a long way toward making this bra feel versatile. The neckline, although not as high as their No-Bounce model, does come up high. This wasn't a problem for me, but I could see how it might annoy others.
The mesh material on the back and band of the bra make it feel airy enough to the point that this would be my top pick for hot yoga class.
Can I do Zumba in this bra?
Yes, you could definitely do Zumba in this bra, and you could do all sorts of bent over yoga poses without worrying about things popping out.
Best For
You can probably own any part of the gym in this bra, but because of the lack of width in the shoulder the strap, I would stick to shorter medium/high impact workouts. You could wear it for all lengths of time for low impact activities.
The TL;DR
Can I really stop shopping for custom sports bras?
This is not a fashion sports bra, but then again, plus size sports bras that are high-impact, and full coverage rarely are. The second panel on the front does its job, but at the expense of aesthetics. If you are in the market for custom sports bras, this might tide you over for a bit, as it's one of the most comfortable, customizable sports bras on the market, and while my G cups have yet to experience zero bounce, this comes close. It delivers, and at a good price, and for that, I'd give it a 4/5 overall.