The Goddess Keira Banded Satin Bra has been around for a while and is another excellent choice and one of the best bras for large busts. With sizing all the way to an N cup, it is probably one of the most stylish offerings that comes in sizes that are often omitted by othefr manufacturers. The bra is currently produced in 5 colors, and in 4 different configurations although more can still definitely be found online, so this is definitely a bra you can buy over and over again.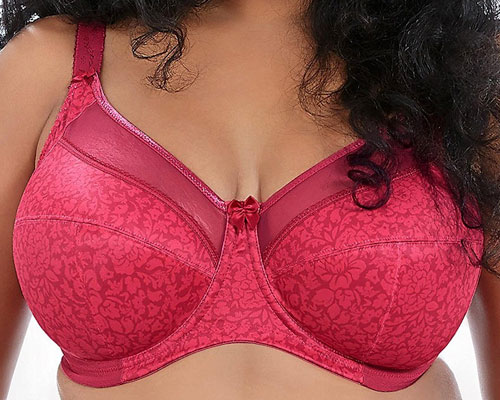 Strap
The strap on the Keira bra is wide, owing to the fact that this bra was made for a larger range of cups in mind. It sits comfortably on the shoulders without digging or slipping. My only wish is that the strap were made with a slightly more padded material.
Cup and gore
The cup features no padding, which is good considering that the majority of us buying this bra aren't seeking to appear any bigger. The cup is definitely full coverage and feels very roomy in the right places. It doesn't make breasts look small the way a minimizer would, and it doesn't push your flesh toward your arms the w

ay cups with less depth can.
For the narrow breast set, the gore probably won't lie flat against your sternum, although this probably wont be an issue for those with wider-set breasts. The gore can also ride a little high on this bra, though not as high as the Elomi Raquel. While you should be okay with most kinds of shirts, deep necklines might best be avoided with this bra.
The biggest downside of the bra is probably obvious when you look at it: the main seam is definitely prominent. If this is something that bothers you, you may be limited to the clothes pairings that you choose for this one.
Band/Sizing
The band, quite honestly, seems a little on the small side. For a bra that is meant to support big busts up to size N, 2-3 clasps seems a little skimpy. The band feels true to size, so I would recommend to stick to your normal sizing.
This bra is on the delicate side, and I think because of the band's narrowness, after the bra relaxes, it can sometimes slip upward, reducing its effectiveness. To try and mitigate this as best as possible, go with the smallest band size you normally wear, and treat this bra with kindness—definitely hand wash it, if you can.
One thing that is great about the band sizing is that if you get it right, it does feel supportive enough for those of us with the tough combination of being small-framed with a large bust.
Underwire
This bra surprisingly has no side boning, so a lot of the front structural support comes from the underwire. To compensate for the lack of boning, the underwire goes quite far up under your arm, and can end up being a bit irritating.
Under the breasts though, the underwire does feel pretty comfortable, and lies flat against the chest, making it quite comfortable for those of us seeking a bra for a large bust.
Feel
It's satin! Well, satin-polyester. This results in a very nice feel against the skin. The bra feels very supportive, and when the band is right, your shoulders don't do any more work than they need to. 
Overall Shape
The overall shape of the bra creates a smooth, natural appearance. The bra does ride a bit higher than Wacoal's basic beauty bra. If you have fuller breasts, you may end up feeling like your breasts are sitting higher than what may seem natural, but you can compensate for this by adjusting straps.
I like the fact that this bra is full coverage, without minimizing me or making me feel flat. They really nailed the shape of the cup, no Madonna boob in sight.
Best for
All-day wear, lounging
Overall, I'd give this bra a 4/5. This bra is good value for money, and a comfortable pick for many. While it's certainly a contender, and one of the best bras for large busts, I think the best is still out there. See what others are saying.