It's happened to all of us. You pick out a great bra. The price is right, the cup fits, the gore sits well between your boobs and it has just the right amount of coverage and support that you want. Then you look at the bra from behind and it falls apart. You witness the back bulge, and the quest begins to find the best back smoothing bra out there.
Depending on what you were planning to wear it with, it might not be that big of a deal. Surely, a loosely fitting blouse or winter wear can be worn with such a bra. But if you intend on wearing something form fitting or even a little bit sheer, finding a bra that looks good from all sides is imperative.
| | | | | | |
| --- | --- | --- | --- | --- | --- |
| | | | | | |
| Bali Women's Flower Underwire Bra | Soma Vanishing Back Full Coverage Lace Trim | Vanity Fair Women's Beauty Back Full Figure Underwire Bra | Chantelle: C Magnifique Minimizer Bra | Elomi Women's Plus Size Smoothing Seam Free Bra | Olga Women's No Side Effects Underwire Contour Bra |
| Cup: Not padded | Cup: Not padded | Cup: Slightly padded | Cup: double-layer fabric | Cup: unlined | Cup: Slightly padded |
| Style: Molded, T-shirt bra | Style: Molded, T-shirt bra | Style: Molded, T-shirt bra | Style: Minimizer | Style: Minimizer | Style: Molded, T-shirt bra |
| Fit: True to size | Fit: Runs small | Fit: True to size | Fit: Convert your size! | Fit: Cup runs large | Fit: True to size |
| Best attribute: Very supportive | Best attribute: Lightweight | Best attribute: Very supportive | Best attribute: Comfort | Best attribute: Wide, padded straps | Best attribute: Side support |
| Eliminates back fat: High | Eliminates back fat: High | Eliminates back fat: High | Minimizes back fat: High | Minimizes back fat: High | Eliminates back fat: Medium |
| Rating: 4/5 | Rating: 3/5 | Rating: 4/5 | Rating: 3.5/5 | Rating: 3.5/5 | Rating: 3/5 |
| Sizes: B-DDD, band sizes 32-50 | Sizes: C-DD, band sizes 34-38 | Sizes: B-DDD, band sizes 36-44 | Sizes: C-I, band sizes 32-44 | Sizes: D-G, band sizes 34-48 | Sizes: C-DD, band sizes 36-44 |
| More details | More details | More details | More details | More details | More details |
WHAT CAUSES THAT UNSIGHTLY BRA BULGE?
Basically, bra bulge is caused when the area around the part of the band that sits on your back does not lie smoothly against your back.
This usually occurs because of a combination of reasons. Often times, the material of the bra or the design of back of the bra leads to a bulging look. Bras with elastics on the top and the bottom of the band often cause back bulge.
The last factor has to do with the make up of your back itself. It should come as no surprise that a fitter, more toned back will also be less likely to have bulge. While you're working on your back though, you need a short-term solution.
WHAT SHOULD YOU BE LOOKING FOR IN A BACK SMOOTHING BRA?
Wide wings on the back of the bra – basically this means you're looking for a wide band, usually made of stretchy material like a combination of nylon and spandex. You can even take this to the next level and look for bras that have a completely full-coverage back.
Higher-cut side panels – The part that comes up under your arm should be wide as well to keep the band from creating any rolls.
Here are six in-depth reviews of different bras that are some of the best plus-size back smoothing bras out there for those of us endowed with D cups or bigger.
OLGA WOMEN'S NO SIDE EFFECTS UNDERWIRE CONTOUR BRA

The Olga No Side Effects Underwire contour bra caught my eye because not only does it come in an array of awesome colors, it also promises to reduce side bulge as well as back fat.
BACK
Looking at the back of the bra, I have to say I like that fact that this bra is cut relatively low, meaning you can wear this with tops that have backs, which is a big plus.
While this bra's material choice and cut is going in the right direction in terms of reducing bulging lines, making the band a little bit thicker and more supported with more hooks (4 for bigger sizes would be nice!) would have really made this a home run.
SIDE
The side coverage is where this bra really shines. The side panels come up to just under your armpit, and the nylon/spandex mix is soft enough that it does this without being irritating.
STRAP
Thinner than most full coverage bras. Still feels comfortable, but not as sturdy because of this. Straps are set widely, so they might slip down on narrow shoulders, or as the bra ages.
CUP, GORE AND UNDERWIRE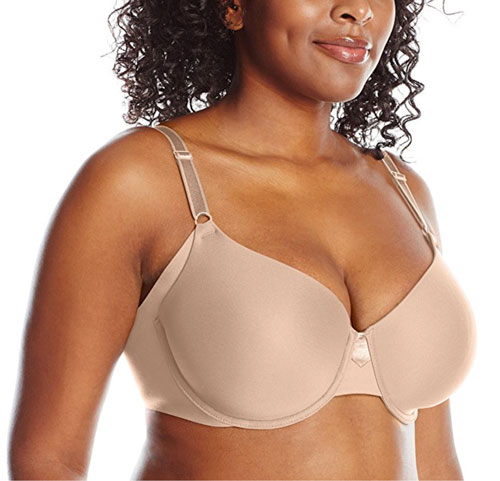 The cup on this bra is molded, so it adds a bit of protection without feeling like you're adding a lot of volume. Personally, if a bra is comfortable, even with G cups, I don't mind this. As a bonus you don't have to worry about your nipples showing either. For people looking for a more modest look that doesn't have any padding, you might want to give this one a miss.
The gore on the Olga doesn't quite sit as snugly as it should. This is pretty much an expectation for me because of my narrow-set breasts, but I have a feeling even woman with wider-set boobs will have a problem with this as well.
The underwire on this bra is nothing to worry about, it's actually quite comfortable, and should even suit those of us who loathe the things.
COMFORT & LOOK
Overall, this bra is comfortable. The cup is not as wide as other bras I've reviewed, probably because of the way that the side of the bra is constructed, but even with this feature, the cup is still a good fit, giving a nice rounded look to the ladies.
BEST FOR
Probably a good bra for wearing to work or doing light activity.
DOES IT ELIMINATE BACK FAT?
Only you have the power to eliminate back fat! But this bra does have the power to smooth it out and minimize its appearance. That said, in order for this bra to truly be a winner, the back band would need to be thicker. At its price point though, the Olga bra is a good bang for your buck, but it is far from perfect. Also at 44DD, I'm out of the running, I would have loved to see more sizes. 3/5
Soma Vanishing Back Full Coverage Lace Trim Bra

Apparently Soma vanishing back bras have been around for almost 10 years, but somehow I was late to get the memo. I discovered this brand while poking around for a back-smoothing bra, and decided to venture outside of my Amazon/Bare Necessities online shopping bubble and give this brand a go.
Back & Strap 
Soma's Vanishing Back Full Coverage Lace Trim bra owes its smoothing superpowers to the fact that it has wide wings that go up quite high along the back. 
There's a lot of things I like about the straps for the Vanishing back bra. The material is super comfy, for one, and feels comfortable to wear for long periods of time.
The one thing I don't like about the strap is the fact that you can't adjust the bra at the back, like you can with most bras. I get that this compromise was made for the sake of maximum back smoothing, however this also means you might not get a lot of mileage out of the bra once it starts to age a bit and the material starts to stretch.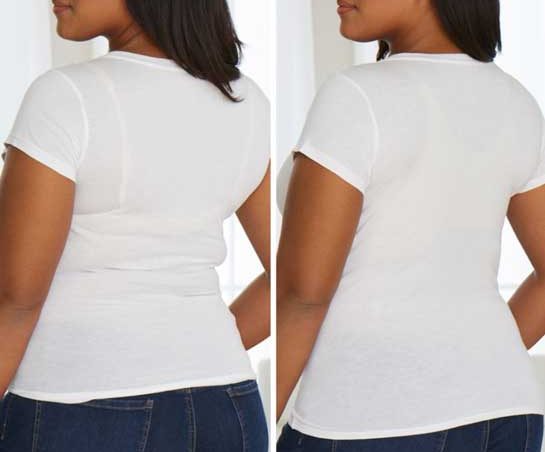 I'm always going on about the concept of center-pull and a U-shape where straps meet a bra's band in order to get maximum lift/support from this part of the bra. Soma takes this concept to a whole new level, with the back of the bra coming up so high that the straps for a V-shape where they meet the band of the bra. 
Cup Gore & Underwire 
I love the design of the trim along the gore of the bra and the sides of the cup. I'm pleased with the width of the underwire, and my boobs fill out the bottom of the cup nicely. The sides of the bra fit snugly enough that any side bulge I normally have feels controlled. 
Comfort & Look
Part of the reason this bra does such a great job smoothing the back is the fact that it the material is very light and smooth.
The bra is also sewn in such a way so that there aren't any seams or stitching on the back, reducing the amount of bulk as much as possible. 
Best For 
All-day wear, light activity like walking. 
Does it eliminate back fat?
Yes, a resounding yes! This was my first time giving Soma a go and I am pleased with the results. When looking specifically only at the smoothing effect, I think it's the best back smoothing bra on the list.
Overall
The only thing I do worry a bit about is that it's made with a large amount of Spandex (23%), so I wonder about whether this bra is going to age compared to the other ones I buy. It is comfy as hell though and if the priority is having a smooth back without any ripples, this one definitely does the job. 3/5
Vanity Fair Women's Beauty Back Full Figure Underwire Bra

This bra was another surprise for me. I tend to stick to my tried and true brands, and don't often wear Vanity Fair. The Beauty Back is an absolutely marvellous fit and also does its best to smooth out back bulge.
Back & Strap 
The straps on the Beauty Back are nice and wide, and are made of a smooth material that feels good sitting on the skin. Designed so they veer inward slightly at the back, the straps sit in a way that makes me confident they're not going to slip off during the day. They're also fully-adjustable, so the chances of being able to adjust this exactly to your liking are high.
As with most back-smoothing bras, this one too, boasts a wide band. I'm always going on about how many hooks a bra has, especially in larger sizes, so I was pleased to see that the standard number was 3 with larger sizes having 4 hooks. 
Cup, Gore & Underwire 
The cups on this bra are high

 enough so that I can move around a bit without fearing that quadraboob is going to form. While the cups do come up quite high on the sides in order to keep everything contained, I am a fan of the wide V-shape the bra creates in the front. I'll be able to get away with wearing moderate V-necks without having this show through.
The cups have a good level of padding so that it is modest enough to not have to worry about nipples showing, but thin enough so as not to feel like it's adding extra bulk to your boobs.
If I had to criticize and say anything bad about this bra, it's that the cups are a bit on the shallow side. If you're quite projected or full on the bottom, the gore on the Vanity Fair Beauty Back is most certainly not going to tack well.
The underwires on this bra come up high on the sides, giving this bra a little more sturdiness and structure to hold everything in place.
There isn't a whole lot of gore going on as the underwire does not come up very high in the middle of the bra.
Comfort & Look 
I know I'm supposed to be focusing this review on the back of the bra, but I have to devote a bit of time to admire how well the front works for me. I love that it's got a modest, almost minimalist style with no extra lacy bits on it. The only embellishment is the lacy-ish flower design on the center gore, which is just fine by me. 
Best For 
All day wear. Not quite run for the bus material, but if you had to bend and move around a bit in this bra, it would keep the girls in place.
Does it eliminate back fat? 
Yes it does. Although it doesn't have as many smoothing features as the Soma Vanishing back does, the material does a good job of holding you in at the sides and back without bulging.
Overall
While Soma's contender takes the cake when it comes to smoothing, I think the Vanity Fair is a better bra overall. For those of you who don't like underwire, it also comes in a wirefree version which I've reviewed in my round-up review of best wireless bras. 4.5/5
BALI WOMEN'S FLOWER UNDERWIRE BRA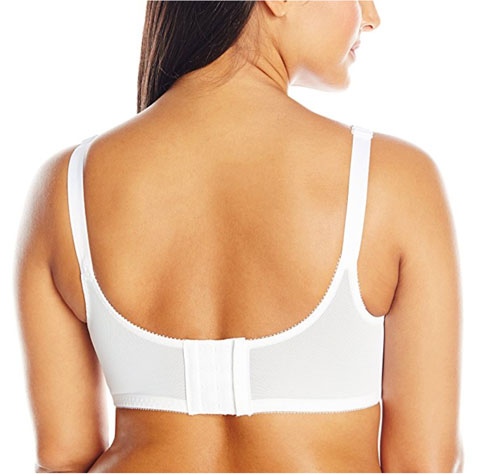 I picked this bra because it is absolutely supportive, and I am always a fan of a supportive every day bra that is affordable. I know this bra will put off a lot of people because of its pointy shape, but honestly I think the retro look is worth the benefits this bra has to offer.
BACK
The band of this bra features 2-5 hooks depending on the size that you order – a feature that I love. The band is very supportive and wide, with straps that form a U-shape, which provides smoothing.
I like how even the clasp of the bra seems geared toward smoothing, and isn't bulky at all.
SIDE
The side of the bra does feature some boning which helps to support the structure and keep your breast tissue (wow, that sounded clinical) pointing forward. I like this feature, because it makes the bra feel like it has solid construction, and supports you without trying to distribute the weight of your boob out to the sides like a lot of other bras.
STRAP
The strap is not stretchy at all, and pretty standard width-wise for this type of bra. The cup and back of the bra, what I would call the 'body' are so well-constructed that it doesn't need to rely on the straps to do very much work at all, meaning that after wearing this all day, you won't feel shoulder dig.
I will say though, that maybe due to the shape of the strap and the outward angle at which it meets the band, the straps might slip over time. 
CUP, GORE AND UNDERWIRE

The cup of this bra is comfortable. It feels full without being too roomy, and the underwire is comfortable despite the fact that it comes up high. Again, because Bali paid so much attention to the side construction, the underwire of this bra doesn't jut into your armpit the way bras that are not side reinforced might.
It's also refreshing for a full cup bra to not flatten boobs but actually showcase them and put them front and center. For someone like me who will forego fashion for support, I am happy with this. For people who are fans of the round boob look, I'm not going to mince words: your boobs will be projected outward in a supported way that will likely make you feel like you're competing with Madonna. Up to you to decide if that's a good thing or not.
Just based on the V-cut of the top of the bra, the gore will not lie flatly on everyone's chest, but it won't stick out to a point of being awkward, or hinder you from wearing particular types of necklines. That said, be sure to check Bali's fit guide in order to minimize this effect.
COMFORT & LOOK
This is a bra you'll want to wash before wearing. The fabric is a little on the scratchy side, and will probably irritate people with sensitive skin the first few times you wear it. The good news though is that after a few washes, the fabric calms down.
Other than that, I think this bra is very comfortable, lifting, and supportive. An added benefit to the lifting effect of the bra and the fact that it pushes your breasts forward is that your torso has a more elongated look, but the cost of this effect is the pointiness, which some people of course may not like.
BEST FOR
All day wear, very supportive, passes my run for the bus test.
DOES IT REDUCE THE APPEARANCE OF BACK FAT?
Yes, Bali's signature Comfort-U back does its job and provides a seamless look from the back.
OVERALL
This bra has sort of a 'vintage' (pointy) look that will not appeal to everyone. The bra does do what it sets out to do though, and for that I give it a 4/5.
CHANTELLE: C MAGNIFIQUE MINIMIZER BRA

Minimizers tend to evoke a certain amount of dread amongst the big-boobed crowd. There's certain assumptions that have just been proven true too many times, one of them being the idea that minimizer bras often compromise aesthetics for functionality. While this bra is no La Perla, the Chantelle C Magnifique manages to minimize well, keep things smooth, and not make you feel matronly.
BACK
On the aspect of smoothing, this bra does well. The band sits at a comfortably low point of the back, and its U-shape helps to minimize the appearance of any rolls or bunching. That said, it is not at thick as other bands I have reviewed in this category. The largest size only has two hooks.
SIDE
The sides of this bra is one of the places it falls apart. It doesn't have any reinforcement and doesn't come up very high, which means side support is minimal.
STRAP
I have the same gripe with this strap as I do with the Bali, the strap is set a little wide and does have the tendency to want to slip, though this can be prevented by adjusting the strap snugly.
CUP, GORE AND UNDERWIRE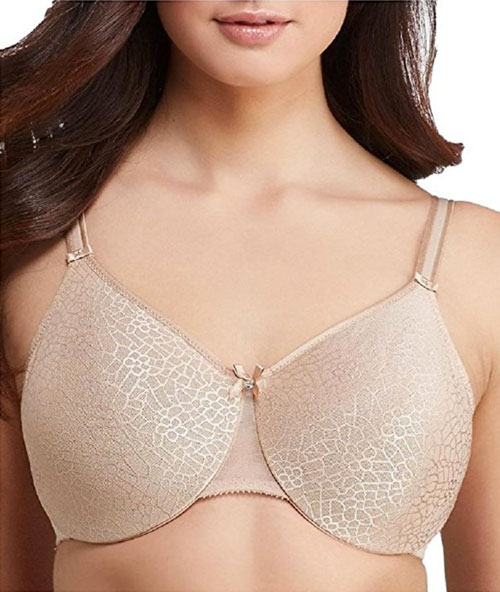 This bra is a soft cup that is lightly lined, which means that it won't add any unnecessary bulk to your chest, which is great for those of us who need larger sizes.
Chantelle has also included 'inner slings', or extra fabric built into the bra for bigger sizes. This works in tandem with the underwire to provide a great level of support from the bottom part of the bra.
While this bra claims to be full coverage, you should take note that it feels more like a ¾ cup level of coverage.
The addition of the inner slings helps to make the underwire comfortable, which makes this bra a good pick for those of us who generally try to avoid underwire at all costs.
The gore sits snugly on the chest and doesn't pop out, which is excellent, and the cut of the bra comes down low enough that you could wear this with lower-cut tops without having anything showing.
As always with Chantelle though, measure yourself again, and make sure to follow their conversion guide.
COMFORT & LOOK
This bra feels supportive and well-made. The cups provide good separation, and while it does minimize a bit, you won't look flattened out. The bra also has a nice rounded look from the front and the profile.
BEST FOR
All day wear.
DOES IT REDUCE THE APPEARANCE OF BACK FAT?
Yes, the U-shape of the bra's back creates a smooth look. This bra would be great for tank tops.
OVERALL
The Chantelle C Magnifique bills itself as minimizer bra, and it does minimize, but not to the extent that you would come to expect from this style of undergarment.
While it is marketed as a t-shirt bra, its lack of thick lining means that prominent nipples in cold situations will show through.
One promise it does deliver on well is the smoothing. While the sides may not be as supportive as they could be, I would definitely feel comfortable wearing this bra under light material. 3.5/5
ELOMI WOMEN'S PLUS SIZE SMOOTHING SEAM FREE BRA

This is another strong offering from Elomi that provides a simple, versatile style that can be worn under pretty much anything. The plain Jane in me is a sucker for a bra that is simple but done well. As they are a British brand, remember to convert your up size, so you get the right fit. Elomi cups tend to run big for me, and when the cups are too big, that leads to a whole host of other fit issues.
BACK
The back of this bra has that similar U-shaped styling common to back smoothing bras that should now be familiar to you. The band is fairly wide, which helps to improve the smoothing action.
The sheer meshy material (leotard) on the back of the bra is nice and breathable, meaning that you could wear this in summer without feeling too hot.
The back will have 2-3 hooks depending on the size you pick, which normally is an issue for me, but somehow the band width compensates for this.
SIDE
The siding comes up nice and high so you feel like the ladies aren't spreading out to the sides too much, however the lack of any boning for reinforcement means that the sides of your breasts won't feel fully controlled.
STRAP
The straps are a feature that this bra does well. Though they are not fully adjustable, they are wide and narrowly set to avoid side slippage. They're also nice and soft as well, reducing shoulder dig to an absolute minimum.
CUP, GORE AND UNDERWIRE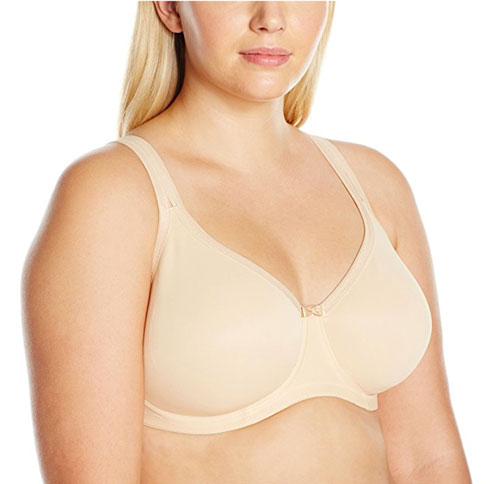 I love that this bra is unlined and molded. It means that it's not going to be too hot to wear, and it'll adapt to my natural shape, allowing my breasts to fill out the bra in an attractive, rounded look. For those of you who might be worried about nipples showing, I'd still go for the bra and just slip on some nipple covers.
The underwire sits comfortably on the chest and while it comes up higher than the Chantelle C Magnifique, you could still wear this with different cuts of shirts. I like the fact that Elomi managed to do this, because full-coverage bras usually come with high center pieces that end up being a bit of a hindrance.
The underwire feels quite comfortable underneath the boobs, but as it is with many full coverage bras, the underwire does come up high under the arms, which could be irritating if you are petite.
COMFORT & LOOK
The cups of this bra are soft, and work together with the straps to create a pretty comfortable and supportive experience. The bra does lift the breasts well and the shape of the cup ensures well-defined separation.
A bit of a surprise though, even though this bra isn't billed as a minimizer it does have a bit of a minimizing effect, and does send things out to the side a little. I suspect a reinforced side would have eliminated this problem. It's not a deal breaker, but definitely something to keep in mind.
BEST FOR
Wearing to work, All-day wear
DOES IT ELIMINATE THE APPEARANCE OF BACK FAT?
It does! The lines of this bra do really feel seamless and smooth, and would be appropriate for fitted shirts.
OVERALL
Does it get rid of the back bulge? Yes. This bra is a simple all-rounder bra, the type that I like to have in my closet because I can throw many things over it. 4/5
SO WHAT DID WE LEARN ABOUT BACK SMOOTHING BRAS?
I think the biggest thing to keep in mind is that the best bra for back fat can come in a number of different styles. You probably noticed that while all these bras had different terms for it, they all had that signature U-shape and wide band.
If you can, look for bras that have good side support created by a combination of boning or some other sort of reinforcement, and high cut fabric (but not too high!) under the arm.
While you may have not found the best back smoothing bra for your needs in this post, I hope that it has at least opened your eyes to what's out there, and taught you about what to look for.