When I think back to the days when I first started wearing bras, I still remember the hurdle of having to deal with the transition from training bras with no underwire to big girl bras with underwire. Underwire was the bane of my existence, and to me, it signified an itchy and uncomfortable feeling. Reluctantly, as my boobs grew, underwire bras became the only option for me as they were the only type of bra that offered me the level of support that I needed. My how things have changed! A quick search today for the best wireless bras yields tons of results.
| | | | |
| --- | --- | --- | --- |
| | | | |
| Playtex Women's 18 Hour Sensational Sleek Wire-Free Bra | Olga Women's Play It Cool Wirefree Contour Bra | Vanity Fair Women's Beauty Back Full Figure Wirefree Bra | Bali Women's Double-Support Cotton Wire-Free Bra |
| Fit: Runs Small | Fit: To Size | Fit: To Size | Fit: Runs a little small |
| Separation: Moderate | Separation: Moderate | Separation: High | Separation: Low |
| Coverage: High | Coverage: Medium | Coverage: Medium | Coverage: High |
| Comfort Level: High | Comfort Level: High | Comfort Level: High | Comfort Level: High |
Nowadays, both wire and wire-free bras have come a long way. Bras with underwire have become more comfortable, as manufacturers have started to take into account things like breast spacing, breast height, and breast shape.
Bras without underwire have also become more supportive, with new shapes and designs and careful attention being paid to the structure of the underbust of the bra. In short, brassieres have come a long, long way. Handpicked for you is my list of my top 4 picks for best wireless bra for large breasts.
Best Wireless Bra for large breasts: My Top Four Picks
Playtex Women's 18 Hour Sensational Sleek Wire-Free Bra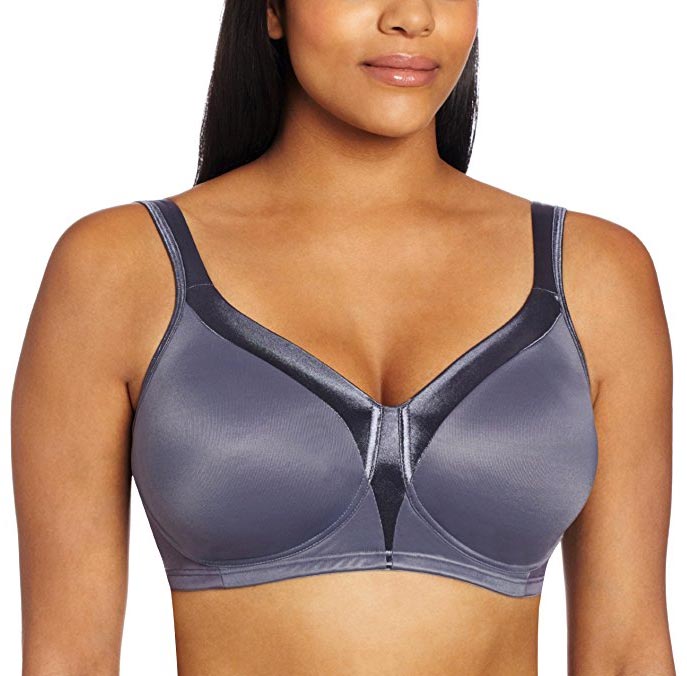 First up on my list is Playtex Women's 18 Hour Sensational Sleek Wire-Free Bra. This bra has got a nice wide band from behind with 3 hooks in all sizes. The back band does a good job of keeping things smooth from behind too. I like the shiny satin trim that is used along the edges of the bra as well as for adjustable part of the strap.
The strap is back adjustable, with the front being a seamless continuation from the cup. This design works well as it allows for enough adjustability to fit the bra properly, while the design at the front allows the straps to be positioned closer to the center of the cup, meaning that more support and upward pull is provided. This helps the bra give a nice shape to the breasts and keep them sitting at a nice height.

Of course, as with the majority of wire-free bras, the middle of the bra doesn't tack, as it doesn't really have a gore per se. What this means for you is that there's going to be less breast separation than you normally would have in a wired bra. That said, this bra is one of faves because of the fact that the bra really does provide seamless support under tops, and separates fairly well for a wire-free bra.
Not only does this bra fit comfortably enough that you could wear it all day if you had to, it's also breathable enough that you'd have no trouble wearing it in summer, or in hotter environments.
The only downside to this bra is that the cup sizing runs a little small. I would even consider going up a size in cup, because even though the top of the bra is well cut, I find that the side coverage could use some improvement.
Olga Women's Play It Cool Wirefree Contour Bra

It's been a while since I've looked at an Olga bra, but I really liked the Olga Women's Play It Cool Wirefree Contour Bra, enough to put it on my list. First I need to start with the back of the bra. I absolutely love how wide the back band is as it provides a good level of support, even in bigger sizes.
The straps are sewn to the back of the bra in quite a pronounced U-shape, which provides good center pull to help lift the breasts up.
I absolutely loved the brushed look of the material, as it fancies the bra's look up a bit, even though it is meant for everyday use.

The cut of the bra at the front may be an aspect that divides people. I love the fact that it's low cut, because it means you've got a wider range of tops that you can wear this bra with. The trade off is less coverage, and less material with which to shape your boobs. That said, this design means that the bra actually provides a decent amount of separation despite the fact that it is wire-free.
One thing I wish this bra did have was more adjustability. The padded part of the strap goes over the shoulder, leaving you with only a few inches of adjustability, which may not be enough if you are shorter or taller than average.
Overall, this bra screams comfort over anything else! Just like the Playtex, it also has breathable fabric, making this bra appropriate to wear during warmer months.
Vanity Fair Women's Beauty Back Full Figure Wirefree Bra

The next contender on my list of best wireless bras is the Vanity Fair Women's Beauty Back Full Figure Wirefree Bra 71380. This bra comes in a pretty big variety of colours.
I absolutely love this bra! The amount of separation this bra creates is actually pretty impressive, again when you consider that it is wirefree. It uses the same trick as the Olga to create that, a shorter center 'gore' area that reminds me a lot of plunge bras.
Another thing this bra does well is the back band. Nice and thick, it provides a lot of support without creating any back bulge. The straps come in and join the back band in a nice U-shape, creating some center pull.
The absolute best feature about this bra has to be the amount of lift you get from the design. I'm always wary about how much wire-free bras can support heavier breasts, but this bra does an excellent job. In some instances, you might argue that it does too good of one! The lift that this bra gives may be great for ladies who are fuller on the bottom, but if you have boobs that are completely full or fuller on top, you make feel like the bra pulls your breasts up too high.

The straps, however, attach to the cups of the bra closer to the outer edge of the cup than the other bras do, meaning that it is slightly less supportive at the front than the Olga. One advantage it does have against the other bras reviewed is that the strap is fully adjustable, which makes it easier and more likely that you will be able to get the right fit. On top of that the straps are extremely comfortably, and nice and wide as well, with no shoulder dig to speak of.
Bali Women's Double-Support Cotton Wire-Free Bra

Last on my list of best wireless bras for today is Bali Women's Double-Support Cotton Wire-Free Bra #3036.
First things first: the band. If you can't tell already from the previous 3 contenders, the band plays a big part in compensating for the support lost by not having an underwire. The band on this bra does not disappoint, with up to 5 rows of hooks in some of the larger sizes. Love! Like the others, it does a good job of smoothing out the back and preventing back bulge as well.
Made of cotton entirely, I think this bra is a great option for people with sensitive skin that need a soft fabric that can breathe. There is a bit of stretch to the bra though, so if I had to say anything bad about it, it's that I'm not sure how well it will age, overall.
On to the strap: the strap on this bra is mostly adjustable. What sets this bra apart from the other ones is that there is a ring connecting the cup to the straps. Some people may not like this feature. I find that where it sits, on the front of the body, means that the ring is not a nuisance at all. The straps aren't as wide as the Vanity Fair, but they do prove to be fairly comfortable.
If you are a fan of full coverage, this bra will absolutely suit your needs, as it does come up pretty high on the chest. The cups are seamless, meaning there's no weird lines to contend with on the front of your boobs. They are also double lined which helps to shape and support your breasts while giving them a bit of separation. If I have to be frank though, this bra provides less separation than the other three previously mentioned.

For those who are worried about modesty, this bra will provide a good amount of coverage for most people. This bra also does provide a good amount of lift. I think its supportive back and all the fabric it has in the front give the bra a lot of lifting power, which I appreciate. The downside to this of course is that this bra may not suit for more revealing necklines.
The side coverage on this bra is decent as well, with boning to provide a bit of structure and extra support to compensate for the lack of underwire in the bra.
Overall, I would look at this bra for casual wear. This isn't a bra to wear under a dress for a big night out, but would do well under casual clothing, or for everyday wear. It certainly is comfortable to wear all day and not really feel like you've got much on at all.