This article originally started off as part of my round-up review of strapless bras . It eventually evolved into its own separate article just because there's so much to talk about when it comes to finding a plus size strapless longline bra that it shouldn't be lumped in with standard length strapless bras.
My other post does a good job of comparing and contrasting the benefits of both styles, and details longline bra benefits. If you're just looking for a strapless option in general, whether bra or longline bra, you might want to pop over and check out that page too. This page just focuses on longlines and bustiers that I think can handle heavy lifting.
| | | | |
| --- | --- | --- | --- |
| | | | |
| | Goddess: Lace Longline Bra | Carnival Women's Full-figure satin-corset bra | Dominique Satin Torsolette Bridal Bustier Style |
| Cup | Full, Soft cup with boning | Full, Soft cup | 3/4 cup, Lightly Lined, No Boning |
| Convertible | Yes | No | Yes |
| Max number of hooks | 7 | 12 | 12 |
| Fit | Runs Small in Band and Cup | Runs Small in Band and big in Cup | Runs Small in Band and Large in Cup |
| Band Support | Excellent | Good | Excellent |
| | Check Available Sizes | Check Available Sizes | Check Available Sizes |
What's the difference between a longline bra and a bustier?

Think of a bustier as the modern cousin of a corset. Corsets are meant to shape the body and create a narrower waist. Back in the day, the boning in corsets were rigid and were made of things like whalebone, and steel, the latter still being used today.
Unlike a corset, the boning in the body of the bustier is usually made of plastic or relatively pliable material. It doesn't provide rigourous shaping the way the corset does. Bustiers are usually designed to stop at the hip, supporting the bust with a snug fit.
The longline bra, on the other hand, is a bra that has a much larger band, and can extend even past the hip. Longlines come in different lengths, from ½  to ¾ to full length. I've even seen some bras with only a slightly larger band, ending only a few inches below the breast being sold as longlines.
Many longlines support the bust the same way bustiers do. While you can find many with boning, a longline bra does not strictly always have to have boning, especially when you're dealing with shorter length longline bras.
Things to consider when purchasing a longline bra
Structure – some longline bras can be restrictive and shaping, while others are made with a looser fit. Keep the tightness of what you're wearing and your shape in mind while you shop.
If you have a shorter torso, a full-length longline might end at an awkward spot on your body and possibly show through your clothes.
If your midsection is the widest part of your body, go for a shorter or longer bra. A longer bra with good structure can shape your midsection, whereas a shorter one will keep you from having an awkward line.
It took a whole lot of digging, but here are three of the best longline bras for plus size women out there on the market today.
Goddess: Lace Longline Bra

Goddess is well-known for making some beautiful and supportive plus-size bras, and The Goddess Lace Longline Bra is no exception. The Lace Longline a beautiful full-cup longline option that ends around the midriff. This cut is a great option for women who are more petite, and may have trouble with the fit of longer longlines/bustiers.
Cup
This bra bucks the trend and instead of the usual molded shape we have come to expect in strapless bras, this bra features a soft cup. The 4-part cup, of course, is boned, and has vertical lines to create some nice shaping, giving your breast a bit of an upward look. Consider going up a cup in order to really feel like your breasts are well-contained.
While the does create a nice lifted look, it does run high, so you may have to consider the neckline of your dress carefully before purchasing this one. The underwire structure of the bra creates some nice separation without going as wide as the Elomi, which I appreciate. Don't expect much cleavage from this one though.
I expected this bra to be pointy. Despite all the boning, once I actually got into the right size in this bra and put something over it, it actually gave my boobs a nice shape, though I'd describe it more as 'oval' as opposed to perfectly round.
A big upside to this bra is that if you aren't a fan of the bulk normally added by molded cup bras, you will really enjoy this unlined cup. Those with sensitive skin might need this bra to soften a little though, as the all-over lace can feel a little scratchy at first.
Band/Bodice

The body/band of this longline features 7 hooks no matter the size. The body of the bra runs a little small, so be super careful. I am fan of the fact that the bra is structured with boning throughout the body, because it creates a nice shape.

I will say though that the midriff length is a little tricky. If you order this bra too tight, you'll end up with a smooth, shaped tummy above your belly button, and a reverse muffin top on the bottom, especially if you have a big tummy. Women with shorter torsos or who are more petite, or who have flatter stomachs should be okay with this length. If you're like me however and you haven't hit the gym as regularly as you know you should, you can still wear this bra, I'd just avoid doing so under tight-fitting dresses, or dresses with thin material.
Overall
I always expect more support from longline bras, and the Goddess definitely delivers on that. You'll feel confident wearing this that this bra isn't going to go anywhere, and nothing is going to fall down. You just sort of put it on and forget about it. As I said before though, because of where it ends, make sure you have a dress that can handle any difference between the shape of the body of the bra and the natural lines of your body.
Dominique Satin Torsolette Bridal Bustier Style

When shopping for a plus size strapless bustier, or in this case a 'torsolette', I put a lot of faith in bridal bustiers. If it's designed to be worn by a woman on that special day, it ought to be pretty exceptional. The fact that this style extends past the waist and down to the hips means that it can provide some excellent shaping and smoothing under a variety of silhouettes.
Cup
The cup of this bra is a great option for a variety of dresses because of the fact that it is not full, and can be worn with a number of necklines.
The cups have a two part design which helps to lift the breast a bit and create a nice structure. The level of cleavage (or lack thereof) is similar to the Goddess bra.
The cups don't have any sort built-in support by way of boning or panels, so you don't feel as shaped as you do in the Goddess. You end up having to rely on the seaming of the cup for all of your shaping, which might not suit everyone depending on the fullness of your breast. This issue is mitigated a bit by the fact that cup is lightly lined and is a little more rigid on the underside.
It does a good job keeping everything in place, but you don't feel as lifted as you do in the Goddess. Though my breasts fit in the cup, they didn't sit up as high as they did in the Goddess. Despite this less supported cup, this bustier does hold everything up well.
Band/Bodice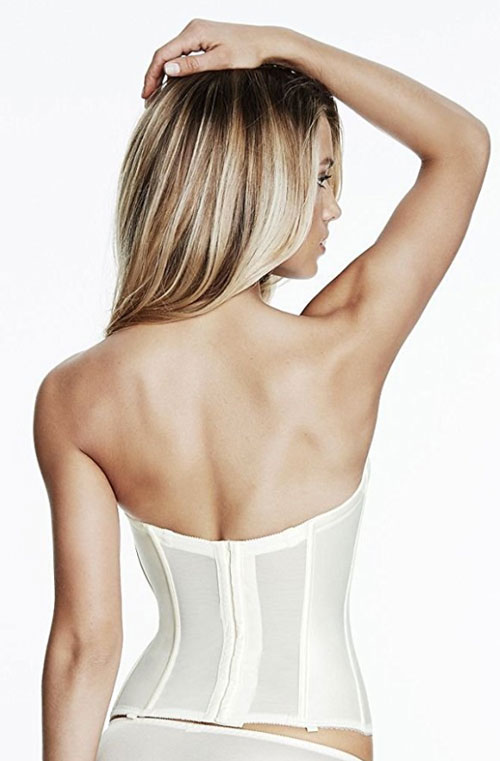 Putting on this bustier will most likely require some teamwork as there are 12 rows of hooks on the back of this garment.
The structure of this bustier gives a solid nod back to its ancestor, the corset, and provides some excellent shaping thanks to some serious boning in the side seams. This bra revealed the hourglass figure I knew I had all along.
If I could make a Franken-bra, I'd love the bust part of the Goddess longline paired with the bodice of this bra. Everything feels controlled, and the bodice of the bra ends at a flattering point near the hips. I would advise though, that if your tummy is the widest part of your body, to go up in size, because this holds everything in, and it felt a little too snug in the correct size.
Overall
While I wouldn't be super confident wearing this torsolette on its own because of the design of the bra area, once you put a dress over it, it does perform well, especially if the dress itself has a nice snug bustline. It gives a nice smooth look in the front under the dress as well. Don't be put off by the shape of the cup when you wear the bra by itself, definitely try it under a dress before you make your final decision, and it just might win you over. If you're looking for something a little sexier, this bra also comes in a lace option.
Carnival Women's Full-Figure Satin-Corset Bra

Though I am a little weary of soft cup strapless bras, I decided to give the Carnival Women's Full-Figure Satin-Corset Bra a try. The reason I decided to make the exception is because even though the cups aren't molded, they do have more structure than a fabric-only cup, due to the fact that it uses a thick lining.
Cup
These cups are pointy. A rigid fabric combined with a single seam in the cup results in a shape that is a little old school, and might not be to everyone's tastes.
There aren't any support panels in the cup of this bra, so you're relying heavily on the a lightly padded cup to keep things up.
The cups also felt a bit roomy for me, which was an issue. I would advise looking at going 1 size down in the cup so that you're able to fill it out.
Band/Bodice
I love the shape of this torso! There's well-interspersed boning all along the body of the bra, giving it a nice structure. While I didn't feel like I looked like I had much of an hourglass going on, I did appreciate how the bodice flares out toward the bottom. With a good pair of high-waisted underwear, you can achieve a smooth look with this bra, even if you have a tummy.
While there was plenty of boning, it did flex a bit. For women carrying a bit of extra weight, I would avoid this bra if your weight isn't distributed proportionally. For example, if you've got 'normal' sized chest measurements but you hold the bulk of your fat around your tummy, you might experience some buckling in the bra.

The downside of all of this boning is that it is prominent and raised compared the panels of material in between. If you were wearing really sheer or light fabric, there's a chance that the boning might show through, so it's worth keeping this fact in mind.
In order to provide adequate support, the back of the bra comes up relatively high, so you won't be able to wear this any sort of plunging dress.
The band on this bra runs pretty small. I had to go two sizes up from my usual to get something that I was able to hook.
Overall
This longline bra is beautiful, yet very simple. I absolutely love the fact that there are optional adjustable garters to go along with this thing! The torso of the bra made me feel like everything was contained and controlled, while making me feel sexy. If you can deal with the pointiness and are looking for a plus size longline soft cup bra, I'd definitely give this bra a try.
Finding a good plus-size strapless longline bra is like trying to find a needle in a haystack. Honestly, if any of you out there reading this are entrepreneurs, if you can make a good option that caters to bigger sizes, please do, because there is definitely demand!