Before I had my bra enlightenment, I admit that I didn't really focus on side support. My mind was wholly focused on whether my breasts fit inside the cup of my bra. I didn't think about seaming, shaping or bra spillage. I just wanted something that would keep my breasts from sagging, and that was pretty much it.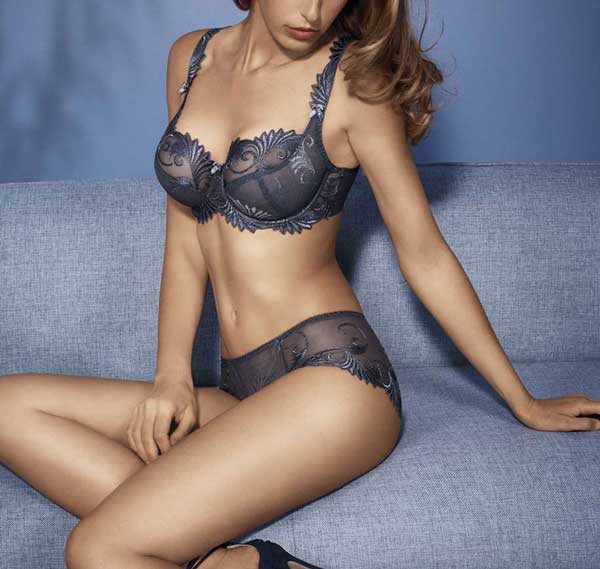 Fast forward to today, where myself and other bra-enlightened people are taking a 360° approach to evaluating the fit of a bra. The cups need to create the right shape, the straps need to support without digging. The back needs to smooth and sit parallel to the ground, and the sides must support your flesh enough to keep your breasts pointing forward.
If the cup of the bra is the star when it comes to shaping, then good side support is the supporting actress. Side support helps to rein in your tissue and make sure that your breasts are pointing forward and filling the cup as much as possible.
This results in a smoother look under clothing. Anyone who wears a bra will benefit from good side support. Those with extra weight around the chest/torso, large breasts, and wide-set breasts would benefit the most from wearing these sorts of bras, as they will create a slimming effect by keeping your breasts positioned within the width of your frame. For those with larger busts, this is especially important, as less supportive shapes can push your breasts out to the sides. The resulting bra bulge under your arms can end up restricting your arm movement, which if you've ever experienced, is annoying as heck!
What do the best bras for side spillage have in common?
Good side support is generally created by one or more of the following features:
Wide fabric wings/band – In order to support and corral that side tissue, the band actually needs to cover it.
Supportive boning – Usually made of flex plastic, side boning will help the band maintain its shape.
Seaming – Bras with good side support will usually have side panel as part of the cup to help shape and lift the breast.
Good material – The material brings it all together. In order to provide support, it can't be too stretchy. Bras made of lighter materials will compensate for this often by using double lining or inner slings.
The anti side fat bra: A shortlist of 6 stylish side smoothing bras
Molded Cup – Olga Women's No Side Effects Underwire Contour Bra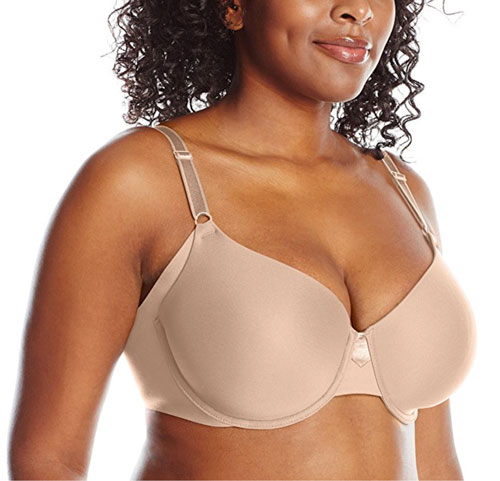 Remember what I said about there being a crossover between bras that have good back smoothing and side smoothing? The Olga No Side Effects is one such bra. I wrote about it in long form in my round-up review of back smoothing bras, so I won't go into great detail here.
One of the features I do like is the fact that the side wing starts before the end of the cup. This makes the sides of the bra have a smoother appearance than many molded bras, where the band is usually sewn on to the sides of the cup, and often don't match the cup in height.
Demi Cup – Empreinte Thalia Demi Bra

This bra is easily the most beautiful high-sided bra on the list. The Thalia features all-over beautiful lace detailing. It's not just a looker, though! The Empreinte Thaila Demi bra stands out to me because it is one of the rare demi bras with wide sides.
This bra keeps things reined in with power net fabric used to form the wings and back of the bra. It's cut about as high on the sides as my Freya Hero.
While the underwire of the bra is shaped to be quite deep, it is on the narrow side. In addition, the cups don't have a ton of depth. If your breasts are projected and you want this bra to work, you may need to play around with sister sizing to get the right fit. Make sure to refer to their sizing guide, as this is a French bra.
Parfait Destiny Contour Bra
This is a discontinued gem that I am glad I found. This side coverage bra is beautiful, and has a lot going on in order create an attractive shape for your breasts while hiding side boob fat.
I'm not usually a fan of padded cups myself, because my breasts tend not to want to adhere to the shape of the bra, and tend to do anything but sit in the cup well. This bra overcomes that by having vertical seaming in the padding, combined with 4-part seaming on the exterior of the cup.
This bra does have a somewhat wide gore, making it a good option to compliment wide-set breasts. The sides come up about as high as other side support bras, and is further reinforced by plastic boning.
Fantasie Lois Underwire Side Support Bra

The Fantasie Lois is a fun but functional underwire bra engineered to provide side support. All of the colorways feature a cute stripe patterned fabric that forms the majority of the cup. The tops of each cup are made of sheer stretch fabric which should help it to line up will with the tissue at the top of your breasts.
The side panel has no boning and comes up to about average height for side support bras. Although the underwire is on the wide side, it does not come up too high along the sides, which means this bra can suit women with shorter torsos.
If I had to fault this bra for something, it's that the bra doesn't have a whole lot of space at the top of the cup. That combined with the sheer strip of fabric means that full on top breasts might experience some quadding. On the other hand, this makes it a good option to try for full on bottom breasts if you're looking to take a break from unlined lace bras.
Elomi Caitlyn underwire side support bra

I'm going to go ahead and lump Elomi and Goddess bras into the same category, because of the amount of similarity between the construction of bras under both brands. If you're looking for full coverage bras with side support, look no further than these two brands.
Most of their bras are going to have reinforced sides and smoothing, leotard backs. From there, it's up to you to decide the level of coverage and type of shape that you want to get out of the bra.
On that note, I've singled out the Caitlyn simply because it has higher than average sides. It's made of the same sturdy material that makes up the majority of the cup. In addition to the sturdy side panel, the bra also has a band made of power mesh to keep everything looking smooth.
If you're looking for a versatile Goddess bra with comparable side support, check out the Goddess Keira, which I have reviewed previously.
Panache Jasmine balconnet bra

If you're a fan of Panache's Andorra, then you're going to love the Jasmine. These two bras are structurally very similar. It is one of my favorite balconettes (it might even surpass the Freya Rio for me), and one of their best-selling bras. It's got a 4-part cup made mostly of a sturdy, printed material that provides excellent stability and shaping. The bra cups are topped by a gorgeous stretch lace.
I talk a lot about how seaming affects the shape of the breasts, but rarely do I talk about the material itself when it comes to cut and sew bras. This bra's secret weapon is its material. The Jasmine owes a lot of its shaping and uplift to the fact that the patterned material is very firm. This, combined with excellent construction means that it holds side tissue in very well, and can lift heavy breasts better than most all-lace cut and sews.
Similar in fit to the Jasmine bra, Sculptresse's Chi Chi offers excellent side support for higher band sizes.
The side panels come up very high on this bra, so if you like the fit of the Jasmine but want even more side control, this is worth a try.
Honorable Mention: Curvy Couture's Flawless Lace Smoother

Okay, this is definitely a controversial pick, so I'm making it an honorable mention. If you're looking for a bra with high side panels, this could do the trick. The fit of this bra is very snug. Secondly, the sizing is not as consistent as it should be with other Curvy Couture bras. Make sure you qualify for free returns before you try this bra.
The reason I am a fan of this bra though is because it has tremendous side coverage. It boasts over 5 inches of fabric at the wings in larger sizes.
For those who want maximum side coverage, but don't generally like supportive side boning, this bra is an excellent pick. With coverage this high though, this bra is definitely not for shorter women, or women with short torsos. There simply won't be enough space under your arms to accommodate the tall underwire and this bra will dig into your sides.